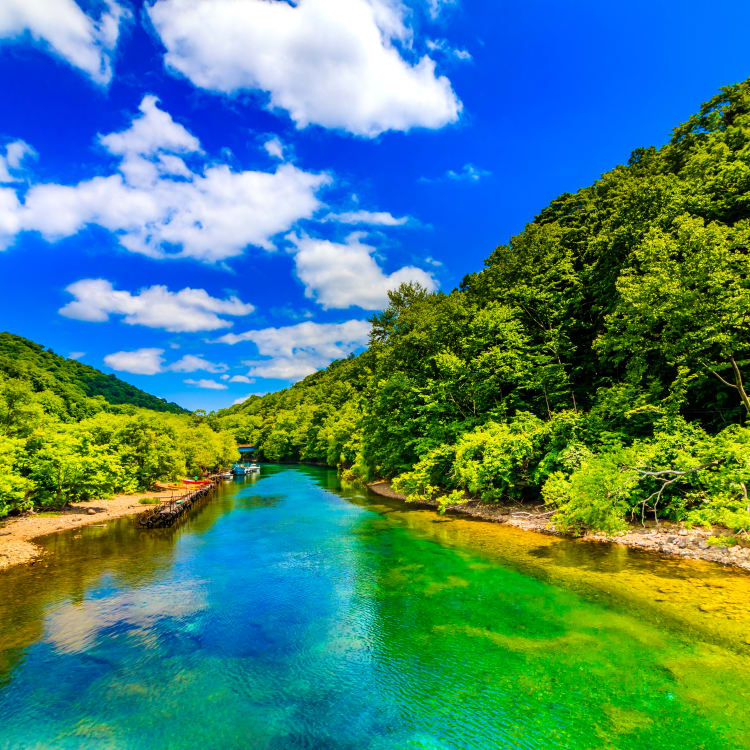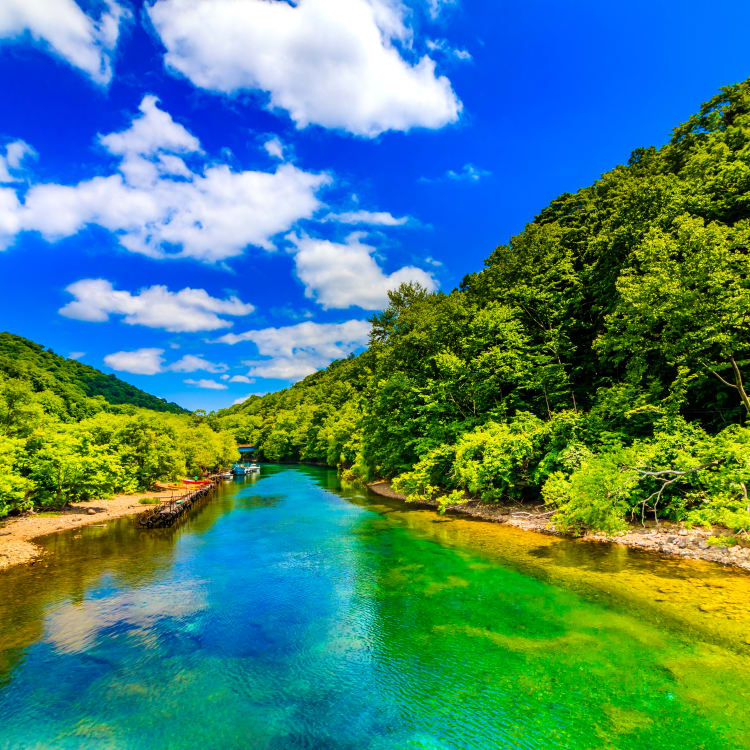 New Chitose Airport
New Chitose Airport
New Chitose Airport (CTS) is in the southwest of Hokkaido, close to Sapporo and the popular ski resorts of Niseko and Rusutsu. This compact, modern airport is the main connection between Hokkaido and the rest of Japan, with daily flights from most major cities. You can also fly direct from Shanghai, Seoul and other Asian cities. The domestic and international terminals are connected by indoor shopping areas. There are direct train and bus services to get you to Sapporo in around 40 minutes and about 1 hour and 15 minutes by bus. There are also dedicated ski bus services to nearby snow resorts.
How do I get from New Chitose Airport to Sapporo and the snow resorts? Train
Japan Rail (Hokkaido Railway Company)has direct services departing several times an hour between the airport and Sapporo Station. The trip takes just under 40 minutes.
Bus
Hokkaido Chuo Bus


line has services for downtown Sapporo, outside the arrivals area of the domestic terminal. There are buses for other destinations including Obihiro, Asahikawa and Noboribetsu Onsen.
Ski Bus
The fastest way to reach the ski fields is by dedicated express bus, including Niseko Bus


and Hokkaido Resort Liner


. In season, these buses take you directly from the domestic and international terminal to resorts including Niseko, Rusutsu and Yubari.
Taxi
There are taxi ranks in front of each terminal.
Rental Car
Many parts of Hokkaido are easiest to access by car. There are several car companies with desks in the arrivals hall at the international and domestic terminals. After checking in, you will be taken by free shuttle bus to the car rental office to pick up your car.
What if I have an early departure or late arrival?
The airport opens at 5:00 a.m. and closes at 11 p.m., so flights are scheduled between these times. The earliest train from Sapporo Station arrives at the airport around 6:30 a.m. The first New Chitose Airport Limousine Bus from Sapporo Station also arrives at the airport around 6:30 a.m. The last train from the airport to Sapporo leaves around 10:50 p.m. The Air Terminal Hotel


connects directly to the domestic terminal, if you need to stay at the airport.
Services at New Chitose Airport
Where can I eat at New Chitose Airport?
There are several dining areas in the domestic terminal, including a casual food court, a range of specialty ramen restaurants and the retro the Streetcar Dining District, with restaurants dedicated to Hokkaido specialties.
Are there vegetarian or halal restaurants?
Mir Lounge, a pasta restaurant in the domestic terminal, has some vegetarian pasta and pizza options.
Where can I stay near New Chitose Airport?
Air Terminal Hotel connects directly to the domestic terminal. There is a range of reasonably priced hotels within a 10-minute, free shuttle bus ride from the airport.
What can I buy at New Chitose Airport?
There are a variety of stores at both terminals, from convenience stores to souvenirs and clothing. There are duty free stores in the international terminal. Popular souvenirs include sweets from Royce, Rokkatei, Ishiya (Shiroi Koibito) and LeTAO.
Where can I get a SIM card or pocket Wi-Fi device?
There are vending machines in the arrivals halls selling prepaid SIM cards and a few counters in each terminal arrivals hall where you can rent a pocket Wi-Fi device.
Where can I change money or find an ATM?
If you need to change currency, there are Travelex Currency Exchange shops in each terminal, before and after passport control. You can withdraw Japanese yen with an overseas-issued card at Seven Bank ATMs, Lawson Bank ATMs and JP Bank ATMs in each terminal.
Where can I pick up my Hokkaido Rail Pass?
You can pick up your Hokkaido Rail Pass or buy tickets for JR trains at the JR Information Desk


, near the ticket gates on B1F.
Where can I buy a smart card for transport?
You can use most cards from other parts of Japan to get around, including Suica and Pasmo. You can also buy the local equivalents: SAPICA and Kitaca from machines at most train stations, with instructions in English and other languages.
How do I get my snow gear from the airport to the ski resort?
Look for the Temporary Baggage Storage and Home Delivery counters in the arrivals area of each terminal. You can send your skis, snowboards and other luggage directly to the resort for next day delivery. This is also a useful option for getting your gear back to the airport. Delivery services like Yamato also offer "Ski Ta-Q-Bin" services—a round-trip delivery from most places in Japan to the resort and back, for a reasonable price.
What can I do at New Chitose Airport?
If you have a layover, you can take a soak in the soothing waters of the New Chitose Airport Onsen


, on the fourth floor of the airport. You can also get a massage, try a rock sauna, take a nap and enjoy a meal. The facility is open from 10:00 a.m. to 9:00 a.m. the next morning. Children will enjoy the Hello Kitty Happy Flight area on the third floor. It has colorful displays, games and a cafe and shop.
What can I do with my luggage?
You can store your luggage at the airport in a coin locker, or a storage facility, which can handle larger luggage. In the arrivals area, there are several companies who will deliver your luggage to your hotel or residence.
How do I transfer between terminals?
The international and domestic terminals are connected by walkways within the terminal buildings.
What other facilities are there at New Chitose Airport?
You can find prayer rooms and smoking areas. Ask at the information desks if you need to use a wheelchair within the airport or need assistance to get to your destination.
For more information on facilities and services, check the New Chitose Airport website


.
Last updated: 16 Sep 2022
Did this information help you?
out of found this information helpful.