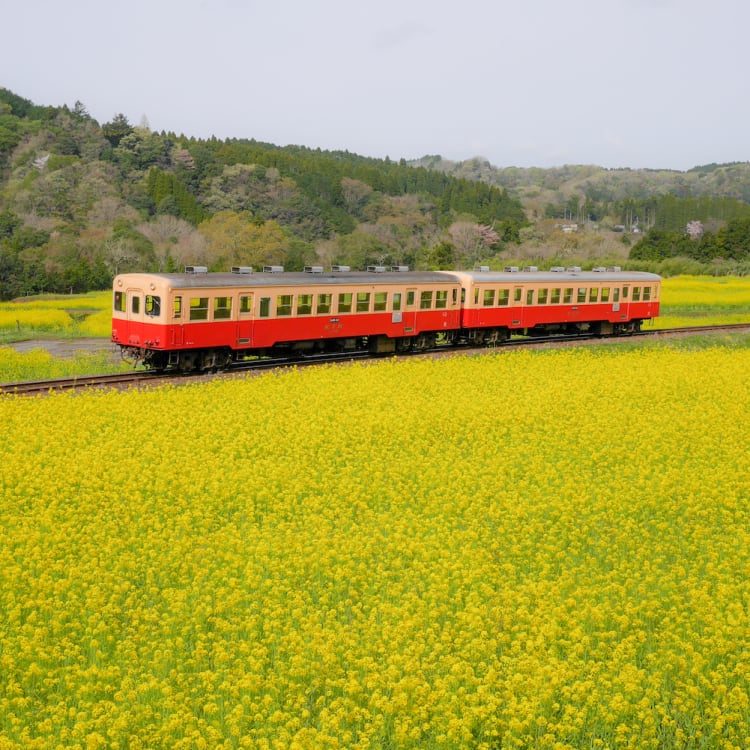 Japan Local Railways
Each local railway in Japan has its own personality—the color of the train, the exterior and interior design, and often, an original character that adorns the promotional material.
A fun way to travel into local Japan, find out the events, recommended spots and original tours produced by each railway, and make use of the free Wi-Fi.
The local railway services that criss-cross Japan might not have the speed of the shinkansen, but they travel to some of Japan's most interesting spots, often snaking around mountains and through scenic villages. Research the passes available to enable you to hop on and off the train as you please. Many lines have Sightseeing Service Centers at the terminal stations offering you information on things to do and see in the area, along with local and seasonal events. Sightseeing deals and discount tickets are often available. Certain trains have free Wi-Fi with multi-language instruction available for all its passengers. Many local railways have websites in English. Taking a scenic railway journey


in Japan is a great way to explore the country.
If you plan to do lots of traveling in the Kanto


area, consider purchasing the Greater Tokyo Pass


for unlimited travel on selected trains and buses. Only available for visitors to Japan.
Be aware that English signage is not as prominent in the local stations, and due to the designs of the platforms, they can sometimes be confusing and disorientating. If you have any questions, speak to one of the station staff.
Hokkaido
Tohoku
SANRIKU RAILWAY



Akita Nairiku Jukan Tetsudo.



Iwate Galaxy Railway


(Japanese only)
Yamagata Railway



Aizu Railway



KONAN TETSUDO


Tsugaru Railway


(Japanese only)
AOIMORI RAILWAY


Abukuma Express


(Japanese only)
Yuri Kōgen Railway


Fukushima Transportation


(Japanese only)
Hokuriku Shinetsu
Kanto
Kansai
Chugoku
Chizu Express



Ichibata Electric Railway



Hiroshima Electric Railway



Wakasa Railway



Ibara Railway Company

(Japanese only)


NISHIKIGAWA TETUDOU

(Japanese only)

Mizushima Rinkai Railway

(Japanese only)
Okayama Electric Tramway 

(Japanese only)
Shikoku
TAKAMATSU-KOTOHIRA ELECTRIC RAILROAD

(Japanese only)

TOSA KUROSHIO TETSUDO (Railway)



IYOTETSU



TOSADEN TRAFFIC



ASA Seaside Railway

Kyushu
Did this information help you?
out of found this information helpful.