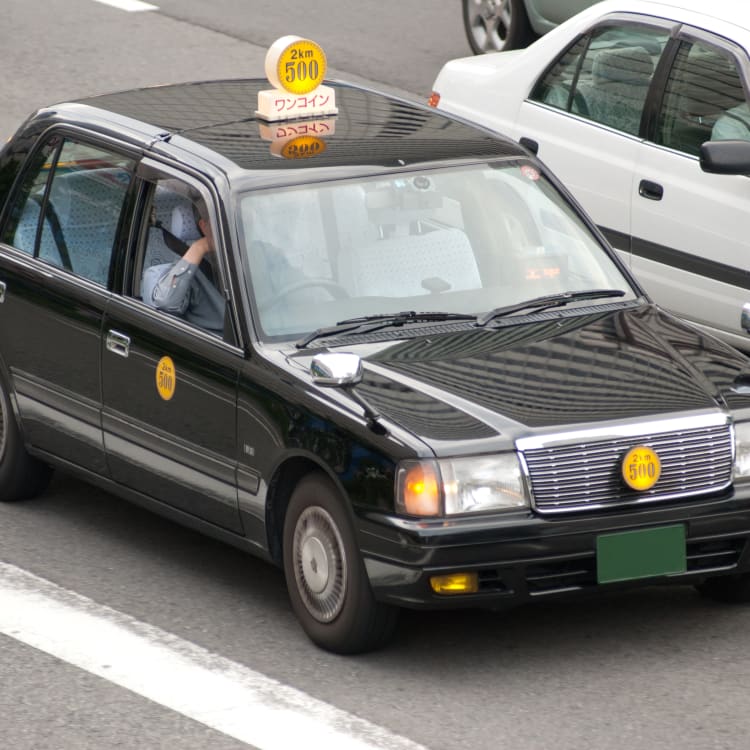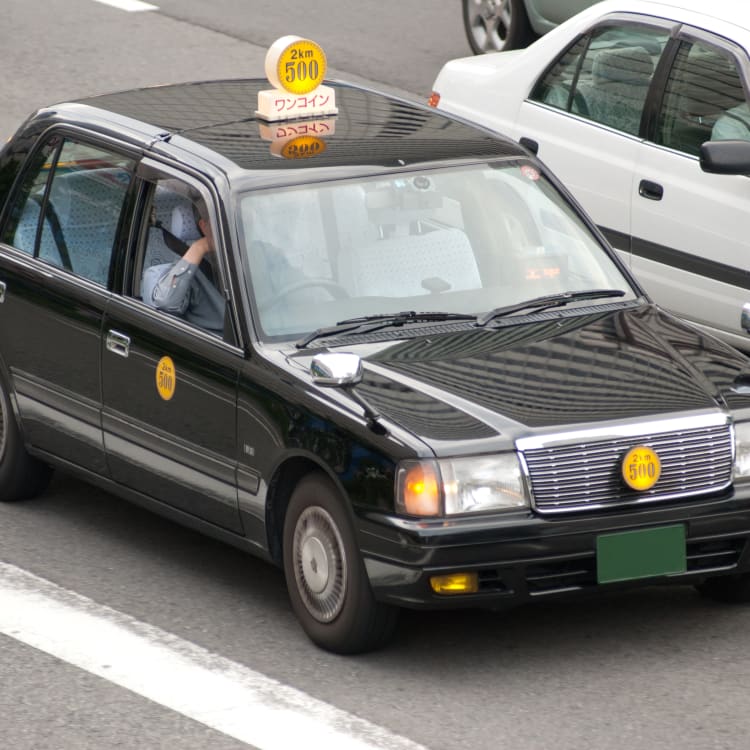 Taxis in Japan
Get around easily and in comfort in Japan's taxis
If you find yourself looking for a taxi in one of Japan's major cities, chances are you won't have to wait long. The city streets are swarming with taxi cabs ready to transport you to your destination. In local areas, the number of cabs decrease, but can usually be found in front of the train station. Taxis may be your only way to get around in rural areas or after public transportation shuts down.
Taxis in Japan are spotlessly clean and the level of service is high. Drivers won't take advantage of their clients and fares are calculated by the running meter.
Like most countries around the world, taking a taxi is a more expensive choice than public transport, but if you are traveling in a group of three or four, it can sometimes be an economical way to travel. While credit cards can generally be used in major city taxis, cash might be your only option in countryside cabs.
How to use taxis?
Signs in the front of taxis show if they are available. These are usually displayed in Japanese, but they are color coded. Red means the taxi can pick up passengers, while green means it is occupied. Doors open and close automatically, so don't try to handle them yourself as you enter and exit. While some taxi drivers in big cities may have foreign language skills, it is a good idea to have your destination written in Japanese—especially if it is not a major sightseeing spot or hotel. Like other service-industry professionals in Japan, taxi drivers do not expect or accept tips.
Taxi Smartphone Apps
Download an app to make ordering a taxi in Japan much easier. The following apps offer an English language service once downloaded—S.RIDE, Uber, DiDi, and Japan Taxi


.
Sightseeing Taxis
In the Tokyo area, a number of taxi companies offer sightseeing tours by taxi


that can tailor a Tokyo tour for you and your group.
How much are the fares?
Fares are calculated by distance on the meter, with the exception of certain fixed-rate routes to airports and major sightseeing spots. Taxi drivers in Japan will not take advantage of riders and will use the GPS and meter to get you from point A to point B as quickly as they can. A late-night surcharge is added between 10 p.m. and 5 a.m. and any fares incurred on highways are paid by the rider.
For an idea of fares, a seven-kilometer Tokyo ride taking about 25 minutes should cost between 2,500 and 3,000 yen during the daytime.
Fixed-Fare Airport Transfer
For many travelers, getting to or leaving from the airport is the time to take a taxi. Japan's major airports have this covered with fixed-fare prices and shared services.
Narita Airport
If you choose to jump in a taxi for your trip to central Tokyo from Narita Airport


, request a fixed fare


to your destination. Tokyo's different zones are labeled and given a fixed price. All you have to do is ask your driver for the fixed rate when you get in the cab. Check prices beforehand, though, since this is not a short ride.
Haneda Airport
Haneda Airport


offers a very similar service to Narita Airport


with flat-rate taxi fares


available for visitors traveling to most areas of Tokyo.
Shared Taxi Shuttle Service to Kansai International and Itami Airports
If you find yourself in the Kansai area and are heading to the major airports of Kansai International or Itami, a shared taxi shuttle service


may well be a cheap and convenient option for your trip to the airport.
Sightseeing Taxis
In the Tokyo area, many taxi companies offer sightseeing tours by taxi that can tailor a Tokyo tour for you and your group. Other taxi companies around the country offer similar services.
Did this information help you?
out of found this information helpful.