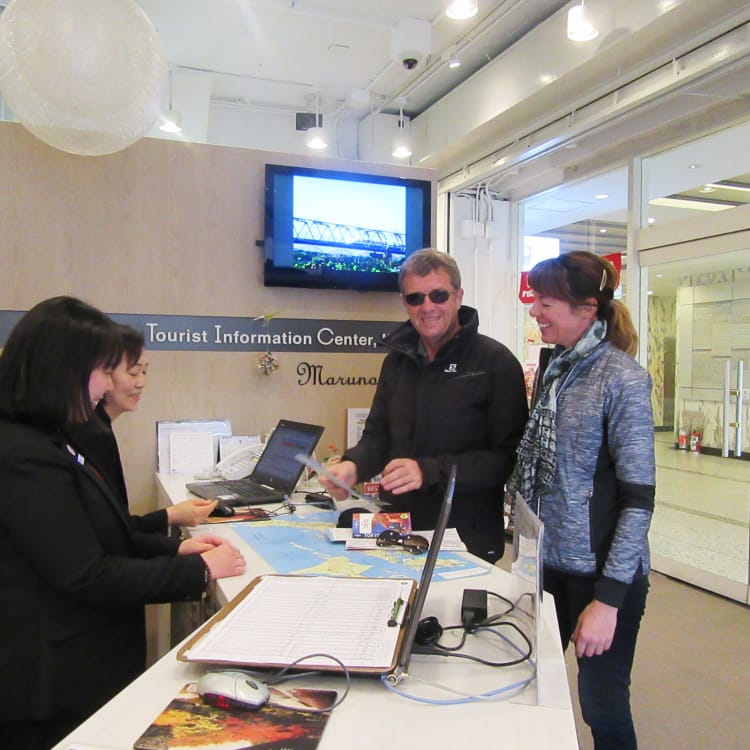 Visit JNTO TIC (Tokyo)
Tourist Information Center
Drop by the Tokyo Tourist Information Center (TIC) for a deeper Japanese experience.
Since 1962, the JNTO Tourist Information Center (TIC) has been helping visitors make the most out of their trip to Japan. Fluent in English, Chinese and Korean, friendly and knowledgeable staff are on hand to provide you with the latest information and trustworthy advice on what to see and do in Japan. Internet PCs and free Wi-Fi are available for those who want to connect with the wider world.
If you are nearby, drop in and take your pick from the wide selection of free maps, multilingual leaflets, coupons and other useful materials. All aimed at enhancing your Japanese experience.
If you are looking to delve deeper and discover more about Japan, the TIC provides a selection of Japanese culture experiences. Dress up in Kimono* (Japanese traditional clothes) or try your hand at the paper-folding art of origami. Alternatively, dip a brush into rich, velvety ink and paint some shodo-calligraphy. Other experiences are also on offer.
Cultural experience at JNTO TIC is not available until further notice. Address
1st Fl, Shin-Tokyo Bldg., 3-3-1, Marunouchi, Chiyoda-ku, Tokyo , 100-0005
*Located on Marunouchi-Naka Dori Street side of Shin-Tokyo Bldg,
How to get to TIC from JR Tokyo/Yurakucho Station
Access
2min. from Exit1&B7 of subway (Chiyoda Line) Nijubashimae Station.
3 min. from D3 or D5 Exit of subway (Yurakucho Line) Yurakucho Station.
3 min. from International Forum Exit of JR Yurakucho Station.
1min, from Exit6 of JR (Keiyo Line) Tokyo Station
7 min. from Marunouchi South Exit of JR Tokyo Station.
Wheelchair Accessible Route to JNTO TIC:
From Nijubashimae Station to JNTO TIC
From JR Tokyo Station to JNTO TIC
Phone
+81 3 3201 3331 (in Japan 03 3201 3331)
Open
Open Daily (except on Jan.1)
9:00-17:00
Languages
English, Chinese and Korean
Wi-Fi
Available for free
Internet PC
Available for free
Services

Offering tourist information and useful literature for free
Suggesting various tour itineraries throughout Japan
Telephone inquiry service is also available in English, Chinese and Korean.
Postcards are on sale–the perfect souvenir
Offering Wi-Fi router rental
Pick-up service for visitors with disabilities (PDF)
All information is correct as of May, 2020. Independent research is always advised for the most up-to-date and relevant information.
Did this information help you?
out of found this information helpful.