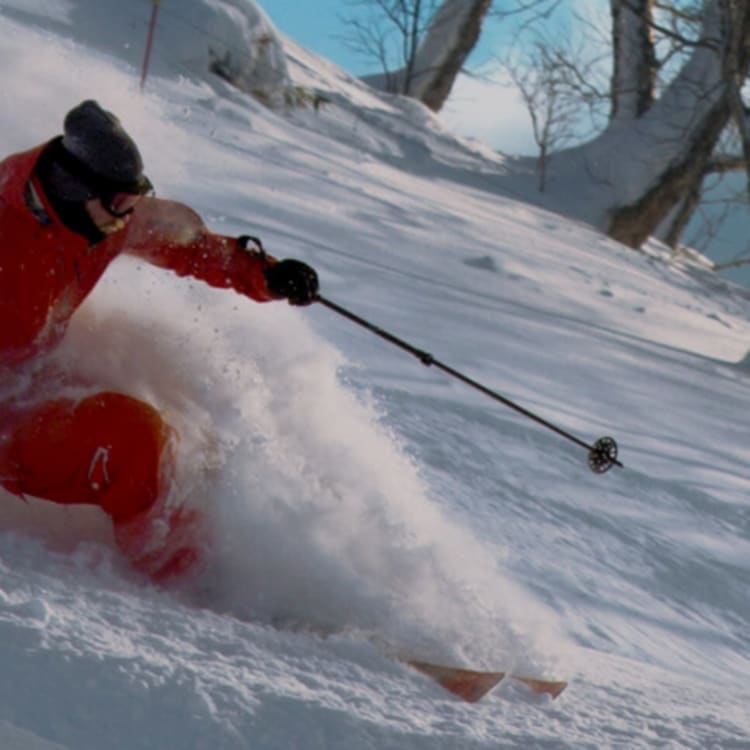 Exertion
Forget limits
Japan's vast swathes of untamed nature offer an ideal stage on which to test your limits. Whether battling your way up a cliffside, blazing your way through backcountry trails, or soaring through the vast, open sky, there is always an intense and rewarding experience to be found, and a stunning view of the landscape that you have conquered waiting at the end.
Carve through the best snow in the world
Skiers from all over the world come to Japan to leave their mark on its sprawling blanket of pristine powder snow. This blanket stretches out past ordinary ski slopes and into the countryside, where advanced skiers can put their skills to the test as they traverse the rugged terrain and take on Japanese snow in its purest form.
Find out more about Ski & Snowboard
Take a long, ponderous walk and take in the historical and cultural scenery
Japan is veined with long, meandering trails such as the Kumanokodo, a road dating back to the Heian period. These paths can take days at a time to conquer, but those with the endurance to follow them can melt into the scenery, each step tracing the infinite routes taken by all past and present travelers similarly led in the same direction.
Find out more about Hiking & Walking
Climb your way to a tremendous view
With the majority of the country composed of mountainous areas, in Japan, you're never far from a challenging climb. Lose yourself in the pursuit of higher and higher ground, putting it all into getting to the top. Many mountains are untouched by man, so be sure to enlist the help of a local guide to make sure you get the most out of your climb and stay safe.
Soar through the clear, crisp air
Glancing out the window of a shinkansen, you may be surprised at the fluidity of Japan's scenery, with natural and manmade features flowing into one another. Paragliding gives you a thrilling bird's-eye view of this patchwork landscape, from vast, untamed plains to gently rolling hills and fields, all passing beneath underfoot as you feel the wind parting to let you through.
Find out more about Paraglider / Hang Glider
Choose from an abundance of pristine beaches and great surf
The waters surrounding Japan offer a nearly overwhelming variety of surf, ranging from major spots such as those in the Shonan area to locales frequented only by those in the know in Shikoku. The waves that you need are somewhere in the blue seas surrounding the country; all you need to do is grab your board and look for them.
Seek the mysteries of the dark
Japan's many caves have historically held a position of spiritual significance, often serving as the sites for shrines or as the dwellings of gods in folklore. Adventurers seeking to brave the depths can choose from a wide assortment of spelunking sites, from small grottos to sprawling caverns, as can be found on Okinoerabu Island in Kagoshima.