Kawazu Seven Waterfalls
河津七滝ループ橋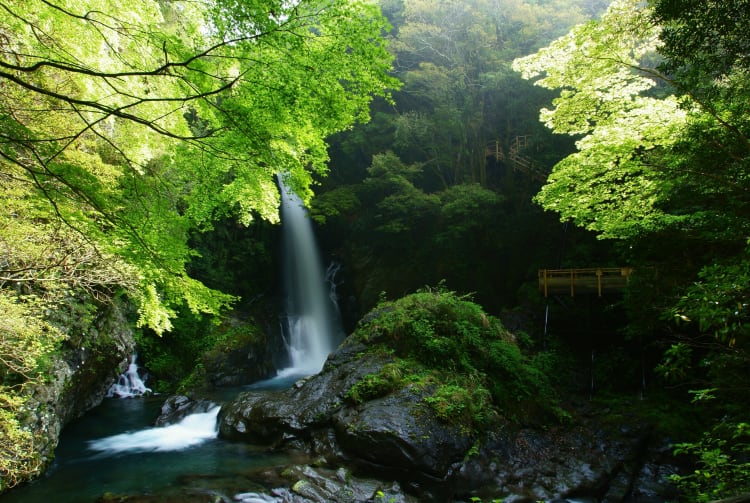 Seven falls, seven onsen, and fascinating side paths you'll want to explore
The pure waters of the Kawazu River flowing down from the Amagi mountain range take seven drops. There is a great trail to hike known as Kawazu Nanadaru that leads from one gushing fall to the next.
Don't Miss
A soothing soak in an onsen after you explore the falls
Visiting the wasabi fields and sampling some wasabi goods
How to Get There
Use the direct Odoriko trains from Tokyo or a shinkansen followed by local lines.
From Tokyo Station


, the Odoriko or Super View Odoriko trains take about two and a half hours to get to Kawazu Station. The Tokaido Shinkansen from Tokyo Station


takes approximately 50 minutes to Atami Station, after which you'll board the Ito Line and Izu Kyuko Line for approximately an hour and a half to Kawazu Station. Quick Facts
Kawazu's seven waterfalls drop from heights of up to 30 meters
A bronze statue at one of the falls was inspired by a Yasunari Kawabata novel
The biggest of the seven falls, Odaru, has a swimming hole and hot baths beside the stream
The stamp rally
Each fall has a name—Kamadaru, Ebidaru, Hebidaru, Shokeidaru, Kanidaru, Deaidaru and Odaru—all ending with "daru." For fun, you can do a "stamp rally." Every time you stop at one of the falls, you can get your special card stamped with one of the seven gods of good luck.
The dancer by the falls
The Shokeidaru Falls has a special companion, a bronze statue known as Odoriko inspired by Yasunari Kawabata's short novel The Izu Dancer. Literary fans are frequent visitors. This is also one of the main venues of the Taki Matsuri, a festival that celebrates the falls.
More sevens—this time for bathing in
The Kawazu area has seven well-known hot spring baths—Imaihama Onsen, Kawazuhama Seaside Onsen, Yatsu Onsen, Mine Onsen, Yugano Onsen, Odaru Onsen and Nanadaru Onsen. You'll have a choice of sea views or mountain views depending on the bath you choose, but all of them will leave you feeling relaxed yet energized. That spicy green root
If you continue south after reaching the last fall, Odaru, you'll find Wasabidanosato, a field of wasabi. Wasabi is the spicy green paste that livens up sushi and many other dishes in Japan. The area's clear, clean waters and the green rooted plants that grow in them are a rare sight, and well worth checking out. You'll also be able to try foods made with wasabi.
Fast bloomers in spring
There are 8,000 cherry trees in Kawazu, and they have a reputation for showing their blossoms to the world early. The Kawazu blooms are also known for their large petals and bright pink color. The Kawazu-zakura Cherry Blossom Festival is a popular springtime event. The beaches down south
Near Kawazu Seven Waterfalls Nature
Kawazu Seven Waterfalls
Kamo-gun,
Shizuoka-ken Festivals & Events
Kawazu Cherry Blossom Festival
Kamo-gun,
Shizuoka-ken Luxury Stay Luxury Stay Relaxation
Inatori Onsen
Kamo-gun,
Shizuoka-ken Nature
Shirahama Beach
Shimoda-shi,
Shizuoka-ken