Mt. Fuji Panoramic Ropeway
~河口湖~ 富士山パノラマロープウェイ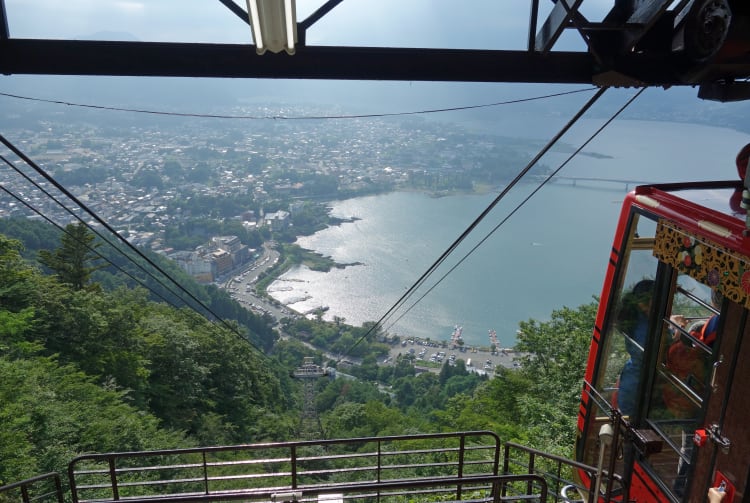 Ride the ropeway up Mt. Kachi Kachi and be rewarded with spectacular views for the adults and fun for the kids
The peak of Mt. Tenno offers breathtaking views of Mt. Fuji


and Lake Kawaguchi


below (weather conditions permitting). Ride the Mt. Fuji Panoramic Ropeway


up the mountain to the observation deck, join in some activities based on a local folktale, and marvel at your surroundings.
How to Get There
You can reach the ropeway by train or bus.
The ropeway station is approximately a 15- to 20-minute walk from Kawaguchiko Station. Alternatively, take the bus on the Omni Bus Red Line from the station and disembark at the Yuransen Ropeway Iriguchi bus stop 15 minutes away—also a stop for the Mt. Fuji World Heritage Loop Bus.
Quick Facts
The cable car only takes three minutes to reach the top
The cable itself is 460 meters long
36 passengers can fit inside each vehicle, which are all adorned with rabbit motifs
Ties to a famous folktale
Mukashi-banashi, or fables, are as popular in Japan as they are in other countries. "Kachi-Kachi-Yama," written by Japanese novelist Osamu Dazai, tells the story of a young rabbit trying to outwit a tanuki, a Japanese raccoon dog. View the story as you make your way up the ropeway.
Rabbit and raccoon-themed attractions
Exit the ropeway onto the mountain, and you will see a photo-service where you can have your photo taken with models of the rabbit and raccoon with Mt. Fuji


in the background. Pay your respects at the small Usagi-jinja, or Rabbit Shrine, before stopping in at the raccoon-themed cafe.
Visit the cafe to try out mitarashi dango, roasted rice dumplings, which are featured in the story. Three rice cakes are skewered onto a stick, dipped in a sweet soy glaze and emblazoned with a likeness of Mt. Fuji


.
Other attractions
Kawarake throwing is fun to try, too. Purchase small clay discs from the cafe that represent the dumplings, and try and hurl them through a small rope ring. Making a shot is tricky, but throwing the discs and hearing them break into shards is fun regardless.
Couples should visit the Bell of Tenjo. This bell is suspended in a heart-shaped frame, where you can see Mt. Fuji


on clear days. Stand on either side, hold the rope, and ring it together to keep your relationship happy. And if you look toward Mt. Fuji


, other wishes may come true, too.
Take a hike
For those not wanting to ride the ropeway back down, follow the hiking trail from the observation deck down the forested mountain; the journey takes about 30 minutes. Mt. Tenjo also makes a good starting point to trek to nearby Mt. Mitsutoge.
Near Mt. Fuji Panoramic Ropeway Attraction
Mt. Fuji Panoramic Ropeway
Minamitsuru-gun,
Yamanashi-ken Attraction
Fuji-Q Highland
Fujiyoshida-shi,
Yamanashi-ken Attraction
Fujisan World Heritage Center
Minamitsuru-gun,
Yamanashi-ken Nature
Arakurayama Sengen Park
Fujiyoshida-shi,
Yamanashi-ken Nature
Lake Kawaguchi
Minamitsuru-gun,
Yamanashi-ken Art & Design
Itchiku Kubota Art Museum
Minamitsuru-gun,
Yamanashi-ken