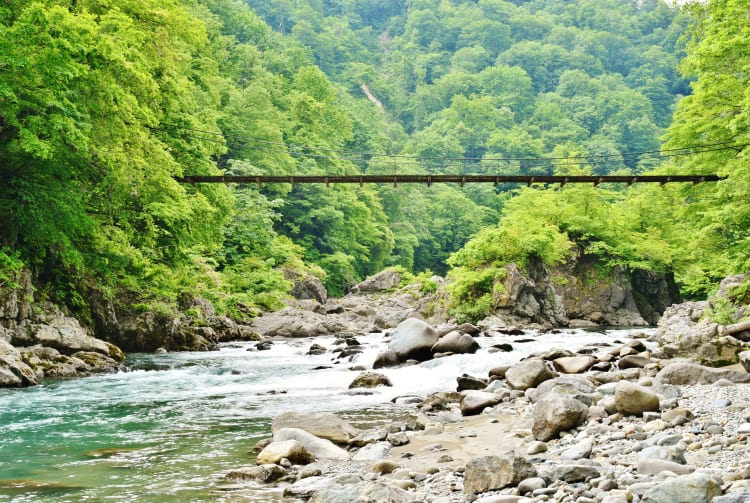 Natural vistas and bucolic landscapes
Ketto Hamlet is an unexplored spot in Tsunan, southeastern Niigata prefecture. Come here for natural, unaffected beauty, where ravines, rivers and unusual rice paddies all compete for your attention.
How to Get There
The closest major transport hub to Ketto Hamlet is Echigo Yuzawa Station, a 50-minute bus ride away. By train, its a 70-minute shinkansen ride on the JR Joetsu Line from Tokyo to Echigo Yuzawa Station.
Mikura Bridge
If you're looking for thrills, make your away across Nakatsugawa River via the Mikura Bridge in Ketto Hamlet. This wooden suspension bridge is beautifully shaped and offers a stunning overview of the clear blue river. The mystery movie "Sway" was filmed there in 2006.
Rice
Niigata Prefecture


is known as rice country, and Ketto Hamlet is no exception. Unlike rice paddies that are usually separated by soil and grass, rice fields in Ketto Hamlet are divided by low stone walls. On special occasions, thousands of candles are set up on the stones, and visitors can enjoy a special night along with local dance and drum performances. Ketto Dam and Ketto Hot Spring
Other nearby attractions worth noting are the Ketto Dam completed in 1972 and the Ketto Hot Spring which features an outdoor hot bath with a mountain view and a souvenir shop for local products. Nature
Ketto Hamlet
Higashitsugaru-gun,
Niigata-ken Nature
Tashiro No Nanatsugama
Tokamachi,
Niigata-ken Nature
Mt Naeba
Nakauonuma-gun,
Niigata-ken Action & Adventure
Echigo Yuzawa Ski Resorts
Minamiuonuma-gun,
Niigata-ken Nature
Yuzawa Kogen Ski Resort
Minamiuonuma-gun,
Niigata-ken Relaxation
Echigo Yuzawa Onsen
Minamiuonuma-gun,
Niigata-ken