Oze National Park (Fukushima)
尾瀬国立公園(福島)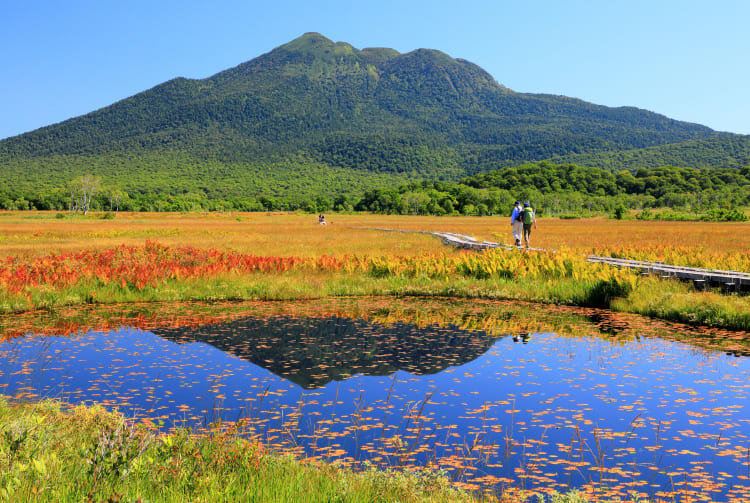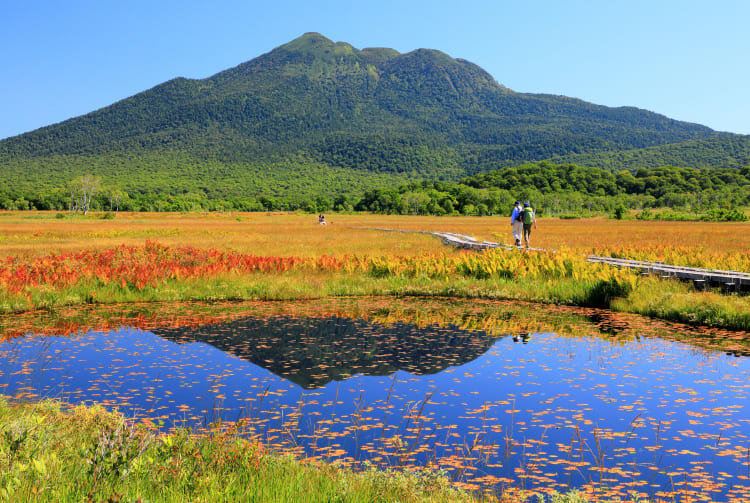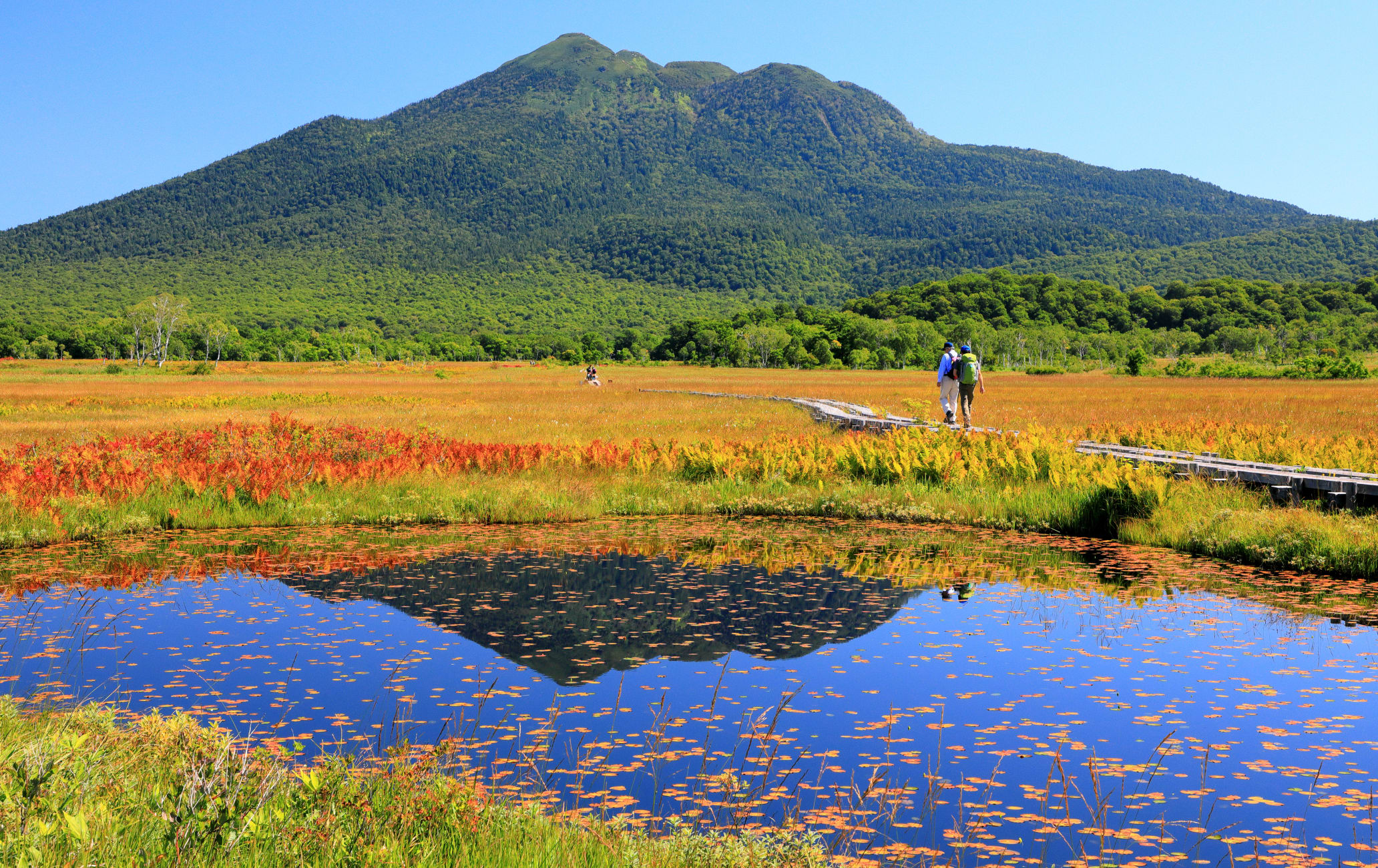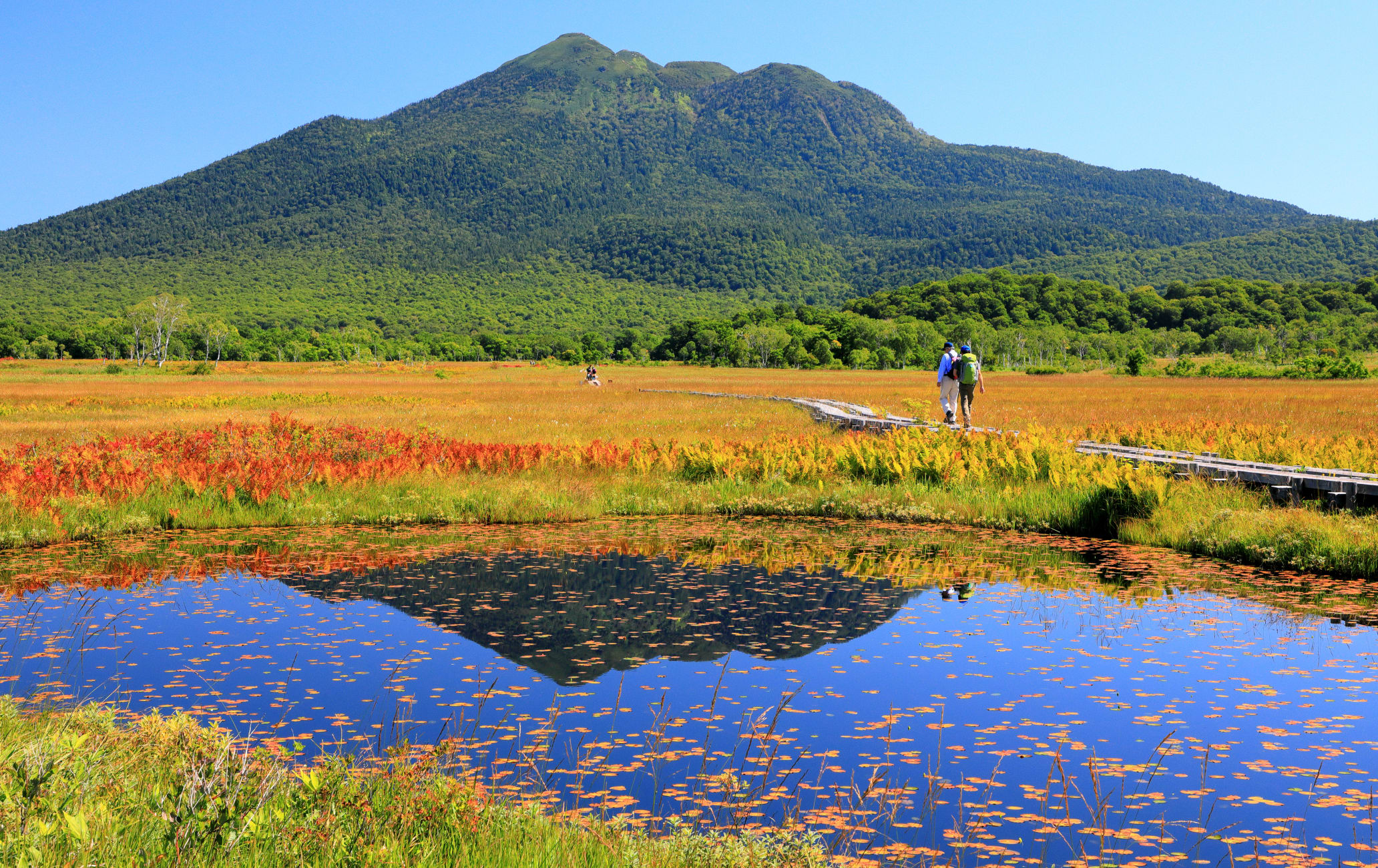 Walk through flora and geological features straight out of the Ice Age
The massive highland marsh of Oze is Japan's most extensive, a place where Ice Age plants still flourish and the white blooms of misobasho blanket the landscape in spring. Yellow alpine lilies take over in mid-summer before being overshadowed by shimmering fall colors.
Oze is full of trails set among pristine forests, waterfalls, lakes such as Lake Ozenuma and peaks like Mt. Shibutsu and Mt. Hiuchigatake. The climate is relatively cold and the summers are cool, which is a major draw when the weather turns steamy.
Don't Miss
The ponds and waterfalls scattered across various hiking trails
A rare ecosystem of virgin forest, home to rare plants and animals
Staying at a lodge or camping site
How to Get There
You can get to Oze National Park


via train, bus and car, though there are no direct transport links from Fukushima city or Aizu-Wakamatsu.
From Tokyo, take the JR Joetsu Shinkansen to Jomo-Kogen Station, then transfer to Numata Station by local train. From there, take a bus to Tokura; most buses go to the Oshimizu trailhead. For the Hatomachitoge trailhead, which is closest to the marshlands, change at Tokura for a shuttle bus.
Kanetsu Kotsu runs a direct bus from late May to mid-October between Tokyo and Oze, with the entire journey taking about four hours.
Quick Facts
Oze covers four prefectures: Gunma, Fukushima, Niigata and Tochigi
The Ozegahara Marshlands are 1,400 meters above sea level
You can stay at lodges within the park A unique and protected ecosystem
Oze's marshlands were created when Mt. Hiuchigatake erupted tens of thousands of years ago, and the resulting lava flow blocked the Tadami River. Today, rare animals and plants still thrive in Oze's virgin forests, protected by the 2005 Ramsar Convention. One such protected species is the Japanese black bear.
Getting in and getting around
A park entrance ticket is required. Once inside, there are paths of varying difficulties. The main attractions are easy to navigate, with well-maintained elevated boardwalks installed which take you over the Ozegahara Marshlands


, and around the edges of Ozenuma Pond.
There are plenty of designated rest areas, allowing you time to unwind and doubling as perfect spots for photo opportunities. Beyond these two popular spots are waterfalls and hundreds of smaller ponds. These are accessible by more difficult trails, with some traversing over tall hills and mountains. Small rest houses located at various places provide refreshments for weary trekkers.
The visitor centers provide useful information and walking maps, as well as exhibitions about local animals and plants. Oze is a popular destination during the changing of colors, so be prepared for crowds if you're coming during autumn.
Staying overnight
While day trips from Tokyo are possible, an overnight stay is recommended. You can either camp or book one of the lodges in the park. Be sure to book ahead, though, since vacancies are likely to be limited during peak season.
Venture out further for onsen, water sports and some culture
The mountainous hot spring resort town of Minamikami in Gunma Prefecture is home to famed Takaragawa Onsen


, which allows mixed gender bathing and has large outdoor baths. You can also try whitewater rafting and canyoning here in the warmer months, and ski in winter.
Nikko, famous for Toshogu Shrine


, can be reached by car and bus. This UNESCO World Heritage Site is a grand mausoleum complex of tombs and temples built to serve the Tokugawa clan, who ruled Japan for a few centuries.
Near Oze National Park (Fukushima) Nature
Oze National Park (Fukushima)
Minamiaizu-gun,
Fukushima-ken Nature
Oze National Park (Gunma)
Tone-gun,
Gunma-ken Nature
Sanjo Falls
Minamiaizu-gun,
Fukushima-ken Nature
Oze National Park (Tochigi)
Tone-gun,
Gunma-ken Nature
Oze National Park (Niigata)
Tone-gun,
Gunma-ken Relaxation
Okukinu
Nikko-shi,
Tochigi-ken