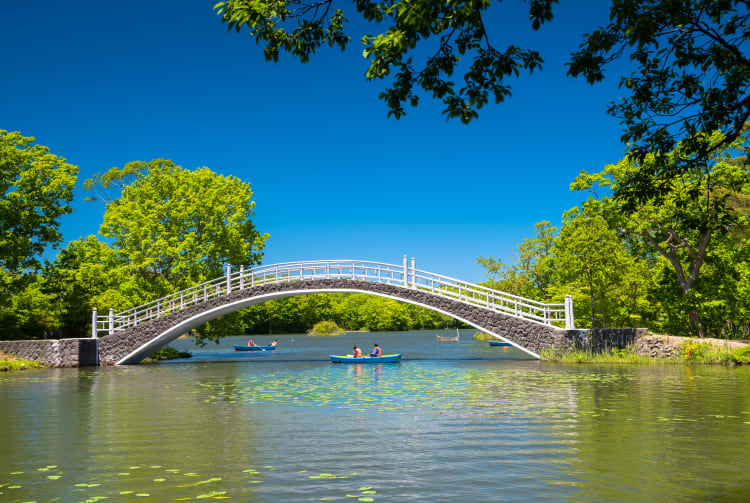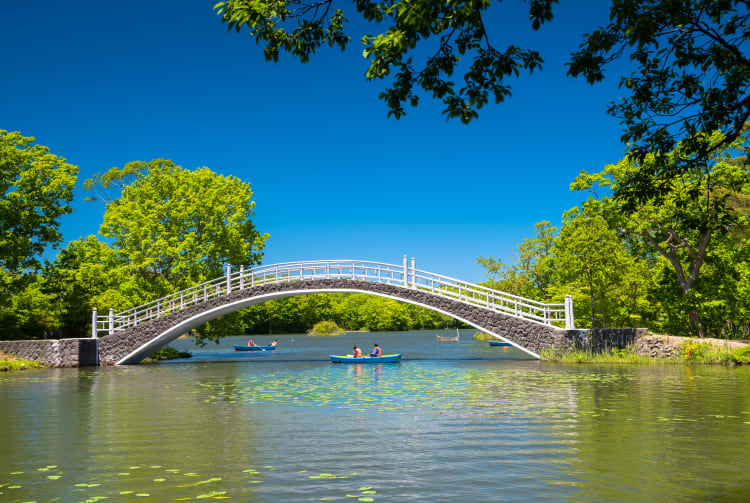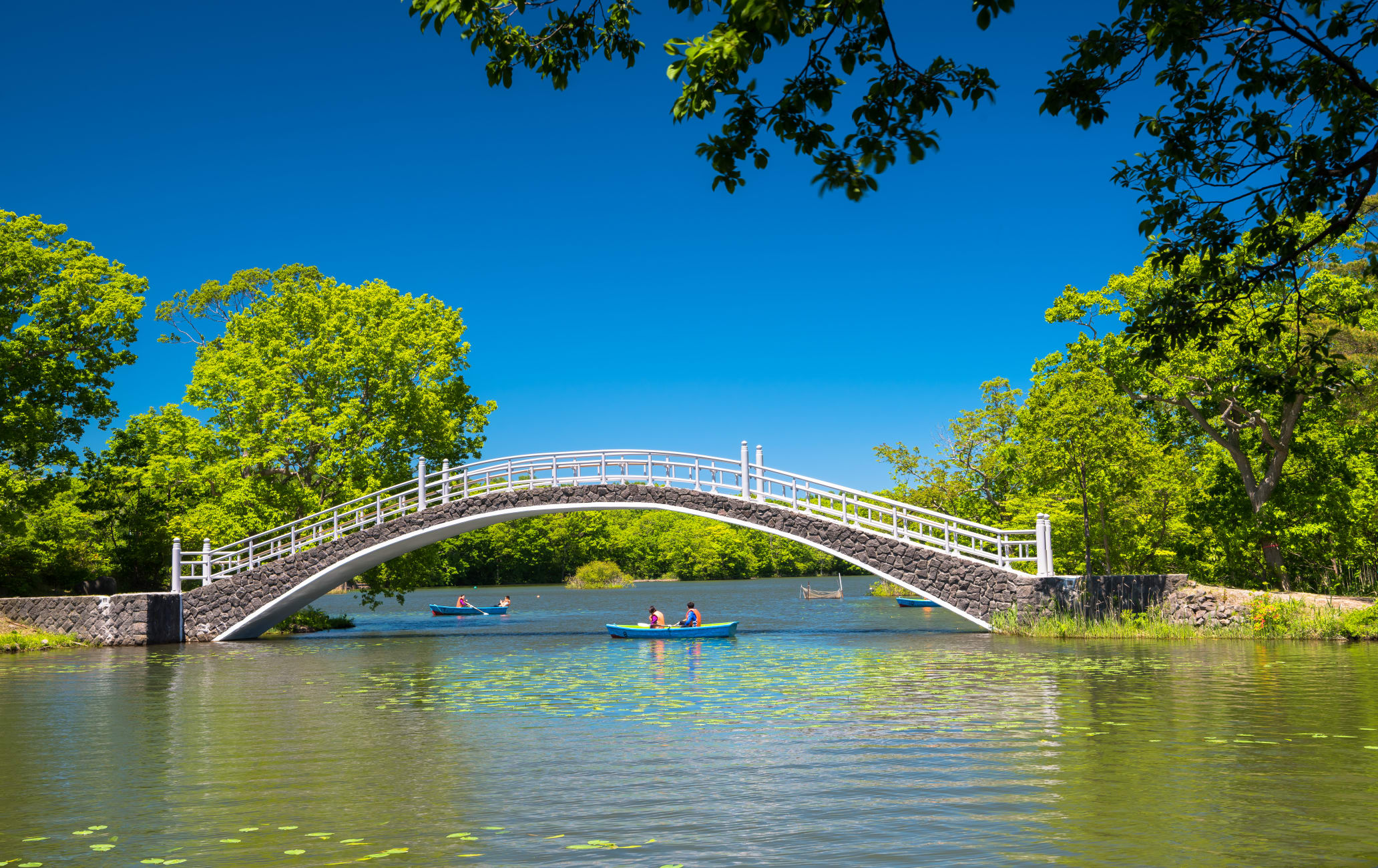 An expansive park of lakes, mountains and activities
Designated a Quasi-National Park in 1958, Onuma Park includes the picturesque Onuma, Konuma and Junsainuma lakes, and the beautiful Mt. Komagatake. With abundant wildlife, lush greenery and no shortage of activities, Onuma Park is perfect for nature-lovers. Cycling, canoeing, horseback riding, camping, and hiking are all on offer in summer, while snowshoeing, ice fishing and snowmobiling are popular activities while the park is blanketed in snow during the winter.
Don't Miss
Strolling from islet to islet along the 18 bridges that crisscross Lake Onuma
Trying to spot one of the many species of birds that call Onuma Park home
Joining the festivities for summer's Onuma Lake Water Festival or winter's Ice and Snow Fair
How to Get There
Onuma Park is most easily accessed by train or bus from Hakodate


.
For those arriving by train, take either the JR Super Hokuto Express (20 minutes) or the slower local train, from Hakodate Station to Onuma Koen Station. Alternatively, buses run from Hakodate Station to the park in 60 minutes. For those with a private vehicle, the drive from Hakodate Station takes around 40 minutes. Walk on water at Lake Onuma
Sitting centrally in Onuma Park is Lake Onuma, a haven for wildlife. The largest lake in the park, Lake Onuma is 24 kilometers around. Most notably, the lake is home to 126 small islands. To help you explore the beauty of the lake, 18 bridges span the waters to connect some of the islands. A walk around the lake will take you around 60 minutes. Four seasons on display
Spring in Onuma is popular with bird-watchers, with herons, mandarin ducks, and kingfishers inhabiting the park grounds. Summer's warm temperatures coax water lilies to bloom, dotting the waters of the park with pink and white flowers. In fall, the rich colors of the foliage in Onuma Park are reflected on the lake's surface, creating breathtaking scenes. Winter brings soft snows and a quiet grace to Onuma Park, along with hundreds of migratory birds. Exciting events to experience
Onuma Park offers two fun-filled events, one in summer and one in winter. The summer event is the two-day Onuma Lake Water Festival. The highlight of this family-friendly event is the toro nagashi ritual, where floating lanterns are launched on the water in memory of deceased loved-ones. During the two-day festival, candles light the lake and a fireworks display is held. The year's largest event, the Snow and Ice Fair is held in February. This festival includes a beautiful array of illuminated snow and ice sculptures, food stalls and a giant ice slide. Nature
Onuma Park
Kameda-gun,
Hokkaido Nature
Lake Onuma
Kameda-gun,
Hokkaido Festivals & Events
Goryokaku Park Cherry Blossoms
Hakodate-shi,
Hokkaido History
Goryokaku Fort
Hakodate-shi,
Hokkaido Attraction
Goryokaku Tower
Hakodate-shi,
Hokkaido Art & Design
Hakodate Museum Of Art Hokkaido
Hakodate-shi,
Hokkaido