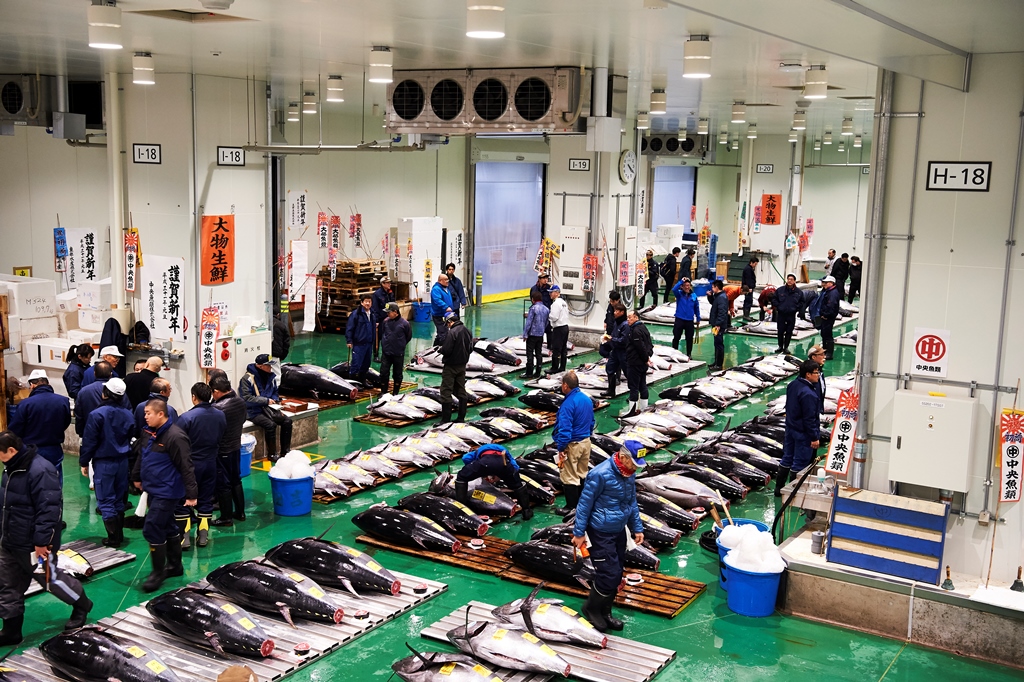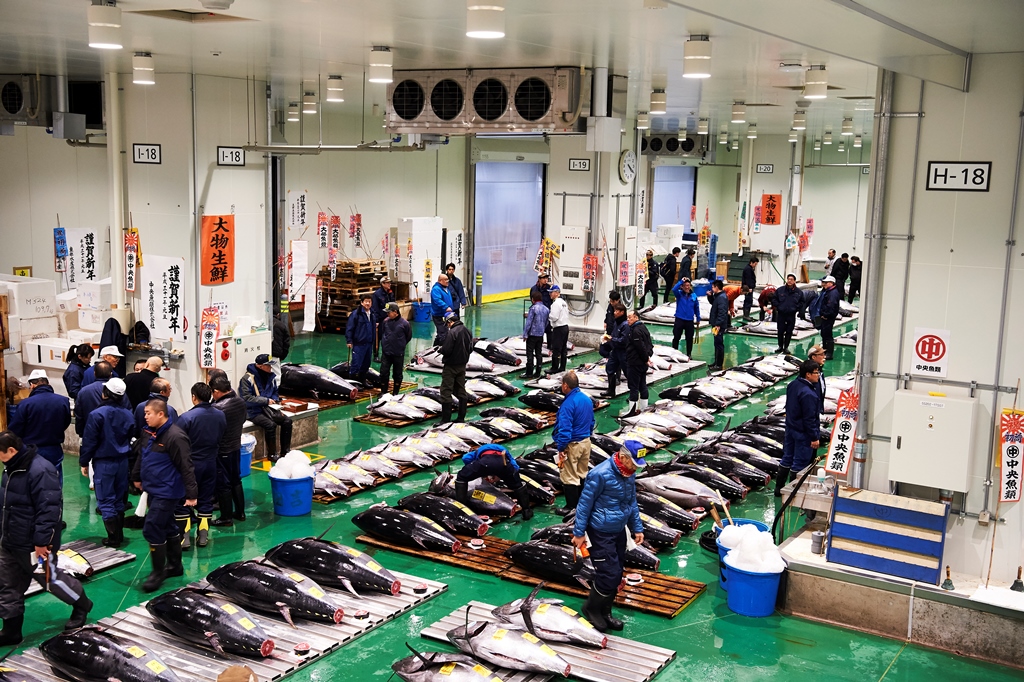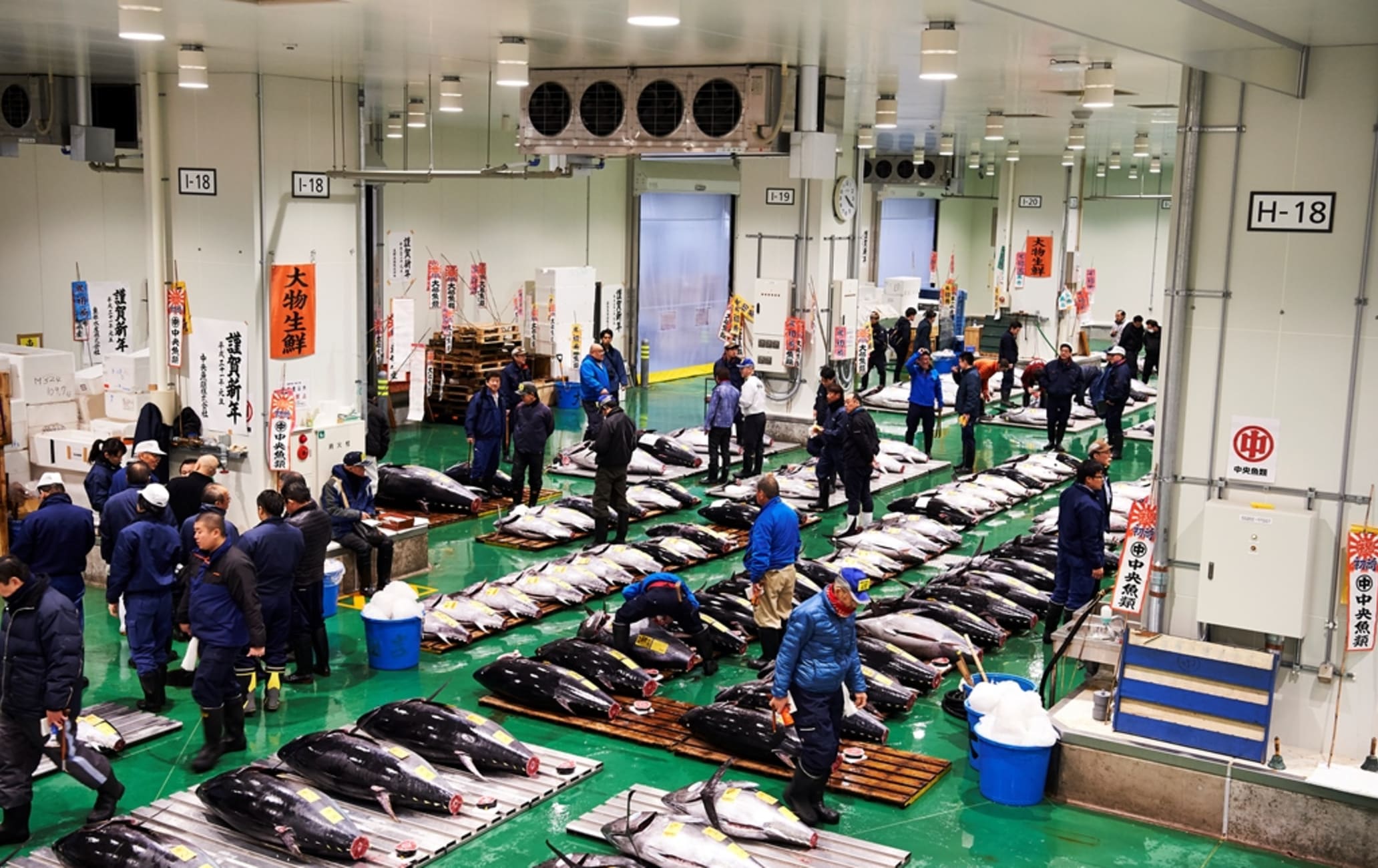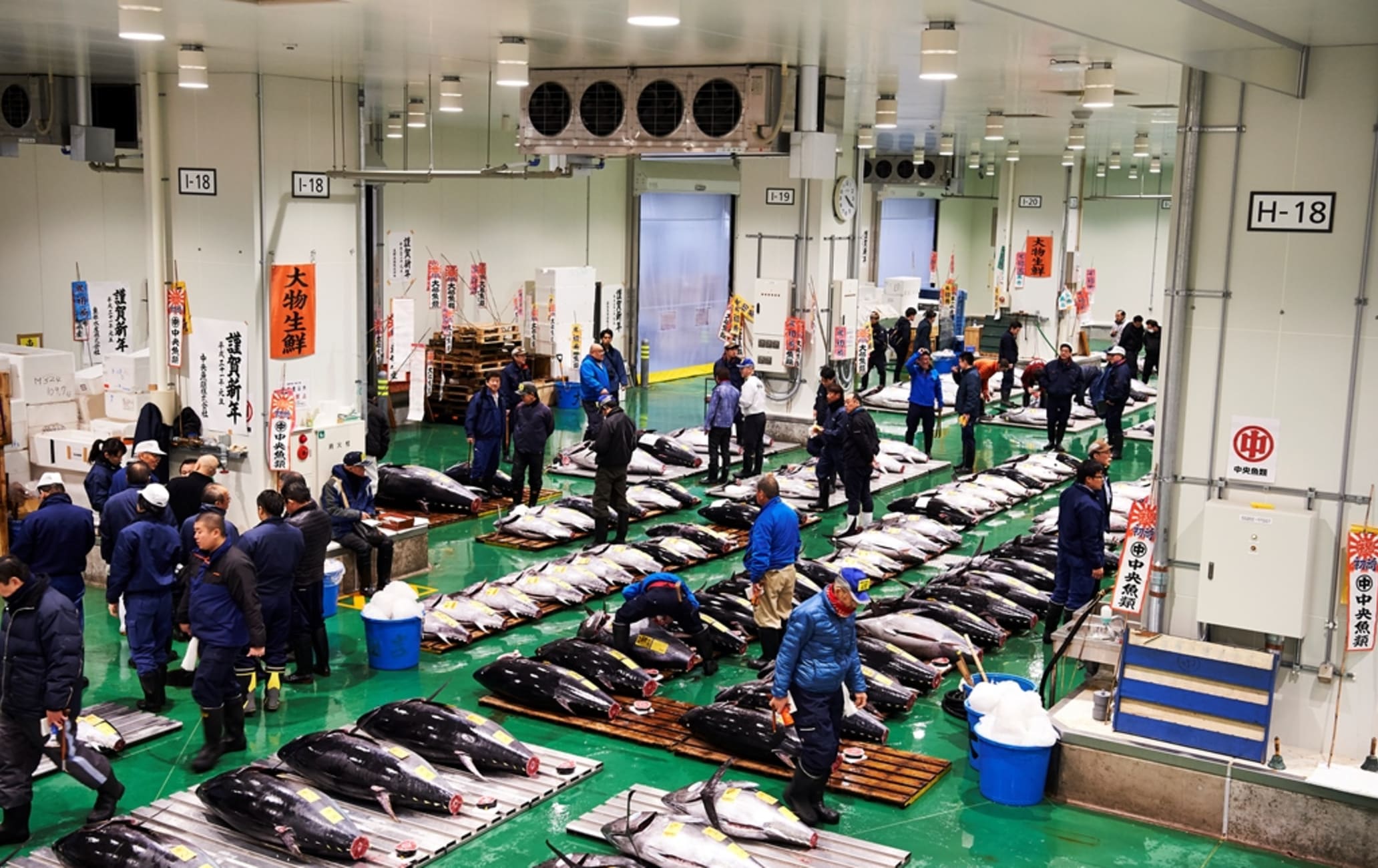 A new high-tech facility for a historic Tokyo landmark
In October 2018, the famed Tsukiji Fish Market moved to the man-made island of Toyosu in Tokyo Bay. Formerly, Toyosu was an industrial zone, but it has since been transformed into a bustling residential and commercial neighborhood. Notable attractions include Urban Dock Lalaport shopping complex, the Gas Science Museum, and the expansive Toyosu Market. Visitors to the market can experience fish-auction tours, observe wholesale markets, and sample fresh seafood and produce at on-site restaurants.
Don't Miss
The early-morning tuna auction from a designated viewing platform
Feast on freshly caught seafood at the on-site restaurants
Views of Tokyo Tower and Tokyo Bay from the Green Roof Plaza
How to Get There
Access the market from Shijo-mae Station on the Yurikamome Line. Note that there is no parking available for cars or bicycles. Relocation and redevelopment
The relocation of the market from Tsukiji to Toyosu came in response to the evolving needs of producers, retailers, and customers. As Tsukiji Fish Market grew in size and attracted an increasing number of people from around the world, the Tokyo Metropolitan Government acted to expand and modernize the market's facilities.
Toyosu Market comprises three main buildings, each of which fulfills a different role: The Fisheries Wholesale Market Building brings together Japanese and international suppliers in a central location. From here, they sell fish and other marine products to local distributors.
The building also hosts a world-famous tuna auction. The Fisheries Intermediate Wholesale Market Building houses shops and stalls from which distributors sell seafood to fish dealers, sushi restaurants, and other local buyers. The Fruit and Vegetables Building, meanwhile, contains both wholesale and intermediate markets that sell produce from Japan and overseas to restaurants and grocers. Each building contains market-related shops and restaurants. Travelers can visit these various outlets as part of the Visitors' Course. Toyosu Market also features rooftop gardens and solar panels—the latter to promote energy efficiency. As a self-contained facility, it offers excellent climate control, helping ensure food safety and security. Roll up roll up—the Toyosu tuna auction
Tsukiji Fish Market's iconic tuna auction was one of its most popular attractions. Visitors would line up every day well before 5 a.m. to see buyers bid for the catches brought in that morning. Those keen to observe the tuna auction at Toyosu will still have to rise early, but tickets are no longer apportioned on a first-come, first-served basis. Instead, visitors need to submit an online application or apply by phone (0570-02-9999) during the month prior to their planned visit. Once the application period closes, participants will be chosen by lottery and notified of the results by email. Each application can list up to five people. Only 120 visitors per day will be accepted.
On the day of the tour, winners must confirm their identities and those of accompanying participants with valid photo IDs and a copy of the email notifying them of their selection. Participants should arrive at the Promotional Corner on the third floor of the Management Facilities Building by 5:30 a.m. Groups will then move to the tuna-auction observation deck, where they can observe buyers bidding on hundreds of frozen fish. Taking pictures is allowed, but flash photography is prohibited. Fresh fish for breakfast
After viewing the tuna auction, visitors can enjoy breakfast or an early lunch at any of the nearly 40 restaurants around the market. Each building has a dedicated dining area, and, as many of the restaurants source their fish directly from the market, sushi is the most popular food on offer. Visitors can also enjoy such Japanese staples as ramen, beef bowls, curry-rice, and deep-fried pork cutlets. A few restaurants also offer Chinese dishes and Western favorites. Try dropping by the market's cafes to enjoy Japanese sweets and specialty coffees. Plan to arrive early though, since most eateries close before 2 p.m. Authentic purchases
Uogashi Yokocho—an area for workers to purchase market-related goods—is another notable part of Tsukiji Fish Market that made the move to Toyosu. The market is located on the fourth floor of the Fish Intermediate Wholesale Market Building and is open to the public. Visitors can browse authentic souvenirs, kitchen utensils, dry goods, and fresh produce. Everything from ceramic teapots and kitchen knives to Japanese pickles and sake are available for purchase. Most shops and stalls close in the early afternoon.
Additional information on the history of Toyosu Market, its structure, and the variety of marine products it handles, is available at the Visitor Hall. Fruits & vegetables, roof gardens & city views
Though Toyosu Market is primarily known for its seafood and tuna auctions, the Fruit and Vegetables Building contains numerous wholesale and intermediate produce markets. Take a trip to the Visitors Deck on the second floor to observe the distribution of fruit and vegetables. Display panels describe the various fruit and vegetables that pass through the warehouse during different parts of the year.
Toyosu Market contains many other notable sites. Visitors seeking respite from the bustling markets should head up to the Green Roof Plaza on the rooftop of the Fisheries Intermediate Wholesale Market Building. Here, you can enjoy a casual walk among the rooftop gardens, take in the Tokyo Bay waterfront, and see famous Tokyo landmarks such as Tokyo Tower and Rainbow Bridge. On clear days, you can even spot Mt. Fuji in the distance. Alternatively, stroll along the scenic promenade surrounding the market, visit nearby Toyosu Gururi Park, or watch the ships sailing around the harbor.
Bigger and better
Plans to expand Toyosu Market are already underway. The Senkyaku Banrai complex will be built adjacent to the Fisheries Intermediate Wholesale Market Building following the 2020 Summer Olympics. The complex will provide visitors with exciting new shopping and entertainment options that complement Toyosu Market's shops and restaurants. Eat & Drink Attraction Nature
Odaiba Seaside Park
Tokyo-to Festivals & Events
Dezomeshiki Acrobatics
Tokyo-to Festivals & Events Festivals & Events
Tokyo Motor Show
Tokyo-to