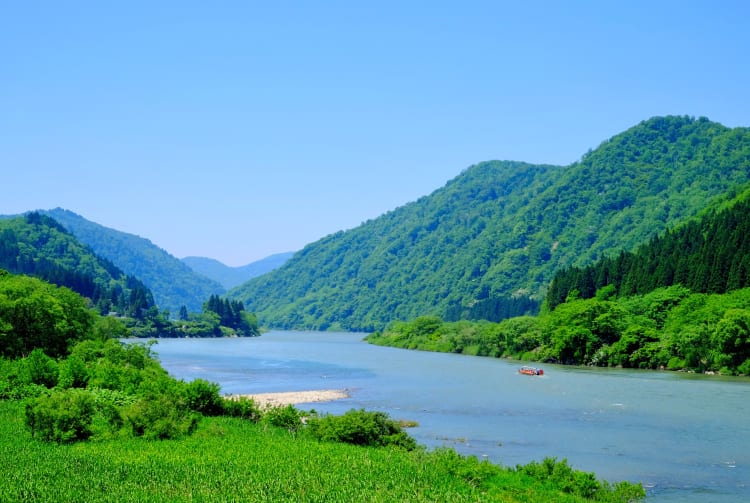 Drift down a picturesque valley on the Mogami River, with singing boatmen as your guides
Few boat rides encapsulate the beauty of the Japanese countryside like a journey down the Mogami River, once northern Japan's economic lifeline to Kyoto. Complete with boatman singing traditional Japanese river songs.
How to Get There
It is accessible by train from JR Furukuchi Station.
From Tokyo to Shinjo Station via JR Tohoku-Yamagata Shinkansen Line it takes approximately 3.5 hours. From Shinjo Station, ride the Rikyu West Line west toward Amarume for 20 minutes and get off at JR Furukuchi Station.
Quick Facts
Known as the mother river of Yamagata Prefecture
One of Japan's three major rapids
Boat tours with singing boatman available
Be one with nature
Running through the entire prefecture of Yamagata, the Mogami River was once the region's economic lifeline, transporting safflower from Tohoku to Kyoto. The river remains one of the best spots to enjoy the scenic beauty of Yamagata


. Board a boat and be serenaded
Drift down the truly gorgeous Mogami River Valley by boat. The boatmen sing traditional river songs and can do it in several languages. Enjoy the hour-long cruise as you float by mountains, waterfalls and verdant scenery.
There is also a tour available that allows you to disembark from the boat at two separate locations to explore the wild charms of the valley. Nature
Mogami
Mogami-gun,
Yamagata-ken Nature
Naruko Gorge
Osaki,
Miyagi-ken Relaxation
Ginzan Onsen
Obanazawa-shi,
Yamagata-ken Nature
Shirogane Park
Obanazawa-shi,
Yamagata-ken Nature
Obanazawa
Obanazawa-shi,
Yamagata-ken Festivals & Events
Shinjo Festival
Shinjo-shi,
Yamagata-ken