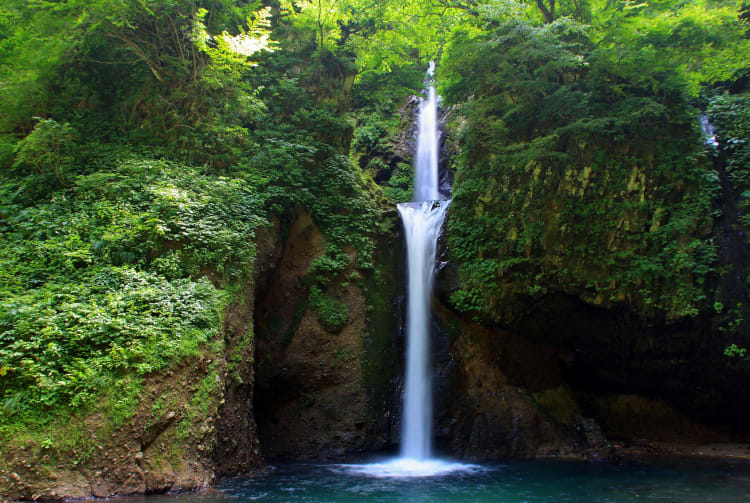 A spectacular waterfall set in a verdant forest in Tottori that's perfect for a nature trek
Daisen Falls is a stunning two-tier waterfall in Jigokudani, a valley of Mt. Daisen


. With a combined height of 43 meters, the cascade is listed among the "One Hundred Waterfalls of Japan," a list compiled by the Japanese Ministry of the Environment in 1990.
How to Get There
Daisen Falls is short hike from Ikkoganaru Campground.
Ikkoganaru Campground can be reached in around 25 minutes from Urayasu Station on the JR Sanin Main Line. Extraordinarily beautiful and rich forest
What makes Daisen Falls particularly special is the forest around it and the wildlife living in it. The hiking trails are lined with huge beech and oak trees, and the area is a haven for wildlife. It is not uncommon to see giant frogs and rare snakes, and to hear the calls of birds, such as the ruddy kingfisher and the Japanese paradise flycatcher, as you navigate the forest.
Enjoy the hiking
The shortest and most commonly used hiking course starts and ends at the Ikkoganaru Campground. It crosses a small, yet spectacular, suspension bridge across the gorge before continuing through the forest. The final path down to the falls will appear on the left and is signposted.
The last part of the trail involves descending with the help of a chain down the steep path. The hike from the campsite to the falls takes around 45 minutes each way. Nature
Daisen Falls
Tohaku-gun,
Tottori-ken Nature
Mt. Daisen
Saihaku-gun,
Tottori-ken History
Ogamiyama-Jinja Shrine Okunomiya
Saihaku-gun,
Tottori-ken History
Daisenji Temple
Saihaku-gun,
Tottori-ken Attraction
Hiruzen Herb Garden
Maniwa-shi,
Okayama-ken History
Kanzaki-Jinja Shrine
Tohaku-gun,
Tottori-ken