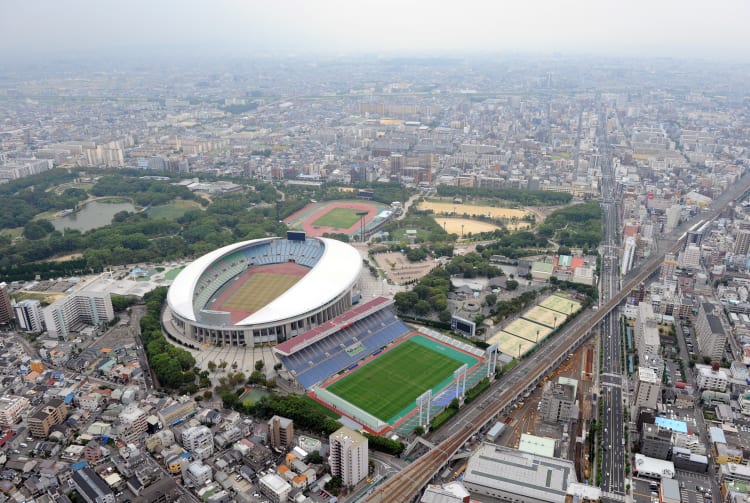 Sports, leisure and a botanical garden in southern Osaka
In need of a jog? Marathoners and casual runners come to Nagai Park for the lengthy loop that stretches around the park. Meanwhile, sports enthusiasts congregate in one of several fields and stadiums to partake in professional, semi-pro and amateur sports, with various matches taking place at weekends.
If you're not keen to get your heart rate up, head to the enclosed botanical garden to enjoy its lush greenery, surrounding an idyllic lake.
Don't Miss
The beautiful botanical garden in the park
The soccer matches and track and field events that take place on weekends
How to Get There
From Osaka Station, take the Midosuji subway line 10 stops (23 minutes) to Nagai Station, then walk east to the park. Note that the Midosuji subway line runs through all of central Osaka, with convenient stops at Shinsaibashi and Namba.
Nagai Botanical Garden
This garden, located in the southeast of Nagai Park, has approximately 1,000 tree varieties, a wide range of seasonal flowers, and a peaceful pond.
Planning your trip
Nagai Park is best enjoyed for two to three hours in the mid-morning or afternoon. For the active traveler, the Sumiyoshi Taisha Shrine


is 2.5 kilometers west, making for a pleasant 30-minute walk. Nature
Nagai Park
Osaka-shi,
Osaka-fu History
Sumiyoshi Taisha Shrine
Osaka-shi,
Osaka-fu Festivals & Events
Otaue Rice Planting Festival
Osaka-shi,
Osaka-fu Nature
Tennoji Park
Osaka-shi,
Osaka-fu Culture
Shinsekai
Osaka-shi,
Osaka-fu History
Shitennoji Temple
Osaka-shi,
Osaka-fu