Kagoshima Fish Market
かごしま魚市場体感ツアー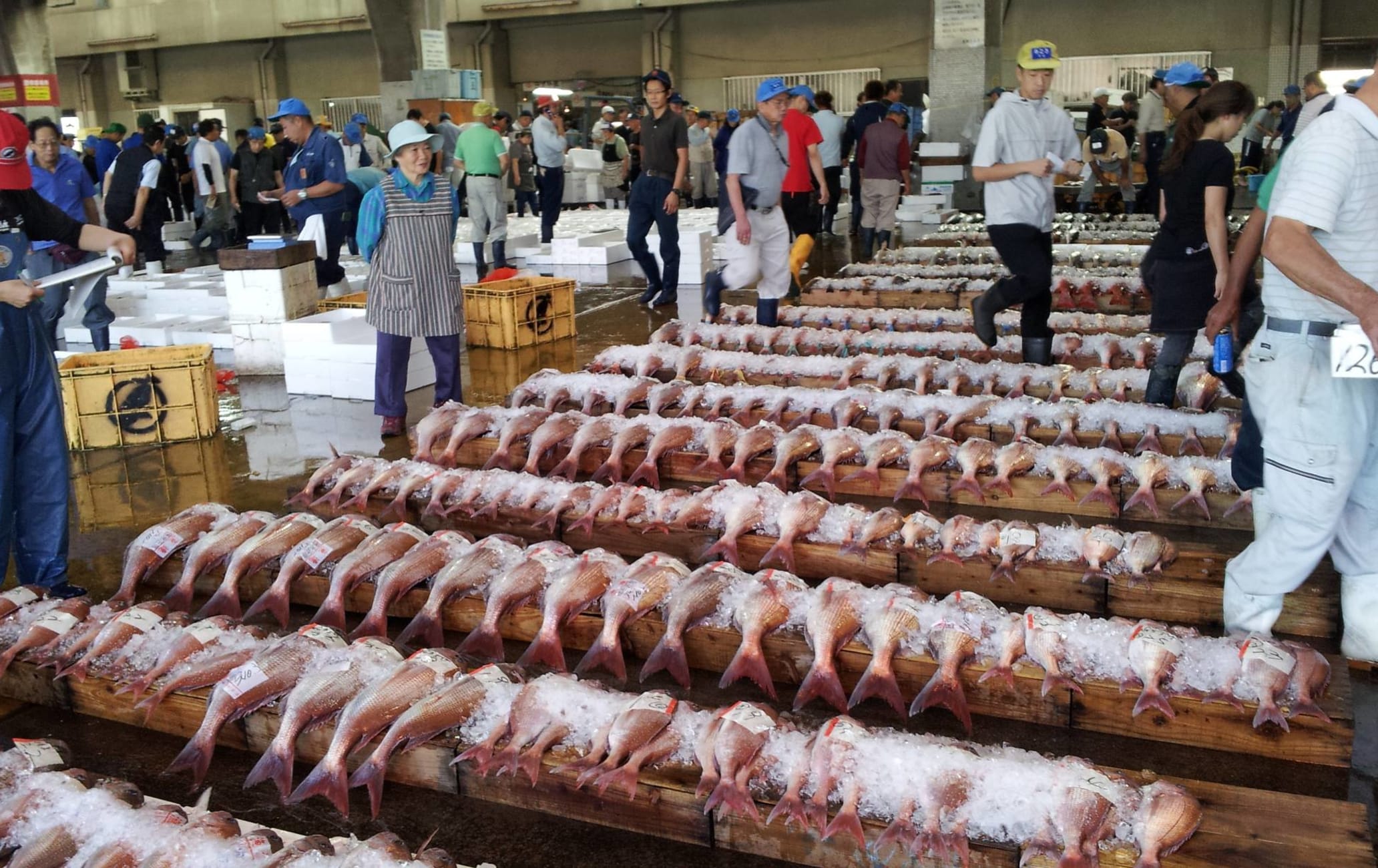 Up close and personal at the Kagoshima Fish Market
Tokyo's Tsukiji might be the most well-known fish market in Japan, but Kagoshima


has its own fish market with a tour to rival its big city counterpart.
Get up early, strap on your rubber boots and join the Kagoshima Fish Market tour for some of the freshest fish that you are ever likely to taste.
Don't Miss
Intimate tour of a vibrant fish market with a massive selection of produce
Learn how to spot and prepare the best seasonal fish
Watch tuna auctioned and filleted right on the spot
Have a delicious fresh fish breakfast prepared with the day's catch
How to Get There
The Kagoshima Fish Market is a short taxi ride from downtown Kagoshima or Kagoshima Chuo Station.
Participants will need to meet at the entrance to the fish market at 6:45 a.m. The tour starts at 7:00 a.m. and takes about an hour. Be sure to plan ahead, as reservations are required in advance. Plenty of fish in the sea
Kagoshima Fish Market sells a wide variety of fish found in the depths of Kinko Bay, or fish which are brought in by the Kuroshio current which brings warm waters to Japan from the Philippines. A visit to the market requires an early start, so make sure to set your alarm the night before.
Look out for the staff wearing orange happi coats, who will show you around when you arrive. Before heading inside, you will need to strap on a pair of rubber boots which are provided by the tour operators. A brief stop by a small shrine to the water god is a reminder of the challenges the fishermen face at sea each day. A fish out of water
You can learn about the various kinds of fish sold at the market, as well as getting some more general tips about how to spot fresh fish when you next go shopping.
Kagoshima fish market has a wide selection of fish on sale, and you can watch energetic auctioneers hawk their catch to local shops and restaurants. Outside, vendors scale the fish before neatly loading them into their cooled mobile fish vans.
Flying fish, sea bream, kibinago, shrimp, and the bizarre mollusk kame-no-te are only a few of the weird and wonderful products on display. Make sure to take a look in the giant walk-in freezer where varieties of fish that can't be caught in Kagoshima are stored, just don't stay too long as it is chilled to minus 20 degrees Celsius. Catch of the day
If you are lucky you might see young fishermen practicing catching bonito on an artificial boat outside. The fish are very heavy, and it takes a skillful hand to lift them out of the water and into the boat on the end of a long fishing rod.
Yellowfin tuna are a regular catch at the Kagoshima Fish Market, and you can see the fish being filleted by the deft hands of a master fisherman before sampling some of the freshest sashimi that will ever pass your lips.
Bountiful breakfast
After taking in the sights of all the delicious fish on display, head over to the cafeteria for a delicious breakfast selection of sashimi, freshly caught early the same morning. The cafeteria is frequented by fishermen and market staff, making this a truly unique chance to start the day with a hearty and healthy meal while getting to know the locals.
Near Kagoshima Fish Market Eat & Drink
Kagoshima Fish Market
Kagoshima-shi,
Kagoshima-ken Nature
Ishibashi Park
Kagoshima-shi,
Kagoshima-ken History
Terukuni-Jinja Shrine
Kagoshima-shi,
Kagoshima-ken Luxury Stay
Shiroyama Hotel Kagoshima Attraction
Sengan-En
Kagoshima-shi,
Kagoshima-ken Nature
Yunohira Observatory
Kagoshima-shi,
Kagoshima-ken