Kitayama River Log Rafting
北山川の筏下り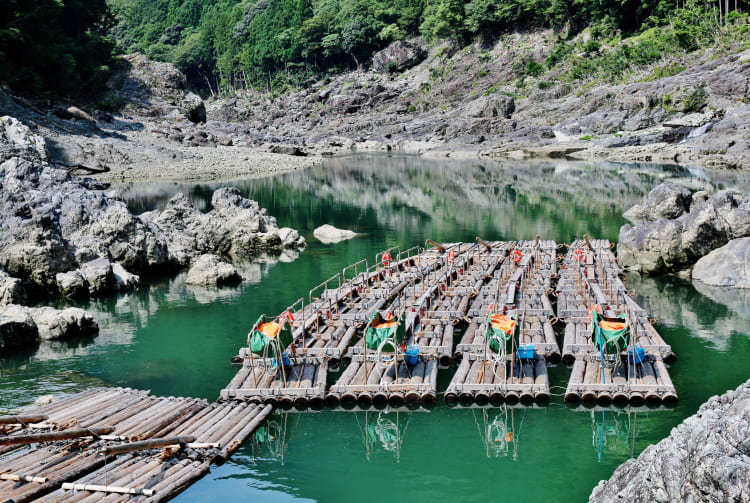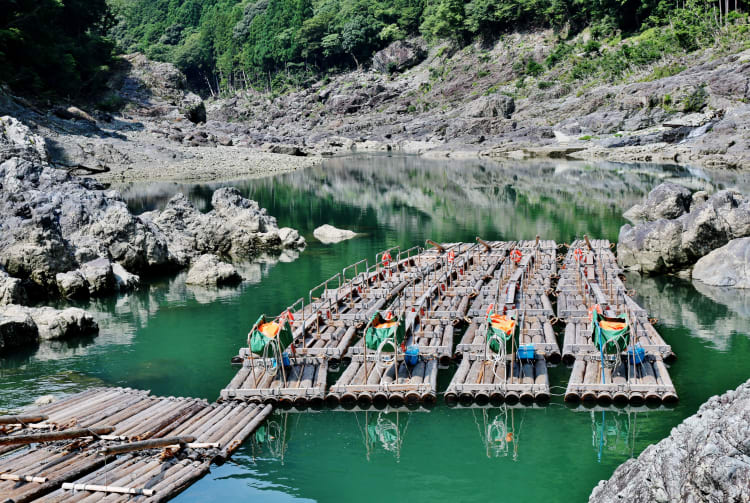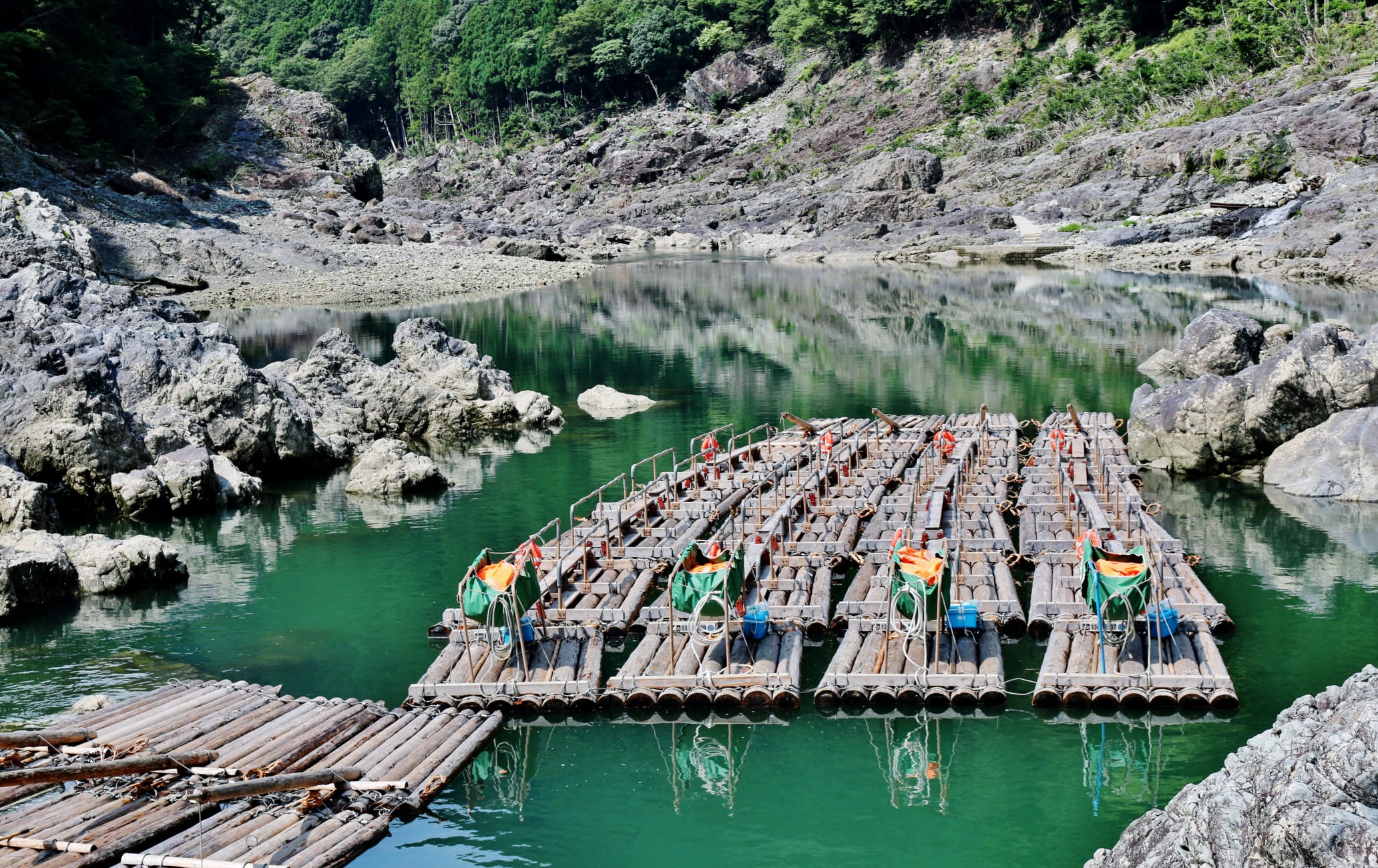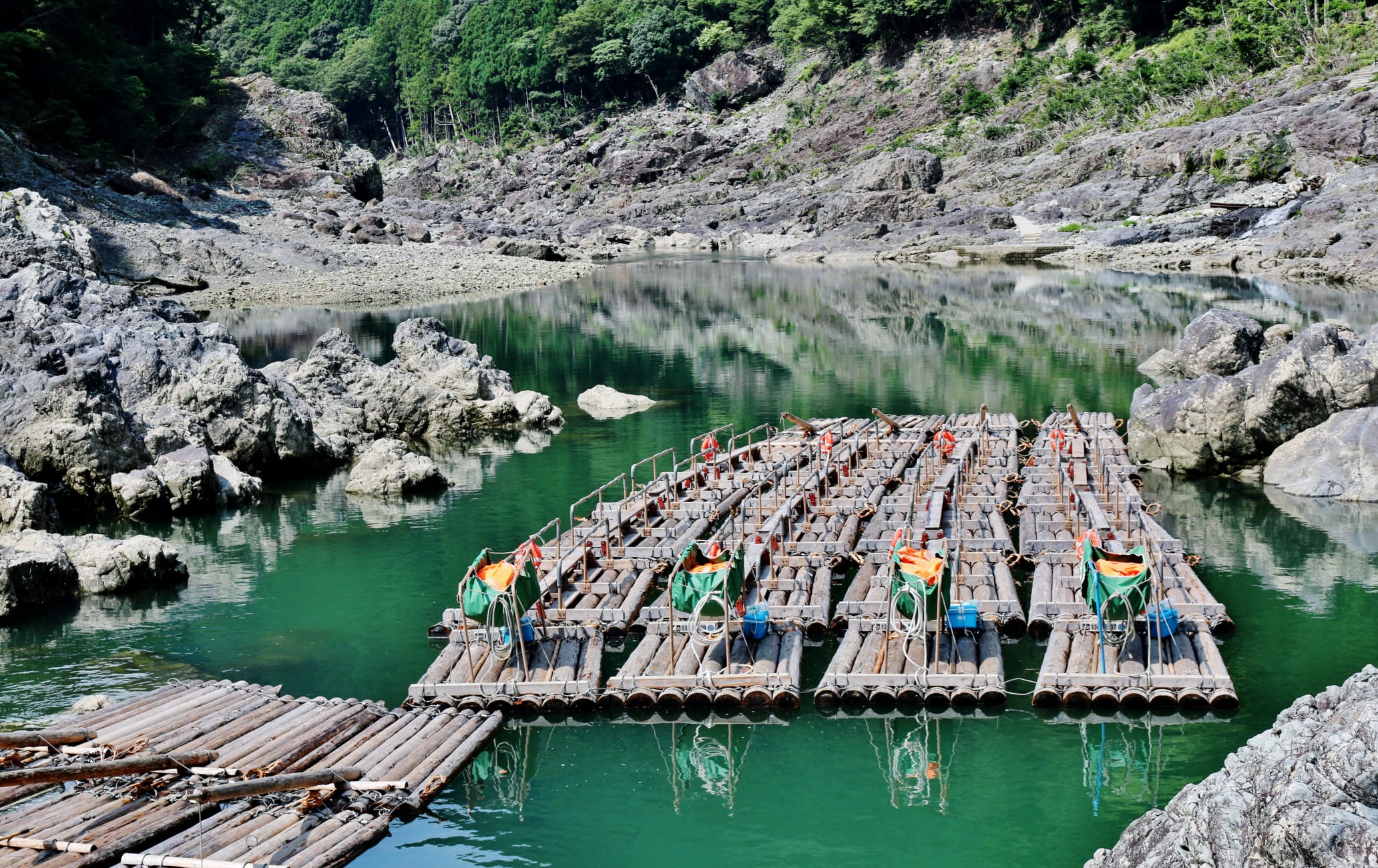 Experience the thrill of traditional rafting on the Kitayama River
If you like outdoor excitement, you'll love the age-old tradition of log rafting, standing on platforms of logs as they are steered through the choppy white waters of the Kitayama River.
How to Get There
Tours meet at Michi-no-Eki Okutoro Tourist Center, Kitayama Village.
There is very limited public transport to Kitayama Village, and only one bus will get you to the tour on time, the 9:10 a.m. bus from Kumanoshi. There is also free parking at the tourist center.
Quick Facts
The traditional log rafts are just one of the boating activities found in Dorokyo Gorge, where you can also ride hovercrafts
Riders stand on the rafts, with metal and wooden handrails for support
The three ikadashi, or drivers, ride standing, with both hands on their oars and no life jackets
A historic boat trip
Traditionally-dressed river runners skillfully transport the log rafts through the clear waters and thrilling sections of whitewater, winding around the sheer cliffs of Doro Gorge


. More than a fun ride, river running is a part of the area's history. Logging has been a major industry in Kitayama for hundreds of years. Logs were traditionally tied together making rafts for transport down the river. Know before you go
The log rides operate from May through September with departures at 10:40 a.m. and 1:00 p.m., on weekends and public holidays, except in August when tours run daily.
You will be provided with safety equipment, including a life jacket, but it's recommended to bring a change of clothes, as you will get probably wet. Log rafting costs 6,000 yen for adults (7,000 yen in August.) Children are half-price.
Reservations can be made at the Michi-no-Eki Okutoro Kitayamamura Kanko Center or on the Kumano Travel website


.
Near Kitayama River Log Rafting Action & Adventure
Kitayama River Log Rafting
Kitayama-mura,
Wakayama-ken Nature
Dorokyo Gorge
Yoshino-gun,
Wakayama-ken History
Hananoiwaya-Jinja Shrine
Kumanoshi,
Mie-ken Nature
Shichiri Mihama Beach
Minamimuro-gun,
Mie-ken Festivals & Events
Kumano Fireworks Festival
Minamimuro-gun,
Mie-ken History
Onigajo
Kumano-shi,
Mie-ken