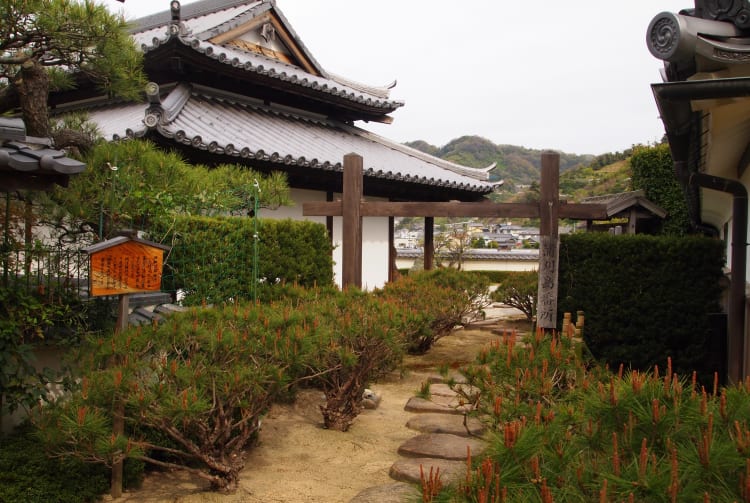 A serene little island garden that's part of a museum
One of the biggest draws on Shimo-Kamagari Island is Shotoen, a beautiful Japanese garden with perfectly kept grounds of raked pebbles and evergreen trees.
Shotoen also has a five-tiered stone lantern, stone animal sculptures, and amazing views of the ocean and Kamagario Bridge, which stretches across to Kami-Kamigari Island.
Quick Facts
Mount Ohira, the highest point on the island, is a tranquil green retreat with stunning views of the sea and surrounding islands
Kajigahama Beach Resort features a wide sand beach
How to Get There
Although Shotoen is situated on a small island away from the mainland, it is relatively easy to get there. It takes around 20 minutes by car from Kure City Center or around an hour from Hiroshima. The main building
The building at the center of the garden is a beautiful, traditional wooden structure with tatami mats and more scenic coastal views. It provides a cool retreat in the hot summer, offering shade and cool sea breezes through its open windows and doors. Four museums for the price of one
Shotoen is part of the Rantokaku Museum complex, which is made up of four different exhibition halls. With a history so closely tied to engineering and shipbuilding, some of the pieces in the galleries at Rantokaku Museum


naturally honor this history.
There is also a large diorama showing the city's history as well as an extremely accurate 1:10 scale model of a Korean correspondence ship. Attraction
Shotoen Garden
Kure-shi,
Hiroshima-ken Art & Design
Rantokaku Museum
Kure-shi,
Hiroshima-ken Attraction
Yamato Museum
Kure-shi,
Hiroshima-ken Attraction
Ondo Bridge
Kure-shi,
Hiroshima-ken Attraction
Mazda Museum
Aki-gun,
Hiroshima-ken Luxury Stay
Grand Prince Hotel Hiroshima