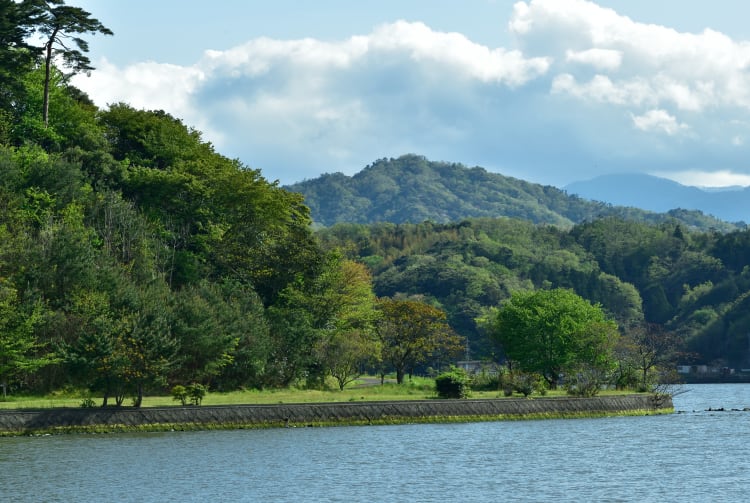 A large lake steeped in myth
Lake Koyamaike is a picturesque lagoon situated just to the west of Tottori City


. With a circumference of around 16 kilometers, it is considered Japan's largest pond. Lake Koyamaike is fed by six rivers and is separated from the Sea of Japan by a narrow sandbar. How to Get There
JR Koyama Station on the JR Sanin Main Line is a 15-minute walk from the eastern edge of the pond.
Five islets
The lake has five islets at its center. The largest of these small islands, Aoyama, is connected to the shore by a blue bridge and has a small park and campsite. The pond is a popular spot for carp and eel fishing. The legend of Lake Koyamaike
There is a legend that many years ago a rich tycoon would have the local villagers plant his rice. The task would take one whole day a year, but on one occasion when it was beginning to get dark, the villagers had not finished their task. The tycoon called for a gold fan and asked the sun to return for one hour so that the villagers could finish planting.
The sun duly rose again for one hour and the grueling task was completed. However, the sun was displeased at the request, and the following morning the rice fields were flooded and forever remained a large lake as punishment. That lake is Koyamaike.