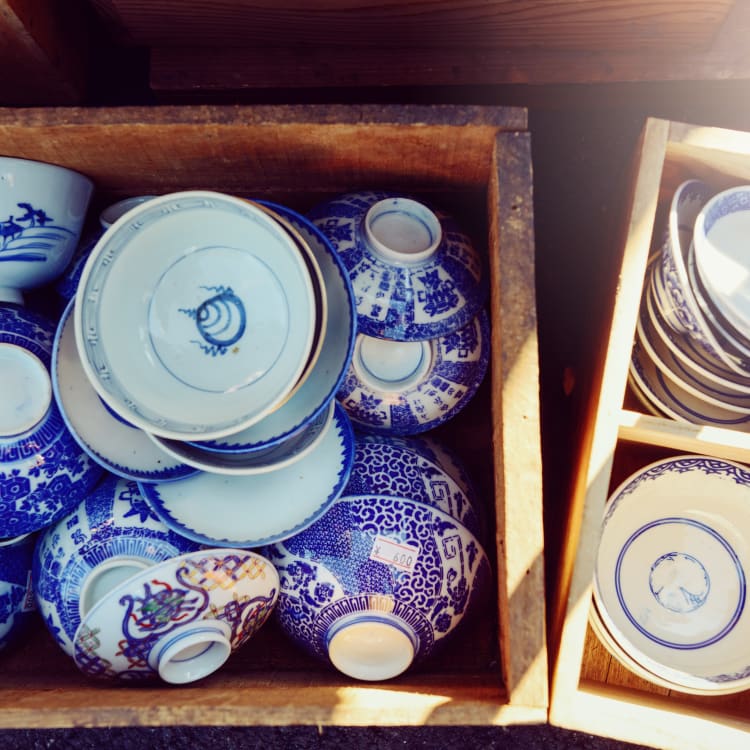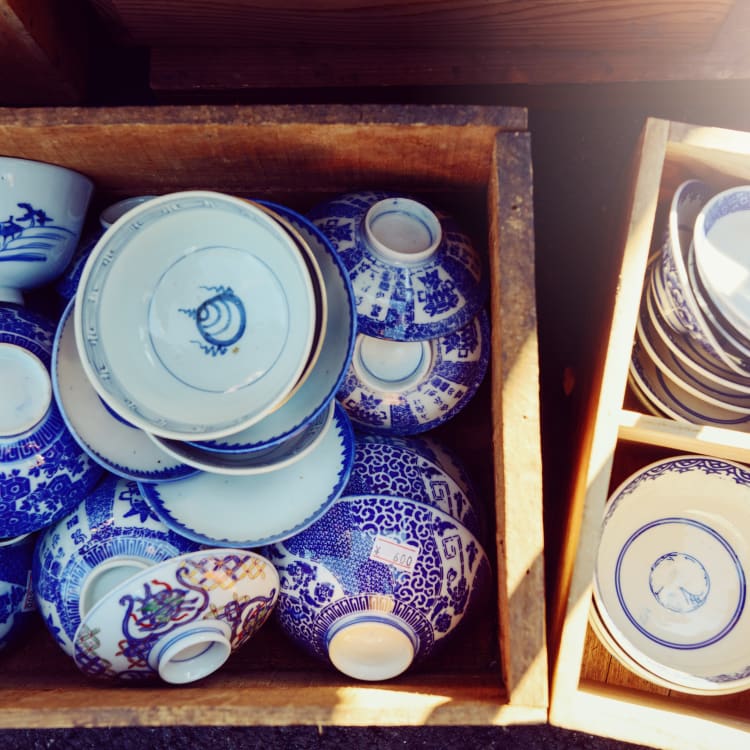 STORY
Antiques & Flea Markets in Japan
Pick up something truly interesting to take home at one of Japan's many markets
Flea markets provide an opportunity to mingle with locals in a casual, friendly environment while shopping for everything from cheap knick-knacks to valuable antiques. Grab a souvenir and a bite to eat, and get a sense of the local customs and traditions. Many markets are held on the grounds of famous temples and shrines, making for an alternative backdrop to your shopping experience. Setagaya Boro-ichi Market — Tokyo
This market in the Setagaya ward of Tokyo


began with inexpensive recycled kimono. This junk market features up to 700 different stalls with vendors selling things like plants, clothing, shoes, and antiques. Held twice a year on January 15 and 16 and December 15 and 16 all day from 9 a.m. to 8 p.m. Located near Kamimachi Station, running from around Boroichi Dori Street all the way to Setagaya station.
Kasai Shrine Antique Fair — Tokyo
Held on the grounds of Kasai Shrine in northeastern Tokyo


, this market caters to antique collectors. The several dozen booths here specialize in folk art and various trinkets. Held the first Saturday of every month from 8 a.m to 4 p.m. Note that the fair is closed in November and January.
Takahata-fudo Temple Gozare-ichi Market — Tokyo
This market specializes in old antiques and traditional wares. Over 80 vendors set up on the grounds of Takahata-fudoson Kongoji Temple in the suburbs of western Tokyo to show off valuable kimonos, old clocks, toys and more. The event is held on the third Sunday of every month from 7 a.m to 4 p.m.
Hanazono-jinja Shrine Antique Market — Tokyo
Around 30 merchants come to Hanazono-jinja Shrine in Shinjuku every Sunday to showcase a variety of antiques, including art scrolls, prints, furniture and kimonos. Conveniently located next to Shinjuku-sanchome Station, the market is open from morning to sundown, though occasionally closes due to weather conditions or shrine activities.
Otakara Antique Market at Osaki Shrine — Tochigi
Located north of Tokyo in Tochigi


, the Otakara Antique Market is held on the second Sunday of every month (the third Saturday in November) from 8 a.m. to sundown features a range of old antiques and kimonos. Recommended for those looking for a scenic trip outside of Tokyo.
Kogane Shrine Antique Market — Gifu
Taking place on the grounds of the ancient Kogane Shrine, which was first built in 135 A.D, this antique market features valuable goods such as ceramics and kimonos. Held the 9th of each month and from December 31 to January 3 from 5 a.m. to 4 p.m.
Osu Kannon Antique Fair — Nagoya
Conveniently located adjacent to Nagoya


's central Sakae district, this antique fair takes place on the grounds of the city's famous Osu Kannon Temple. You'll come across pottery, swords, armor, coins and other trinkets that would delight any collector. Held all day on the 18th and 28th of the month.
Toji Temple Kobo Ichi Market — Kyoto
This flea market takes place on the grounds of a UNESCO World Heritage Site, making for a particularly incredible backdrop for your shopping. Browse a wide selection of pottery, art and plants, and enjoy a bite to eat at one of several food stalls. As the market takes place in part to commemorate the death of the monk who founded the sect, you will likely witness various religious customs as you go about your shopping. Held on the 21st of each month from morning to dusk, so opening hours vary by season.
Kitano Tenmangu Shrine Street Market — Kyoto
Hundreds of vendors set up across the grounds and surrounding streets of this famous shrine to sell a wide variety of daily goods and antiques. The fair is held to commemorate the birth and death of the enshrined deity, Sugawara no Michizane. Held on the 25th of each month from 6 a.m. until sunset.
Shitennoji Temple Flea Market — Osaka
Held on the sprawling grounds of the ancient Shitenno-ji Temple


, this massive flea market welcomes around 300 vendors selling everything from valuable kimono to soul food. The fair commemorates the deaths of Kukai and Prince Shotoku, two notable figures in Japanese pre-modern history. Held on the 21st and 22nd of each month from 8:30 a.m. until sundown.
The latest information may differ, so please check the official website
Did this information help you?
out of found this information helpful.