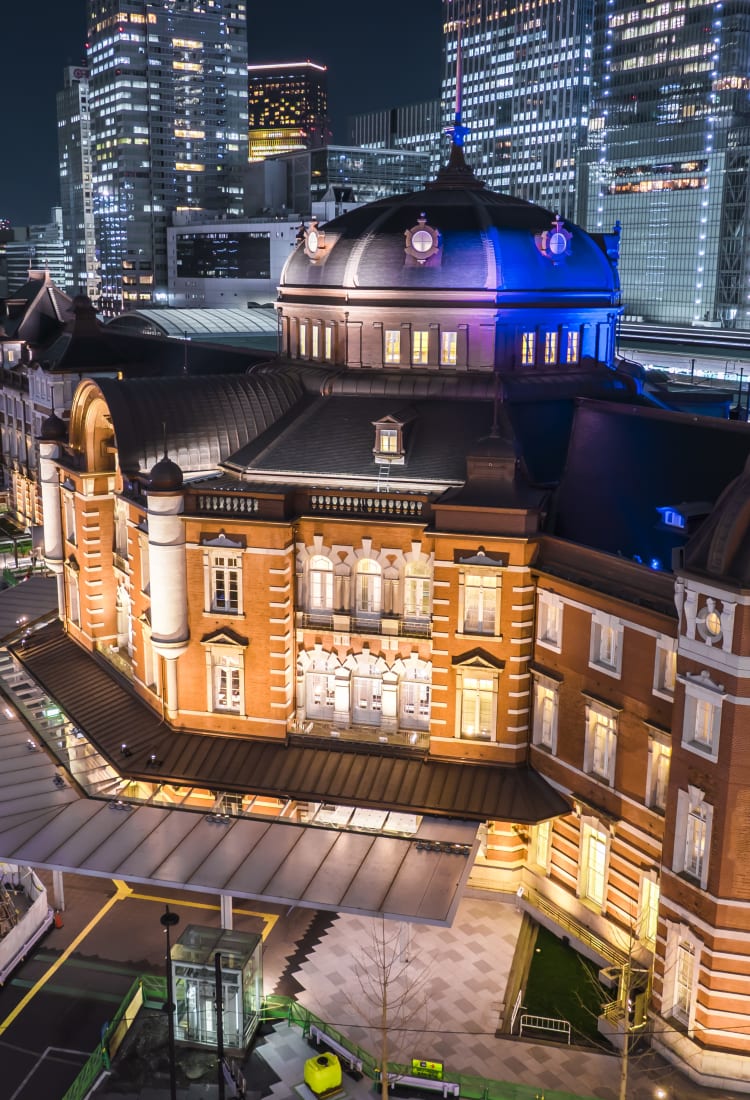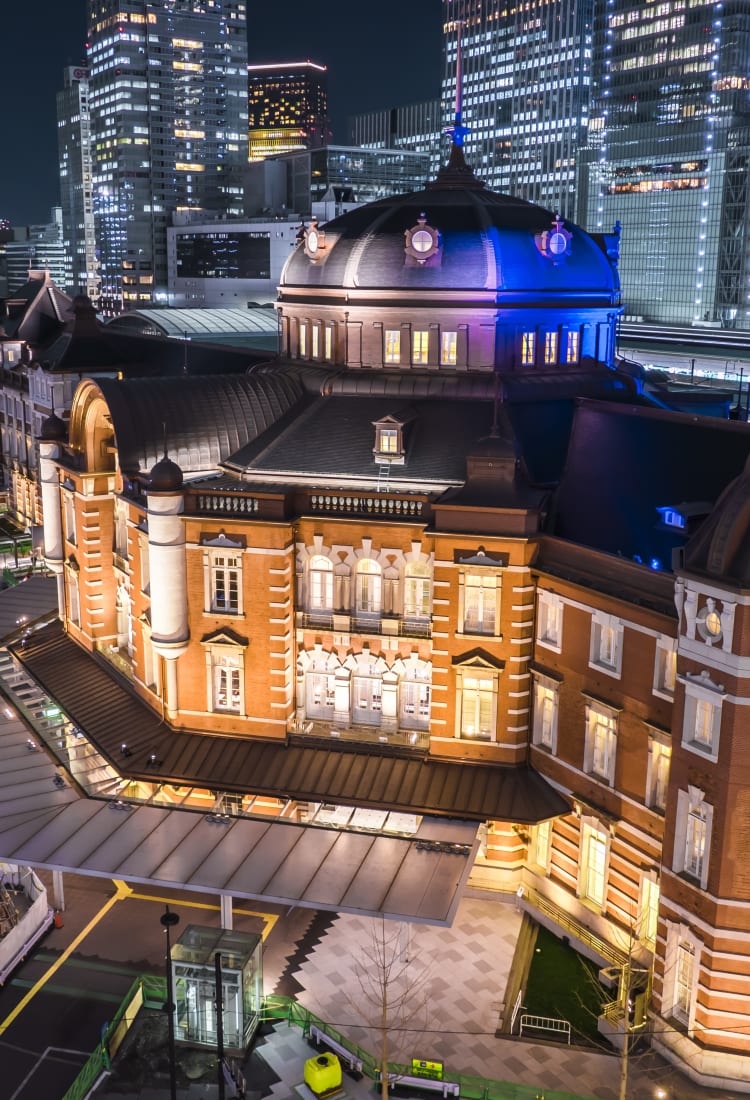 Kanto
Tokyo
High rise, fast-paced and neon-lit, Tokyo is as futuristic as it is historical
As Japan's capital and the world's most populous metropolis, Tokyo offers tradition and innovation, and unlimited opportunities to eat, shop and explore
Tokyo is located on Tokyo Bay in the Kanto region of Honshu, Japan's largest island. The closest airport airports are Haneda officially known as Tokyo International Airport, and Narita Airport, Japan's largest international airport. Tokyo is known for its fashion and shopping, from the trendy shopping districts of Harajuku and Shibuya, to the luxury flagships of Ginza.

Shinjuku is the thriving business district; a mix of gleaming skyscrapers and atmospheric back streets with tiny bars. Asakusa is the heart of Tokyo's downtown, with ancient temples and traditional stores. Tokyo is a foodie paradise with more Michelin-starred restaurants than any other city in the world, along with hundreds of cheap and delicious ramen shops.
Tokyo Weather
Tokyo has mild spring weather, followed by hot and humid summers punctuated with typhoons. Autumn in Tokyo is cool and fresh, followed by cold, dry winters. Snow is rare but has been known to fall in the first few months of the year. The one week forecast for Tokyo is an accurate guide to the weather for the coming week.
Tokyo is served by two international airports, Haneda and Narita. From there, you can reach central Tokyo by regular or limousine buses, or have the option of the monorail (Haneda only) or trains. The Narita Express (N'EX) and Keisei Skyliner are JR and privately-run trains that connect Tokyo and Narita International Airport.
Don't Miss
Exploring Tokyo's dizzying array of restaurant and dining options, from theme cafes to haute cuisine
Checking out the latest electronics, games and gadgets at Akihabara, the home of technology and anime culture
Experiencing vibrant youth culture in Harajuku and Shibuya, the trend capitals of Tokyo
Visiting Tokyo' s most famous temple, Sensoji, before ferrying down the Sumida River and learning the role the city's waterways played in Edo-era Tokyo
Trending Attractions in Tokyo
Tokyo Pattern-Dyed Fabrics

The beauty of Tokyo Komon is in its subtlety. The fabric appears to be a solid color from a distance but up close a delicate pattern is revealed through repeated dots and tiny lines. Once worn by high-ranking samurai, komon is now prized for its beauty and the skills required in its production.

Tokyo Dyed Silk

Elegance and sophistication define the subtle designs of Tokyo Yuzen kimonos, still produced in the city today. This technique of dyeing and hand-painting silk dates back over 300 years, and is unique in that the entire process from design to completion is handled by a solitary artist, allowing for wonderful individuality.

Fukagawa-Meshi

Fukagawa-meshi combines clams, miso and leeks to make a warming, flavorful soup that is poured over a bowl of rice. Clams and leeks are first boiled together to create a rich, briny broth, before miso is then added. The resulting soup and clams are then poured over a bowl of white rice. Fukagawa-meshi is typically eaten with chopsticks so don't be afraid to pick up the bowl and slurp. Outside of the Fukagawa district of Tokyo, this dish can be hard to find.

Murayama Oshima Pongee Silk

Prized for making beautiful, natural, lightweight kimonos, Musashi-Murayama Tsumugi is a blend of silk and cotton dyed in a unique process known as itajime, where the threads are bound to a wooden board and splashed with color. The result is a distinctive blurred effect in blues and browns.

Tokyo Shamo

A breed of chicken imported to Japan from Thailand as gamecocks. As a delicacy, Tokyo shamo yield an oil-rich cut of chicken that is perfect for grilling yakitori style.

Monjayaki

A savory pancake made of finely chopped cabbage, flour, egg and dashi. Other ingredients such as pork, shrimp and octopus are added according to your tastes. Monjayaki has more dashi in its batter than its Kansai cousin, okonomiyaki, giving it a melted cheese texture.

Edomae Sushi

The style of sushi most familiar worldwide. As Edo, which is now Tokyo, became wealthier, sushi became a less formal, faster style of dining. Busy Tokyoites simply sat down at the counter and called out their orders to the nearest itamae—the chefs.

Japanese Swords

Japanese swords are revered for the strength and beauty of their blades as well as the "spirit of the samurai" history they represent. Regarded as works of art more than as weapons, superb examples of these swords can be viewed at the Japanese Sword Museum in Sumida, Tokyo.

Edo Cut Glass

Originally made in Edo—present-day Tokyo—kiriko is decorated entirely with precision cuts. Exquisite patterns characterize these statement pieces, making this cut glassware a perfect addition to any bar set.
Spring

See the city take on a gentler appearance as the plum blossoms and cherry blossoms flower. Stretch out on a mat, drink sake and eat Japanese dumplings under the blooms at Shinjuku Gyoen, Yoyogi, Ueno or Inokashira parks. Parks have different rules and regulations so make sure to check before visiting.

Summer

Enjoy one of Japan's largest fireworks displays at the Sumida River. Head for Mt. Takao for its seasonal beer garden and to see some fireflies.

Autumn

Visit gardens such as Koishikawa Korakuen, or hike the Okutama mountains for fantastic fall foliage. Temperatures cool but the event calendar heats up with the Tokyo Game Show and Tokyo International Film Festival.

Winter

Winter illuminations appear throughout the city, ice-skating rinks open and revelers crowd shrines and temples such as Sensoji Temple and Meiji-jingu Shrine for New Year pilgrimages and festivities.