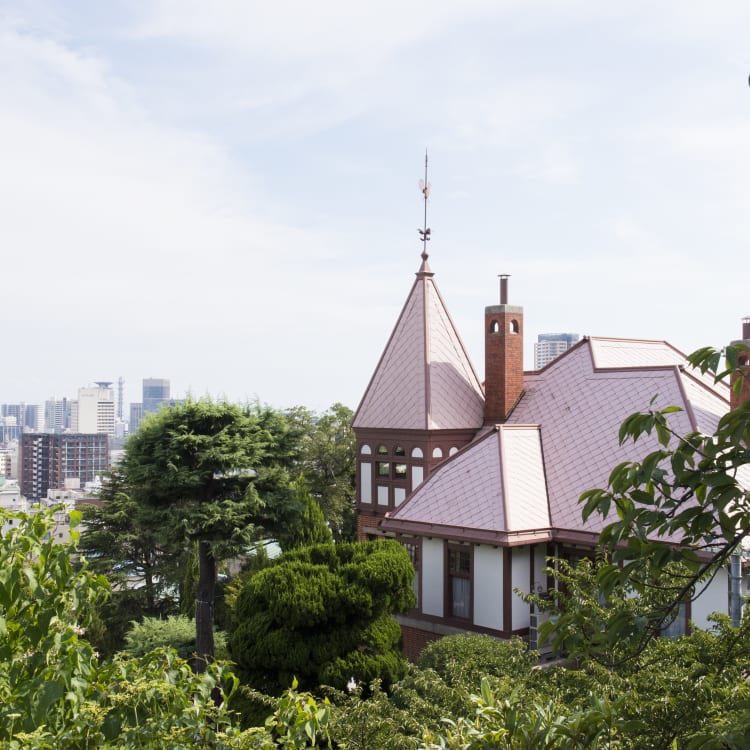 STORY
When East Meets West: Exploring Hyogo's International Connections
[Sponsored]
Photo credit: © KOBE TOURISM BUREAU
With a history of welcoming international visitors, Hyogo has an entrepreneurial spirit that thrives to this day
Hyogo Prefecture is near the center of Japan, and at the center of Japan's history. Since the port of Kobe opened to international trade in 1868, Hyogo has welcomed adventurous visitors from around the world. Many of these enterprising individuals have added to Hyogo's legacy of innovation. Explore Hyogo's early international influences, from the elegant European-style mansions in Kobe and Japan's first golf course on Mt. Rokko, to the hot spring town of Takarazuka, the birthplace of Japan's favorite carbonated drink.
Kobe: gateway to the world Kobe was one of Japan's first ports to open to foreign trade after more than 200 years of national isolation. In 1868 construction began on a foreign settlement to the east of the port, designed by a British civil engineer to resemble a modern European town. The settlement was autonomous, with its own infrastructure and police force. It was the first area in Hyogo to have gas lamps, and Japan's first western-style hotel. Foreign trading companies and entrepreneurs moved to Kobe and helped shape Hyogo's culture. British gourmets may even be responsible for the popularity of Kobe Beef. According to local lore, beef was not a common feature of Japanese diets at the time, but an Englishman visiting Kobe around 1868 dined on beef raised in Tajima in Hyogo and helped popularize this delicious commodity. The United Kingdom and Europe are the world's largest markets for Kobe Beef, but nothing beats tasting it locally.
Many of the buildings in the foreign settlement were destroyed in World War II air raids, and later in the Great Hanshin-Awaji Earthquake of 1995, but some have been restored. Former private villas and consulates


are now stylish restaurants, galleries, and museums. Strolling the well-ordered streets of the old settlement area between Meriken Road and Flower Road, and the steep, boutique-lined streets of the Kobe Kitano Ijinkan


area, it is easy to imagine the comfortable lives of those first foreign traders and diplomats.
Natural escapes The international community in Hyogo made the most of their beautiful surroundings. Mt. Rokko


(931m), with views over Kobe and Osaka Bay, and the hot spring resort towns of Arima Onsen


and Takarazuka became popular weekend escapes in the late nineteenth century. Tea trader Arthur Hesketh Groom developed Japan's first golf course on Mt. Rokko in 1903. It took about three years to clear the rocks and undergrowth just to complete the first four holes. It eventually became a full 18-hole course and attracted membership from both the international and Japanese communities. At Rokko Alpine Botanical Garden, near the summit of Mt. Rokko, visitors can see around 1,500 species of alpine plants from around the world. Rokko Garden Terrace has a range of restaurants, and panoramic views across the bay. Rokko Tenran Observatory is a short distance from the terrace by bus and cable car, or around 40 minutes walk. The night view from the Rokko Tenran Observatory


is often called the "ten-million-dollar view" for its glittering beauty. The Rokko-Arima Ropeway


connects Mt. Rokko with Arima Onsen. It is considered one of the oldest hot spring resorts in Japan, with a documented history of over 1,300 years. After the opening of Kobe port to international trade, foreign residents started to establish western-style hotels in the Arima Onsen, blending western and eastern influences. The charming onsen town, with narrow lanes and traditional stores, is easy to explore in a few hours. Or you can take your time and enjoy the hot springs and the hiking routes between Mt. Rokko and Arima for a relaxing day or two. There are two types of hot spring water at Arima Onsen, called "gold" and "silver" for their color and the minerals they contain. You can enjoy the two types of water at public baths and traditional inns around Arima Onsen. Kin no Yu ("golden spring") is the largest public hot spring in Arima. The gold-colored water is rich in iron, saline and sodium chloride, and is said to relieve muscle pain. The Gin no Yu ("silver spring") is a carbonated radium spring, which is also good for muscle pain and stiff joints.
Wilkinson Tansan — a sparkling discovery One of Hyogo Prefecture's most refreshing exports was discovered by another enterprising Englishman. John Clifford Wilkinson (1852–1923) came to Japan from Yorkshire in 1872 to work as a rice mill technician. According to Wilkinson, in 1889 he became very thirsty on a hunting trip through the forests of Takarazuka in 1889. Searching for fresh water, he came across a naturally carbonated spring near the Muko River. He sent a sample of the water back to England for analysis and was told it was as good as many world-famous mineral waters of the time. He bottled it to sell as a luxury table water for first-class hotels and restaurants, and as a health tonic. At first it was marketed as "NIWO Water", with a label featuring a fierce NIWO figure (Nio are guardians of Buddhist temples) and the tagline "Make your stomach as strong as a NIWO."
By 1904 the water was exported to 27 countries under the name Wilkinson Tansan (tansan is the Japanese word for carbonated water). Wilkinson also opened the luxury, Western-style Tansan Hotel close to the water source to entertain his foreign business partners. Although the Tansan Hotel no longer stands, there is a stone marker and a vending machine which only sells Wilkinson Tansan, close to the original source of the water at Horai Bridge. Around 10 kilometers north of Takarazuka, another popular carbonated drink was born when British scientist William Gowland (1842–1922) tested the naturally carbonated waters at Hirano Spring in Kawanishi in 1881. It was released as a mineral water called Hirano Sui ("Hirano Water") in 1884 and later released as a carbonated drink with sweeteners and flavourings added, under the name Mitsuya Cider in 1909. Both brands are now owned by Asahi Soft Drinks Co., Ltd.
Takarazuka — a hot spring resort with international appeal Takarazuka was already popular as a weekend spa destination for Kobe's international community when Wilkinson found naturally carbonated spring water. It was advertised in English guidebooks in the late nineteenth century as "an hour's ride by rickshaw from Nishinomiya Station, with good mineral baths and lovely walks." Today, the soothing waters of Takarazuka Onsen and Takedao Onsen, and the hiking trails along the Muko River, still draw visitors to the area. At Takarazuka Onsen, relax at Nature Spa Takarazuka, a modern bathing facility open to the public.
Takarazuka's cultural life is another draw for visitors. The city is home to the Takarazuka Revue Company


, an all-female musical theater troupe founded in 1913 to entertain visitors to the hot springs. The Takarazuka Revue is known for highly choreographed, lavishly costumed performances based on popular love stories, from historical novels to modern manga. Visitors can buy tickets online from the Takarazuka Revue Company homepage or enquire at the theater box office for on-the-day tickets. One of the world's most famous manga artists, Osamu Tezuka (1928–1989), lived in Takarazuka for about 20 years, from the age of five. Visit the Osamu Tezuka Manga Museum


to see his popular characters, including Astro Boy, Kimba, and Black Jack. Visitors can also experience animation production in the Anime Laboratory.
Violets are the official flower of Takarazuka City and the Takarazuka Revue Company. See violet motifs and touches of violet color around the city, including the Takarazuka Highball, a cocktail which combines Japanese whisky with Wilkinson Tansan and a hint of violet liqueur. The cocktail is offered at the Takarazuka Hotel


and the Hotel Wakamizu


. Try the violet-flavored "sumire" gelato sold at the Takarazuka Grand Theater.
Stay in style Kobe, Arima Onsen, and the nearby hot spring town of Takarazuka have enjoyed a reputation for sophisticated accommodation for over 100 years. Japan's first western-style hotel, the Oriental Hotel, opened in Kobe's foreign settlement in 1870, shortly after the port was opened to international trade. The hotel is said to be one of the first establishments to serve Kobe Beef, and you can enjoy Kobe Beef at the hotel's restaurant, Steakhouse Medium Rare.
In Takarazuka, the Takarazuka Hotel and the Hotel Wakamizu stand on either side of the Muko River. Both hotels are within a short stroll of the city's main sights and the public hot spring baths, Nature Spa Takarazuka.
For centuries, the beautiful autumn scenery around Arima Kiyomizu Temple attracted nature lovers to stroll its grounds. In the early nineteenth century, the temple became Kiyomizu Hotel, catering to early foreign visitors. English was spoken at the hotel, and tables were set in Western style, offering familiar comforts to their guests, such as bread and butter, and coffee. In the twenty-first century, the hotel was reborn again, as Arima Sanso Gosho Bessho, ten private villas in the leafy hillside of Arima Onsen. The accommodation blends tradition and sophistication, with a fusion of East and West.
Getting to and around Hyogo Kobe is conveniently located in the Kansai region, close to Osaka and Hiroshima. Shin-Kobe Station is less than 15 minutes from Shin-Osaka Station by Shinkansen. Kobe Airport connects with major cities across Japan from Hokkaido to Kyushu. Within Kobe's city center, the City Loop bus covers major attractions including the foreign settlement area. Arima Onsen is around 30 minutes by train from Kobe's city center, or a short ride on the Rokko Arima Ropeway from Mt. Rokko. Takarazuka is around 30 minutes by train from Kobe Sannomiya Station or from Shin-Osaka Station.
Business hours
Due to measures to prevent the spread of coronavirus, business hours and conditions may be subject to change; please check with the venues before visiting.
Did this information help you?
out of found this information helpful.