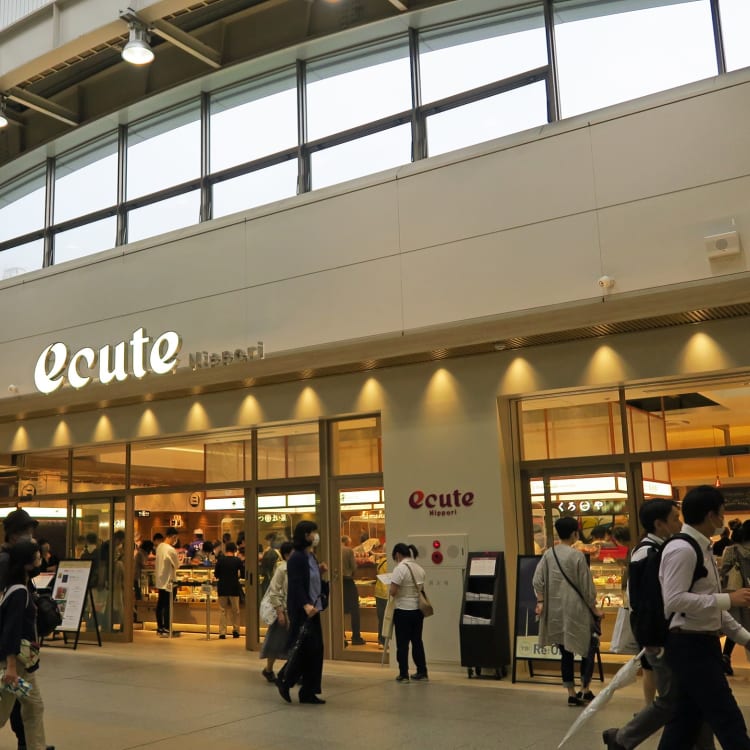 Ekinaka:
Inside Japan's Vibrant Train Station Shopping Hubs
Ekinaka is a term that has come to prominence in the past few decades in Japan. Literally translating to "within the station", Ekinaka refers to the colourful, sometimes labyrinthian shopping complexes within train station areas that have become increasingly popular across Japan. Much like "department store basement", or "convenience store food", the words "train station shopping center" may not necessarily instill a sense of excitement in those who have not visited Japan. However, those in the know will likely have fond associations of the vibrant hubs that these inner-station shopping centers have become, both for commuters, and for local communities across the country.
What makes Ekinaka so special?
To understand the Japan's Ekinaka phenomenon, it helps to first understand what it means to live in a country where trains are the primary means of transport. Narrow, and often bustling streets persuade most daily commuters to opt for subways and local trains, whereas for long-haul journeys, shinkansen bullet trains offer speeds of 300km/hr, boarding directly from the heart of most cities, without the hassle of check-in procedures, with departures as frequent as every five minutes. A transit infrastructure this robust, with millions of users, means that there are effectively millions of consumers with needs to be met. The result is the springing forth of an enormous economy within train stations.
 
Whether it's before or beyond fare gates, at major stations it is common to find food of nearly any kind, entertainment, drug stores, florists, stationary, souvenirs, travel agents, hotels, banks, post offices, and more – all laid out neatly, for one to make the most of their trip. So much so that stations are no longer simply a hub for travellers, but will often be a draw for the community – with locals flocking to the station just for the shopping, dining, and other events such as performances and pop-up shops.
Japanese culture on rails
Beyond infrastructure, there are deeper cultural elements influencing the popularity of Ekinaka. Japan is very much a gift-giving culture, wherein souvenirs (often edible) are exchanged (and indeed, expected) among not only friends and family, but coworkers and acquaintances as well – thus making train station souvenir stands indispensable for last-minute gifts. Those familiar with Japanese cuisine will likely understand the emphasis placed on the local, and seasonal foods. With each area boasting their own specialty, themed souvenirs can be a proud proclamation of where and when one went on vacation. 
As for personal dining, Ekiben are a similar example of this. Literally meaning "train station bentos", Ekiben showcase staples of the city where they are sold, often with an emphasis on seasonality. For many travellers, this treat goes hand-in-hand with the excitement of setting out on a long train journey. For those on a tighter budget, stations will also have supermarkets or convenience stores where standard fare bentos can be purchased affordably, or standing noodle bars right on the platform where one can enjoy a decent meal for just a few dollars. These pragmatic, traveller-oriented kiosks have existed for much of the history of Japan's rail network, but with its evolution, Ekinaka has grown more and more inclusive.

It's not just for commuters! 
Often, one can find unique shops, and even some of the best restaurants directly within the station area. Tourists may be astonished to see some of what lies within train stations – from sake bars, to cultural performances, to farmers' markets. Increasingly, we are seeing initiatives such as JR East's Sanchokuichi Regional Revitalization Project, which aims to introduce wares of artisans and agriculturalists from Japan's countryside to more metropolitan areas. In addition to providing greater support for rural artisans and farmers, events such as these aim to promote awareness of these destinations themselves, as well as traditional cultures that exist there. The end goal to promote rural revitalization both by bringing the countryside to urban commuters, not only through sales, but by expanding visitors' horizons when it comes to domestic tourism.

So, where does one find Ekinaka?
In many senses, the beauty of Ekinaka is best when discovered naturally - as a moment of oasis between stosps along a busy journey. However, for those seeking out Ekinaka, there are a few guiding principles. Generally speaking, any station large enough to serve as a stop for the Shinkansen is bound to have a decent scale of Ekinaka attractions, though that does not mean that the Shinkansen is a prerequisite! Many commuter hubs such as Shibuya and Shinjuku will also have sprawling station-malls, whereas shinkansenless cities such as Sapporo have station shopping scenes so rich that it is almost enough to make you want to miss your train. Even in smaller towns, if there are more than a few lines converging at a given station, then one can generally find great dining, shopping, and other highlights in and around station areas. With Ekinaka's growing popularity in recent years, ventures into similar scales of station infrastructure are even beginning to emerge outside of Japan!