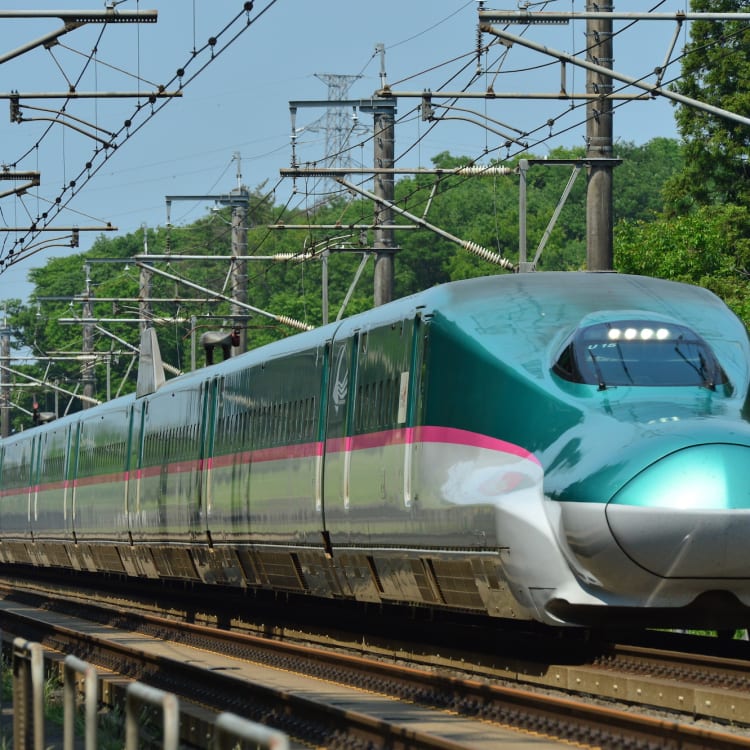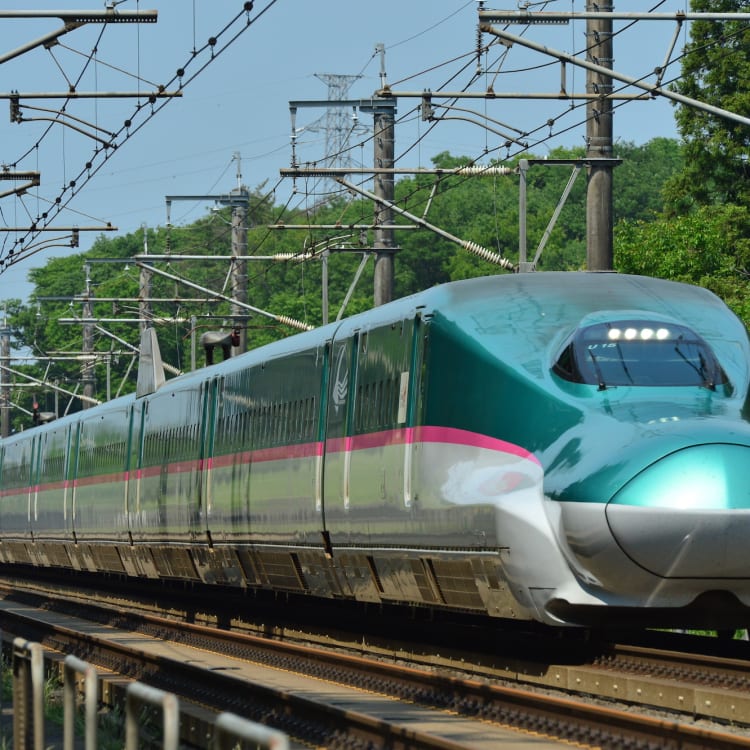 Shinkansen (Bullet Train)
Photo copyright: © East Japan Railway Company
Nothing screams "Japan" more loudly, than the super sleek shinkansen silently speeding out of Tokyo station bound for all corners of the country.
The world-renowned bullet train offers you the highest rail speeds to match its peerless comfort. It is operated from Tokyo and speeds off to major cities around the country at regular intervals.
The shinkansen rockets down a number of different routes across Japan. The Tokaido-Sanyo Shinkansen links Tokyo and Hakata


. The Tohoku Shinkansen links Tokyo and Shin-Aomori; the Joetsu Shinkansen links Tokyo and Niigata


; the Hokuriku Shinkansen links Tokyo with Nagano


and Kanazawa; and the Kyushu Shinkansen in Kyushu


cureently links Hakata (Fukuoka Prefecture) and Kagoshima Chuo (Kagoshima Prefecture).
Types of Shinkansen
There are three types of Tokaido-Sanyo Shinkansen, namely, Nozomi, Hikari, and Kodama. The Nozomi Shinkansen stops at fewer stations compared to the other two, and is your quickest route to the Kansai


region of Kyoto


, Osaka


, Kobe


and beyond. Note that the various passes issued by JR companies cannot be used on this particular train.
While generally white in color, the designated shinkansen to the Tohoku


region come in electric green and a vibrant red. There is also a rare yellow shinkansen in the Tokai region—known as Dr. Yellow—that monitors the conditions of the tracks and overhead wires. Keep an eye out, it is a lucky day if you catch a glimpse of the doctor.
Types of seats
There are three types of seats: Non-reserved seats, Reserved seats, and Green Car seats For detailed information on all available routes and fares, click on the following links — JR East


, JR West


, JR Central


, JR Hokkaido


, JR Kyushu


, JR Shikoku


Shinkansen Rail Passes
Taking a trip on the shinkansen will almost certainly be one of the highlights of a trip to Japan. The sleek trains snake through the country's mountainous regions—or sometimes straight through the mountains—to a wide range of destinations. While this service is suitably priced for super quick express train travel in unrivalled comfort, costs can be reduced by purchasing one of a variety of passes. Take a look at the following link for all the regional passes and their respective routes and costs — JR Rail Passess


Shinkansen Tickets
If you are planning to use the shinkansen to travel throughout Japan, doing some research into how to buy shinkansen tickets (JR East


, JR West


, JR Central


, JR Hokkaido


, JR Kyushu


) will make the process smoother.
Did this information help you?
out of found this information helpful.