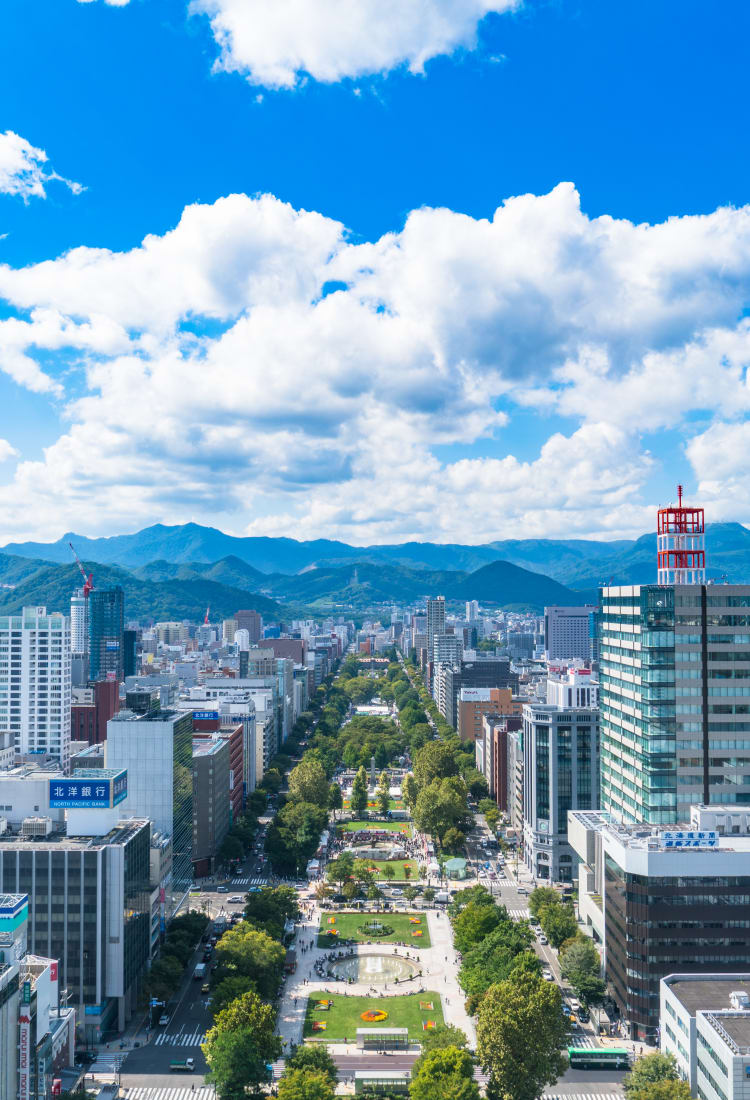 Hokkaido
Hokkaido
Explore Japan's northernmost prefecture
Japan's northern island is famous for its beautiful wilderness, world class powder snow, delicious seafood and fascinating indigenous culture. Just a short flight from Tokyo, Hokkaido is the perfect escape in all seasons
Hokkaido is a popular destination for skiing and snowboarding in winter, thanks to its abundant powder snow and top resorts like Niseko, Rusutsu and Furano. Sapporo, Hokkaido's main city, famous for Sapporo beer, Sapporo ramen and the annual
Sapporo Snow Festival
. Hakodate is a traditional port with charming historical areas and gorgeous night views. Hokkaido's mild summers provide relief from Japan's humidity, and the perfect conditions for hiking and exploring the many National Parks. Much of Hokkaido is wild and unspoiled, with natural hot springs, volcanic lakes and unforgettable experiences. Explore the culture and traditions of the indigenous Ainu people at
Lake Akan
, and journey to the
Shiretoko Peninsula
to see free-roaming brown bears, foxes and deer.
Hokkaido is accessible by plane from all major airports in Japan to New Chitose Airport near Sapporo, with international flights from Shanghai and Seoul. Daily direct flights from Tokyo reach Sapporo in less than 2 hours. It's also possible to take the bullet train from Tokyo; the journey is fully covered by the Japan Rail Pass.
The fastest way to reach Hokkaido is by plane. Flights from Tokyo to Sapporo's New Chitose Airport take about 90 minutes. By train, it takes around eight hours from Tokyo. Take the JR Tohoku/Hokkaido Shinkansen from Tokyo to Shin-Hakodate-Hokuto, then transfer to the Hokuto limited express to Sapporo. There are also some inexpensive long-distance ferries from Honshu to ports outside of Sapporo. Niigata, Oarai (Ibaraki Prefecture), Sendai, Nagoya, Maizuru (Kyoto Prefecture) and Tsuruga (Fukui Prefecture) all have ferries that go to Hokkaido.
Don't Miss
Hitting the slopes of Niseko and Rusutsu in winter
The rolling hills of Furano's lavender farms in summer
Fresh seafood including succulent crab, salmon and fresh sushi
The unspoiled wilderness of Hokkaido's national parks
Trending Attractions in Hokkaido
Ishikari Nabe

The Ishikari River in Hokkaido is famous for the delicious salmon that swim in its waters. Ishikari nabe marries this salmon with locally grown potatoes and various seasonal items in a kelp and miso broth, all cooked together in a boiling clay pot.

Hokkaido Seafood

Japan is synonymous with seafood, and it features on menus everywhere throughout the country. Yet, for the very freshest, most delicious and widest array, Hokkaido is considered the place to go. Crab, scallops, sea urchin, squid and salmon are but a few of the delicacies for which Japan's northern island is famed. To try a little of everything, order kaisendon—a generous assortment of fresh seafood served on a bed of rice.

Muroran Yakitori

Pig farming flourished in this region in the 1930s, and many yakitori restaurants began putting Muroran yakitori on their menus. Also known as Muroran yakiton, the dish got its name because the juicy chunks of pork are skewered and grilled in the same way yakitori is prepared.

Obihiro Butadon

Locally sourced pork is aged briefly to bring out its natural umami, then grilled and served over Hokkaido rice. A simple dish that showcases the natural flavors of Hokkaido.

Bibai Yakitori

While most yakitori places offer the standard, recognized chicken parts, Bibai is all about the gizzards, hearts and livers. Try a few skewers and see what you've been missing.

Sapporo Ramen

Served in a rich miso soup and topped with butter, sweet corn, bean sprouts and pork, this winter warmer is on the menu at ramen restaurants throughout Sapporo and the rest of Hokkaido.

Kegani

Kegani, horsehair crab, can be served raw, boiled or grilled, and yields exceptionally sweet, tender meat. You can find kegani in sushi, bento boxes and hot pots across Hokkaido.

Kushiro Kattedon

Buy a bowl of rice at Kushiro Washo Seafood Market and wander the stalls, filling it with as much fresh, reasonably priced seafood as you like.

Hakodate Ramen

Hakodate ramen takes the traditional pork or chicken soup base and adds kelp or other seafood to give it the flavor of Hakodate's rich fishing heritage. The result is a lighter, less oily soup stock.

Okhotsk Atka Mackerel

Hokke, also known as the Arabesque greenling, lives in the cold waters of the Sea of Okhotsk. A flavorful, juicy fish, hokke can be served raw, boiled or grilled with lemon and soy sauce. Its high fat content makes it a great partner for white rice and alcohol.

Jingisukan

Cuts of lamb or mutton and vegetables are cooked at the table on a domed metal grill. Served with dipping sauces, it's a delicious, communal style of dining. The dish's name refers to Genghis Khan, because the Japanese thought lamb was a favorite of Mongolian soldiers.

Yubari Melon

A hybrid melon grown in greenhouses in Yubari that is famous for its perfectly round shape and intense sweetness. You might never enjoy another melon quite as much ever again.

Soup Curry

It's curry in a delicious soup form. This spicy dish is filled with all manner of seasonal vegetables such as pumpkin, okura and lotus root. It often includes meat, from wagyu beef to Hokkaido snow crab.

Asahikawa Ramen

With an extra layer of oil on top of a delicious soy sauce-based soup, Asahikawa ramen is extra fun to slurp thanks to its thin, firm and wavy noodles.

Traditional Ainu Crafts

Japan's northernmost island of Hokkaido is home to the Ainu, indigenous people who have a deep respect for nature and believe God is found everywhere. They once survived by hunting, fishing and foraging, and created many beautiful objects used in their daily lives such as knives and clothing.

Nibutani Trays

Hand-carved wooden trays featuring traditional motifs unique to Ainu culture, including soft spirals, diamond-shaped eyes, thorns and fish scales. Each piece is intricately fashioned to accentuate the wood grain. Ainu bachelors didn't put a ring on it, they carved love tokens, including Nibutani trays.

Nibutani Tree-Bark Textiles

Bark from Manchurian elm or Japanese lime trees is handspun and woven into distinctively textured fabric. Used in regional kimono, workwear and accessories, this durable, breathable natural textile is Mother Nature's Gore-Tex. Nibutani tree-bark cloth was a common material in Ainu households for centuries.

Yakumo Wood-Carved Bears

Farmers in the little town of Yakumo, Hokkaido, couldn't work in winter because of the snow, so in 1924 they started carving kibori kuma as souvenirs to make money and fight boredom. This carving of a bear biting a salmon has become one of Hokkaido's most iconic souvenirs.

Bolta Figurines

Bolta ningyo are dolls welded from bolts, nuts, washers and other components, made in Muroran, a city of iron in Hokkaido. The five-centimeter-high bolta character comes in 100 poses, appearing as a warlord, musician, singer, tennis player, tea ceremony master, astronomer, thinker and many other guises.
Spring

As the snow melts, Hokkaido transforms. Hokkaido's northern location means its cherry blossom season is later in the year, in May.

Summer

Summer is lavender season in Hokkaido, and there are dozens of other flower festivals too. The last mountain snows melt, allowing opportunities for hiking, mountain biking, rafting and other green season sports.

Autumn

In fall, view spectacular illuminations in the cities and colorful foliage in the national parks. Taste Hokkaido's seasonal produce when it is freshly harvested.

Winter

Hokkaido is synonymous with skiing in Japan. Don't miss a chance to glide down the slopes of the Niseko, Rusutsu or Furano resorts after a fresh snowfall. Sapporo's world-renowned winter snow festival, with its massive snow and ice sculptures, attracts thousands of people every year.