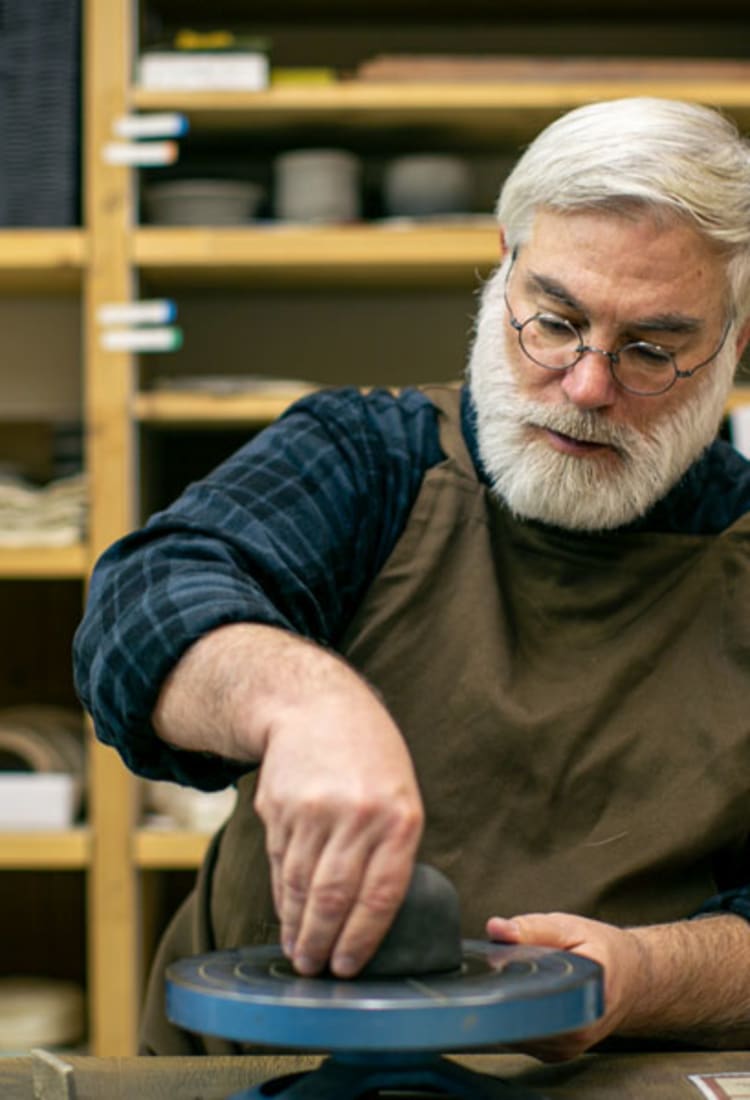 The traditional craft of Bizen-yaki, introduced by an American in Okayama
The traditional craft of Bizen-yaki, introduced by an American in Okayama
---
Tokyo's Kappabashi Kitchenware Street is famous for having everything you could possibly need for cooking, from utensils and clothing to the food models used in shop window displays. Thanks to its great location between the tourist destination of Asakusa and Ueno (which is the last stop on a train that comes directly from Narita Airport), it's frequented not only by professional chefs looking for specific tools, but more recently by foreign travelers as well. For this article, we asked Dominique Corby to give us a tour of Kappabashi from a professional's perspective. Corby arrived in Japan in 1994 as the executive chef for the Japan location of the exclusive French restaurant La Tour d'argent, and now runs his own restaurant in Tokyo.
Fifteen years have gone by in a flash. Okayama's appeal lies in the depth of its history
Okayama has many famous sights, including Korakuen, one of Japan's finest gardens, and the Bikan District, with its beautiful avenue of willow trees. In recent years, with more direct flights from Asia, the number of foreign visitors to the city has grown. We asked Tony, who grew up in California, how he came to live in Okayama.
Tony: I first came to Japan at the age of 26. I was an associate professor in Shizuoka Prefecture, not far from Mt. Fuji, for 20 years, then I transferred to Okayama and I've been here 15 years now.
One reason I like Okayama is the sense that you're never far from history. The condo where I live now is really close to Okayama Castle, and has a great view of it. I always loved learning about history, so that's really exciting for me.
Tony: Japanese people sometimes ask me if I find Okayama dull compared to big cities like Tokyo or Osaka, but I was raised in a suburban area of California, so I don't feel that. I love Okayama because it has an atmosphere you don't get in big cities – the trams that run through the streets, for instance.
What is the Bizen-yaki pottery people in Okayama are so proud of?
Tony fell in love with the Bizen-yaki pottery made in Okayama, and owns a number of pieces, including beer cups, that he uses every day for meals. We asked how he became interested in this craft.
Tony: I had heard people from Okayama talking about Bizen-yaki with great pride, and had sensed that it was something very important to local people.
Then, one day, a colleague gave me a Bizen-yaki beer cup as a gift. When I started drinking out of it, I was totally captivated by its uniquely soft feel, by how nice it was to use. I felt I had begun to understand why the people of Okayama are so proud of Bizen-yaki.
The first stop on our tour was the Bizen-yaki Workshop in the tower of Okayama Castle, where you can try making a piece of Bizen-yaki yourself. With English-language manuals for foreign visitors, and friendly staff, even a beginner can make a piece in about an hour.
First, the staff gave us a talk on Bizen-yaki. Made around Okayama for over 800 years, from local clay, it features random colors and patterns, created by firing it just once, without any glaze, a process called yakishime. The characteristic red patterns are made by straw that is wrapped around the piece before firing.
Tony: So that's why the colors and patterns of Bizen-yaki seem so naturally delicate, and why no two pieces are exactly the same. It has a really magical quality.
Next, we tried our hand at making a piece. You start by placing a lump of clay on a turntable called a rokuro, and gradually pinch it into shape, a technique known as tezukune.
Tony: I'm trying to make a cup, but it's quite hard to get a well-balanced shape. As I'm making it myself, I want to get it just right. I want it to be a size that can be used for sake or for tea, with a lip that's turned out a little…
Once you're satisfied with the shape, you let it dry, then wrap straw around it to create a pattern. Then it's fired, and after about a month the finished piece is ready. The workshop will ship your creation to any address in Japan or overseas.
Tony: I tried my hand at pottery just once before, when I was a boy, but today I had someone teaching me properly, and I think I've made something I can be proud of. Making traditional Bizen-yaki in the tower of Okayama Castle is a wonderful experience. I'm definitely going to recommend it to my foreign friends.
The unique beauty of Bizen-yaki hides a secret that makes beer taste even better
Next, we took a 16-minute train ride from Okayama to Kurashiki. The Bikan District, right by Kurashiki Station, has many old buildings, including wooden structures dating back to the samurai era, more than 150 years ago. The quiet, traditional atmosphere of the streets makes you feel you have slipped back in time.
Located in the Bikan District, Kurashiki Ichiyogama is a specialist Bizen-yaki store housed in a beautiful building with white walls and windows with vertical bars. The owner, Mr. Michio Kimura comes from a family who have made Bizen-yaki for more than 300 years.
According to Mr. Kimura, Bizen-yaki has an "earthy" character, which comes from being unglazed. Not only does it look good, but apparently the slight roughness of the surface makes sake and water taste mellower.
Tony: I love the rough texture of Bizen-yaki, too. When you drink beer from a Bizen-yaki cup, the foam smells great, and it tastes better too — and now I see that comes from the tiny irregularities of the surface.
Sake also tastes better if the tokkuri (flask) and guinomi (cups) are Bizen-yaki. My wife likes wine, but I think next time I'll recommend her to try a Bizen-yaki cup.
Tony handled different pieces of Bizen-yaki, trying to imagine how he would use them. He was surprised to find a large pot that could be used as a wine cooler.
Mr. Kimura gave Tony some advice on looking after Bizen-yaki: because it's unglazed, it can sometimes get stained, so it's best to wet each piece before use. The secret to making it last is to wash it up using just your hands, and dry it well.
Tony: So it seems there are a few knacks to making your Bizen-yaki last. They're clever tricks, just the kind of thing you'd expect in Japan, where people look after their things. I'm planning to get a coffee cup next, so I'll take good care of it.
Bizen-yaki pottery, with its distinctive rough surface and plain shapes is considered to embody the wabi-sabi aesthetic, and is often used in the tea ceremony.
Tony: It's hard to explain wabi-sabi, but I guess you could say it's the beauty of things that are imperfect, asymmetrical, things that are worn and faded… Over the years I've lived in Japan, I think I've started to understand it a little.
There's a kind of beauty in the very fact that there are some things you can't control, like the random patterns created by yakishime firing. My hobby is photography, and to me, the beauty of wabi-sabi is a little like a snapshot that has turned out miraculously well.
Bizen-yaki sets off Japanese cuisine and sake
Lastly, we visited an izakaya called Mingeichaya Shinsui, around five minutes' walk from Kurashiki Ichiyogama. It's one of Tony's favorite restaurants, and the food is served in a variety of Japanese porcelain and pottery dishes, including Bizen-yaki.
Tony: Kurashiki is a quiet, peaceful town, but Mingeichaya Shinsui is always busy with regular customers. I'm always impressed by the beauty of the renovated traditional Japanese house it occupies, by the waitstaff in their kimonos, and by the great variety of Japanese dishes on offer.
There are so many dishes on the menu I can never decide, so I ask the owner what he recommends today. The buta no kakuni (sweet and salty pork belly) is so good I never used to order anything else! [Laughs]
Tony: What I like best about coming here is you get to enjoy the combination of Japanese food and Japanese ceramics. The owner loves Japanese ceramics, and apparently his collection of sake utensils alone is more than 400 items!
He once told me, "Every dish is different, and not just because of the person who made it: it changes depending on the person using it, too." How you use a dish — for instance, presenting different foods together on it — enhances its attractiveness.
This article covers just a few of the Bizen-yaki spots around Okayama, but the area has many other attractions.
Tony: Living in Okayama, you see something new every day. I learned many things about Bizen-yaki today, but if you want more, go to Imbe, about 40 minutes from Okayama Station by train, which is the home of Bizen-yaki. You can see the remains of a kiln built more than 180 years ago, and visit the Bizen Ware Art Museum, which has exhibits and workshops.
Besides Bizen-yaki, Okayama has many, many historical sites, including Okayama Castle and Tsuyama Castle, which has been voted one of the top 100 places to view cherry blossom in Japan.
If you love nature, you can go hiking on Mt. Washuzan, which is less than an hour by car from central Okayama, or visit the port town of Ushimado, which has beautiful views of the Seto Inland Sea. Even I still have a lot to learn about the pleasures of Okayama.
Okayama | Japan Travel | JNTO
Imbe Bizen Pottery Village | Japan Travel | JNTO
Okayama Castle Tower Bizen-yaki Workshop (Bizen-yaki making experience)
Address: Okayama Castle Tower, 2-3-1 Marunouchi, Kita-ku, Okayama, Okayama Prefecture
Access: Okaden Bus from JR Okayama Station to Kencho-mae, then 5 minutes' walk
Kurashiki Ichiyogama
Address: 3-17 Honmachi, Kurashiki, Okayama Prefecture
Access: 15 minutes' walk from JR Okayama Station
Mingeichaya Shinsui
Address: 11-35 Honmachi, Kurashiki, Okayama Prefecture
Access: 15 minutes' walk from JR Okayama Station
Bizen Ware Art Museum
Address: 1657-7 Imbe, Bizen, Okayama Prefecture
Access: 1 minute's walk from JR Imbe Station