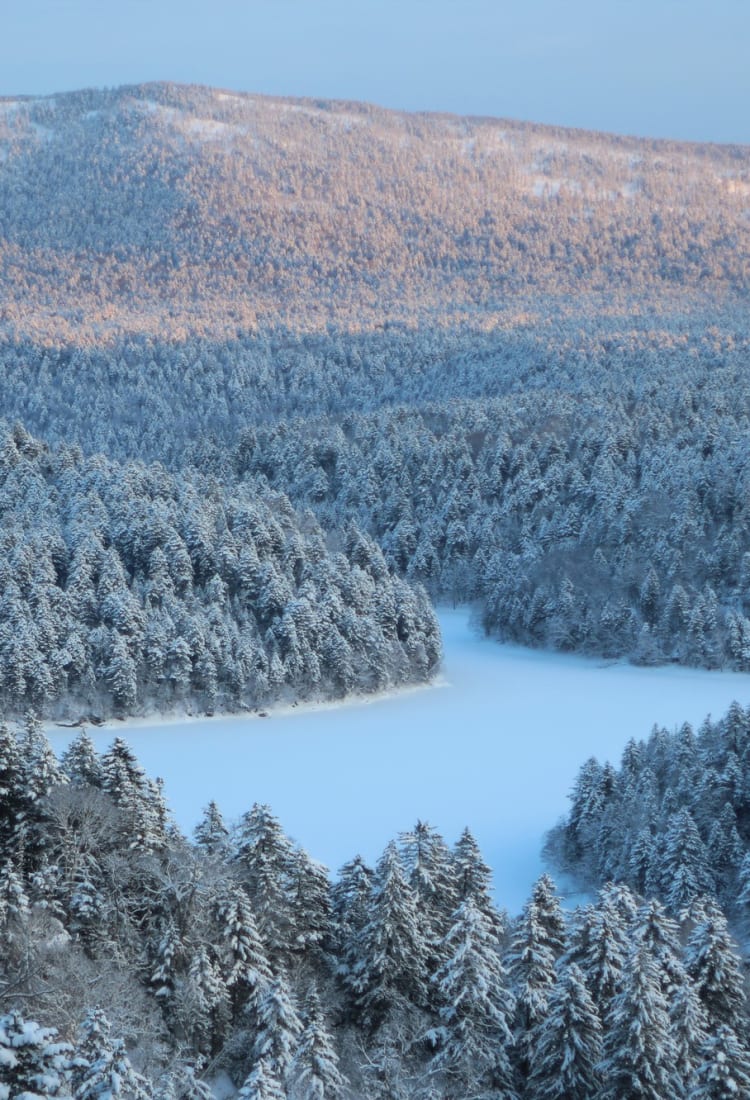 2020.12
Experience Nature and Ainu Culture in Akan
Learn about the culture of northern Japan's Indigenous people and their reverence for nature.
The Akan-Mashu National Park in eastern Hokkaido encompasses a dramatic landscape of volcanoes and caldera lakes, and a vast natural forest (around 91,413 hectares; 225,886 acres). During the winter, visitors to the area can enjoy seasonal activities amongst Akan's natural beauty. Visit an Ainu village to learn about Indigenous culture and heritage. The Ainu are the Indigenous people of Japan's northern regions, including Hokkaido. For centuries, they have coexisted with nature, developing a distinctive spirituality, language and culture. The traditional Ainu lifestyle, based on sustainability and respect for the natural environment, is relevant to modern life. 
Akan: a land formed by volcanic activity
---
Lake Akan and Mt. Oakan are at the heart of the Akan area.
Akan is around a one-hour drive north from Kushiro Airport. On your approach to Akan, you are likely to notice a faint aroma of sulfur, hinting at the volcanic activity that has shaped the area. Further tangible examples of volcanic activity include the plumes of volcanic steam that rise from Mt. Meakan—an active volcano and the tallest mountain in the area (1,499 meters; approx. 4,917 feet)—and "bokke," the bubbling mud pools on the shore of Lake Akan.
Plumes of volcanic stream rise from Mt. Meakan. Lake Onneto is in the foreground.
Lake Akan is one of several large caldera lakes in Akan-Mashu National Park. Centuries ago, a huge volcanic eruption triggered the collapse of a volcano's magma chamber, leaving behind a massive hollow in the ground—a caldera. This hollow filled with water and became a caldera lake. Lava flows and rising mountains from subsequent volcanic activity filled in sections of the lake, resulting in the Lake Akan that visitors can see today. Lake Akan is a habitat for "marimo," a rare spherical algae, shaped by the movement of the lake's water. Sockeye salmon (kokanee salmon)—a freshwater species—swim in the lake's waters. 
Lake Akan is a habitat for marimo (left), and sockeye salmon (right). 
Bubbling mud pools, called "bokke," are active along the southern shore of Lake Akan. Bokke means "boiling place" in the Ainu language, and as the name suggests, the geothermally heated mud reaches around 100 degrees Celsius (212 degrees Fahrenheit). Mud and volcanic gasses regularly bubble and spout from the ground; a striking example of the area's volcanic activity.
Bokke are boiling mud pools on the southern shore of Lake Akan.
The forest around the mud pools is known as "Bokke Forest." The area is a habitat for wildlife endemic to Hokkaido, including Ezo deer and Ezo squirrels. The Ezo deer is a larger species than the common Japanese deer and Ezo squirrels are active year-round because they don't hibernate. Ezo is the historical name for Hokkaido. 
Look out for Ezo squirrels in Bokke Forest.
Visitors to "Bokke Forest" in 2021, can experience the "KAMUY LUMINA", an immersive night walk. During this event, the forest becomes a canvas, illuminated with projection mapping and enhanced with music, to bring a traditional Ainu story to life. Participants can walk through the forest, experiencing the story as it unfolds. Note that the KAMUY LUMINA night walk is planned to begin at the end of May 2021. However, the start date may change due to coronavirus (COVID-19) safety measures. 
The Bokke Forest is home to wildlife endemic to Hokkaido. 
Explore the Akan forests on snowshoes
The winter snowscape in Akan. Photo credit: Tsuruga Adventure Base SIRI
During winter, temperatures in Akan can plunge to -20 degrees Celsius below freezing (-4 degrees Fahrenheit). However, this doesn't mean visitors have to stay indoors. Outdoor adventurers can wrap up warm and explore the snowy terrain on snowshoes. On a "Mountain Peak Snow Trekking" tour, you can trek through the forest to a plateau that looks out over Lake Penketo and Lake Panketo. Tours are organized by Tsuruga Adventure Base SIRI. 
Explore the snow-blanketed forest on snowshoes. Photo credit: Tsuruga Adventure Base SIRI
Shigeru Takada is a trekking guide with the company. He explains that tour participants can enjoy pristine nature as the routes are not established walking trails and therefore off the beaten track. He mentions that winter visitors taking the tour can wander through a beautiful forest of natural Christmas trees. Shigeru says he actually doesn't feel the cold, even though temperatures can drop as low as -25 degrees Celsius below freezing (-13 degrees Fahrenheit), to the point where his eyelashes freeze.
Shigeru Takada is an English-speaking guide knowledgeable about nature in Akan.
During the tour, trekkers will reach a plateau in the forest with views over Lakes Penketo and Panketo. Both lakes were once part of Lake Akan. However, they were separated after Mt. Oakan erupted around 10,000 years ago. The lakes are shrouded in mystery; as a general rule, visiting the lakes is off-limits due to strict conservation measures to protect the natural environment. In the Ainu language, penketo means "upper lake" and panketo means "lower lake."
Lake Penketo in winter. The lake's shape resembles Hokkaido. Photo credit: Tsuruga Adventure Base SIRI
Relax and unwind at a natural hot spring hotel 
The luxury hotel Akan Tsuruga Bessou HINANOZA stands right on the shore of Lake Akan. Photo credit: Akan Tsuruga Bessou HINANOZA
Akan is one of the leading hot spring areas in Hokkaido. Visitors can relax after a long day in the snow at the luxury hot spring hotel, Akan Tsuruga Bessou HINANOZA. All 25 guestrooms are suites with a private, open-air hot spring bath.
An Ama no Za suite room equipped with a cypress tub with views of Lake Akan. Photo credit: Akan Tsuruga Bessou HINANOZA
The Ama no Za suites facing Lake Akan are particularly popular for their size and views. Guests can enjoy views of the lake from the expansive living area and the private open-air bath.
The spacious living room in the Ama no Za suite has views across Lake Akan. Photo credit: Akan Tsuruga Bessou HINANOZA
The hotel dining room serves up modern Japanese cuisine utilizing seasonal flavors and local ingredients. Chefs create menus that allow guests to experience local character and culture. A hot pot made with kinki (broadbanded thornyhead), a high-grade rockfish and Hokkaido delicacy, is a highlight in winter. 
The original hot pot made with succulent kinki is seasoned with white miso paste. Photo credit: Akan Tsuruga Bessou HINANOZA
The hotel's interior design references the local area's character and culture; artworks using motifs inspired by the nature of Akan are featured throughout the hotel. The hotel's respect for nature goes beyond artwork. It is committed to sustainability and coexistence with nature. To reduce carbon dioxide emissions, the hotel uses geothermal heat to warm the hotel and heat the hot water supply.
Guests can feel a warm and natural ambience as they enter the hotel. Photo credit: Akan Tsuruga Bessou HINANOZA
Drink your morning coffee on frozen Lake Akan
Drinking coffee on a frozen lake is a memorable winter experience. Photo credit: Tsuruga Adventure Base SIRI
Combine your morning coffee with the rare experience of walking on a frozen lake. Wake up early to join the Tsuruga Adventure Base SIRI "Morning Coffee Tour" at Lake Akan for a memorable experience. 
Mornings on Lake Akan in winter are so cold that hot water droplets immediately evaporate in a cloud when thrown in the air. Photo credit: Tsuruga Adventure Base SIRI
The tour group gathers before dawn to reach the lake in time for sunrise. As the sun rises from behind Mt. Oakan, the surrounding scenery sparkles like gold. Visitors can feel the warmth of the sun as it rises above the frozen lake.
Drinking coffee in a dramatic frozen setting. Photo credit: Tsuruga Adventure Base SIRI
Participants with luck on their side may even see frost flowers. These "flowers" are a type of hoarfrost. They occur when water vapor in the air freezes, depositing ice crystals onto a surface in shapes resembling flowers. Frost flowers only appear at temperatures of -15 degrees Celsius (5 degrees Fahrenheit) or colder, during clear conditions. According to trekking guide Shigeru Takada, late December is the best time to see frost flowers. 
Ethereal frost flowers on the ice. Photo credit: Tsuruga Adventure Base SIRI
Learning about sustainability from Ainu culture
---
Ainu people have hunted and gathered in the Akan area since ancient times.
Akanko Ainu Kotan is an Ainu village on the banks of Lake Akan. A reverence for nature is central to Ainu spiritual beliefs. Ainu culture is centered around the worship of kamuy, gods manifested in myriad forms, including wildlife. Nature is treated with respect and gratitude and is, in essence, an early sustainable lifestyle that is becoming increasingly sought after in the modern world. 
Explore the forest with an Ainu guide
The streets of Akanko Ainu Kotan are lined with restaurants, and shops selling Ainu handicrafts.
Visitors to the Akanko Ainu Kotan can join guided experiences to learn more about Ainu culture. Through the "Anytime, Ainutime!" program, guests can take tours of the area and engage in craft experiences with the support of Ainu guides. One such tour is "Forest Time." This tour introduces participants to traditional Ainu lifestyles and spirituality as they walk in the forest near Lake Akan.
Ainu guide Kengo Takiguchi at the entrance to the forest.
Kengo Takiguchi is an English-speaking Ainu guide who takes participants on the Forest Time tour. At the forest entrance, Kengo drives a wooden stick called an inau into the ground. He then places an offering on a ritual stick (ikupasuy) and says a prayer to the kamuy (gods) before entering the forest.
Ainu guide Kengo Takiguchi holds a ritual offering stick (ikupasuy) in his right hand.
In the forest, Kengo explains the fundamental role that trees play in the traditional Ainu way of life. The bark of white birch is used to start fires; the fiber of Manchurian elm becomes material for clothes, and the berries of the amur cork tree called shikerepe in the Ainu language are dried and used for food, tea, and medicine. Tour participants can learn how Ainu express gratitude for the forest's blessings and utilize these natural materials without waste.
The berries of the amur cork tree have a citrusy flavor, with a hint of bitterness.
Kengo Takiguchi also carves wood and is the instructor for a hands-on wood sculpting experience for "Anytime, Ainutime!" Visitors can observe as he sculpts and purchase his artwork at the shop, Ichinge, at the Akanko Ainu Kotan.
Kengo Takiguchi carves an artwork at Ichinge. He inherited the shop from his father, a renowned sculptor.
Craft is an important element of Ainu culture and daily life. Ainu women have traditionally used their embroidery skills to create distinctive clothing, and Ainu men have used their carving skills to make tools. Kengo Takiguchi creates wood sculptures in his own style while respecting carving traditions.
Kengo Takiguchi's artwork includes models of bears and chess pieces fashioned in the shape of owls.
Traditional Ainu culture meets digital art
The Akanko Ainu Theater Ikor theater features state-of-the-art equipment to create immersive performances.
The Akanko Ainu Theater "Ikor" at Akanko Ainu Kotan holds a variety of traditional performances. Songs, stories and poems are integral to Ainu heritage because Ainu people do not have a written language. The "Lost Kamuy" performance showcases the epic poem "Yukar." This poem has been passed down for generations through oral tradition. The performance combines Ainu Ancient Ceremonial Dance (registered as a UNESCO Intangible Cultural Heritage) with modern dance and video to immerse the audience in the story. This traditional tale explores the coexistence between Ainu and the Ezo wolf.
A scene from "Lost Kamuy," using fire, dance and digital effects.
Another must-see is the program highlighting the Ainu Ancient Ceremonial Dance. The traditional music and dances expressing scenes such as cranes spreading their wings and pine trees swaying in a storm provide glimpses into the traditional Ainu way of life that is intertwined with nature.
During the traditional dance, performers swing their long black hair to evoke pine trees swaying in a storm.
Programs and schedules at the Akanko Ainu Theater Ikor are seasonal. Check the latest information and performance listings on the official website.
During the Ainu Ancient Ceremonial Dance performance, visitors can hear the traditional instrument, the mukkuri (mouth harp).
Information
KAMUY LUMINA〜AN ENCHANTED NIGHT WALK AT LAKE AKAN〜
The immersive night walk takes place in the Bokke Forest. Tickets are available from the website.
Tsuruga Adventure Base SIRI
The company offers activity tours such as "Mountain Peak Snow Trekking" and the "Morning Café Tour". Make reservations online.
Akan Tsuruga Bessou HINANOZA
This luxury hot spring hotel is located on the shores of Lake Akan. Make reservations online.
Akanko Ainu Kotan
The Ainu village has folk handicraft shops, restaurants, the Ikor theater, etc.
Anytime, Ainutime!
Akanko Ainu Kotan offers this hands-on program. Make reservations online for "Forest Time," "Carving Time" (wooden carving experience), etc.
Related Links
Super Fantastic Kushiro Lake Akan