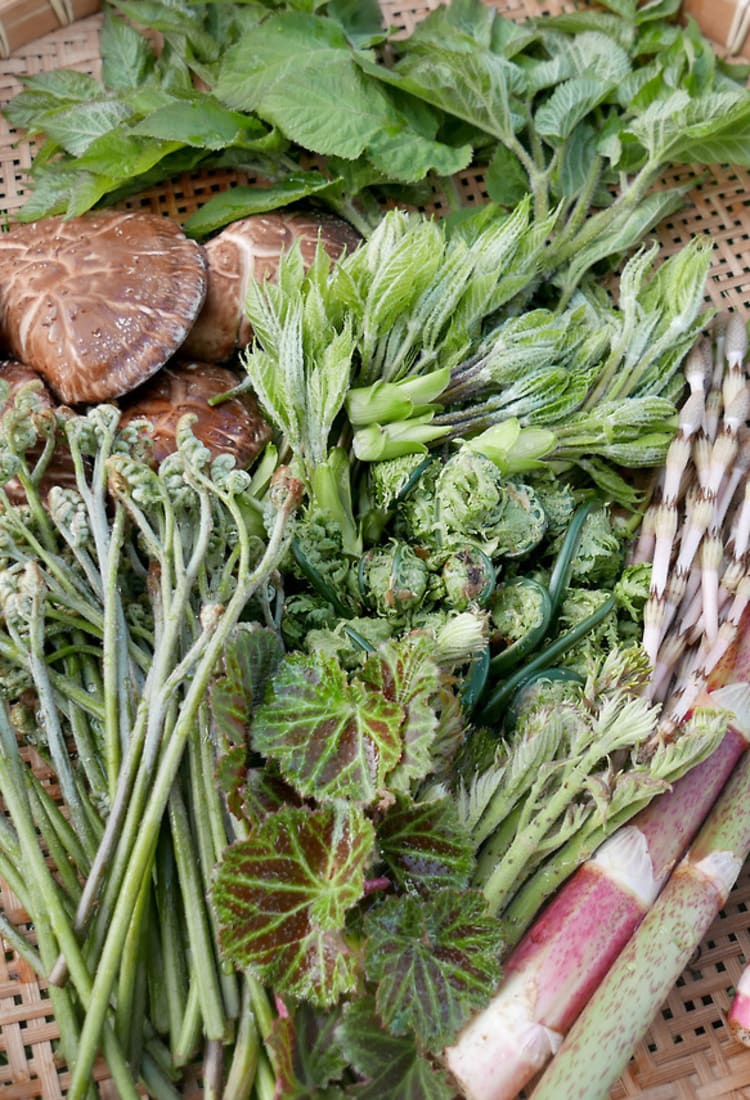 2021.11
Sustainable Stays in Kyushu and Chugoku
Going sustainable in Japan: Why the buzzword is becoming reality
Around the world, events are forcing us to pay more attention to sustainability in all its forms. The global climate crisis calls for a long-overdue focus on greening our energy and transport sectors. While ocean plastics, fast fashion, food waste and soil depletion are just some of the factors demanding a greater emphasis on resource consciousness.

In the tourism sector, too, particularly in the aftermath of the global pandemic, change is afoot. With crowded tourist destinations no longer as appealing as they once were, many travelers are more eager than ever to slow down, dig deeper for off-the-beaten track tourist gems, and establish a more authentic connection in harmony with regional locations.

As luck would have it, these trends align perfectly with the vision of sustainable tourism laid out by the UN in its Sustainable Development Goals (SDGs). Japan is firmly committed to these guidelines, which advocate tourism that is mindful of economic, social, and environmental impacts, while addressing the needs of visitors, the industry, the environment, and host communities.
Yoshinogari Historical Yayoi Park is a reconstruction of a moated Yayoi-period settlement discovered in Saga Prefecture, Kyushu.
The unique attributes of Kyushu and Chugoku for sustainable tourism opportunities
The roots of sustainability in Japan might be said to go all the way back to the Bronze Age Yayoi people, an early agrarian society that produced its food, textiles, art and artefacts in harmony with the natural environment from around c. 300 BC to c. 300 AD.
The earliest known Yayoi sites are found in Kyushu , the southwesternmost of Japan's main islands. From there, the Yayoi people moved eastwards into the largest island, Honshu, starting with the western Chugoku  region, before spreading east and north, bringing with them a reverence for nature and the seasons that runs throughout traditional Japanese culture and customs to this very day.
This unique history, along with a moderate climate, a relaxed pace of life, and attractions and activities combining the best of traditional and modern approaches to sustainability, not to mention a sophisticated cycling infrastructure, make Kyushu (comprising Fukuoka, Kumamoto, Nagasaki, Oita, and Saga Prefectures) and Chugoku (made up of Hiroshima, Okayama, Shimane, Tottori, and Yamaguchi Prefectures) the ideal destinations to step back and tune in to a more mindful state of being.
Getting back to the country: What to expect on an organic farm in Japan
Having touched upon the earliest origins of arable farming in Japan, what better place to begin a discussion of sustainable travel experiences than on the farm? This can be as hands off or as labor intensive as you want, from a mere stay in a farmhouse bed and breakfast (or "noka-minshuku"), to a one-day workshop, or an all-round participatory farmhouse experience that lets you get your hands dirty in the fields for weeks or even months.
Okayama Prefecture's Tsukihi farmhouse B&B offer guests the chance to help pick the produce served up in the on-site Hitotoki Café.
Photo credit: Hitotoki Café
One location offering visitors a range of options is Tsukihi, a noka-minshuku in Kagamino, northern Okayama Prefecture , near the border with Tottori. Run by a family who were inspired by the verdant alpine setting to start a pesticide- and chemical fertilizer-free farm along with a cafe named Hitotoki to showcase the appeal of their naturally grown produce. As well as savoring the local environment, including nearby hot springs, guests can join in with seasonal activities like picking vegetables, chopping wood, and making soba noodles by hand. With advance notice, vegetarian and allergy friendly meals are also available.
Onomichi's Pitchfork Farm practices sustainable farming methods on the shores of the Seto Inland Sea.
Photo credit: Pitchfork Farms
Just off the popular Shimanami  cycling route in Onomichi, Hiroshima Prefecture, is Pitchfork farms, another farm embracing sustainability and off-the-grid energy. Inspired by the teachings of the late farmer-philosopher Masanobu Fukuoka, here they practice no-till farming and mixed planting, with sheep, chickens, and ducks also roaming free to chip in with weed and pest control. While on-site accommodation is in the pipeline for 2022, at present the farm offers a range of seasonal workshops for all ages and abilities in English and Japanese, covering topics like seed-saving, forestry, caring for farm animals, and textile techniques.
For those who really want to immerse themselves in an agricultural lifestyle, opportunities abound. In addition to a growing number of countryside stays online , visitors can also connect with the community on WWOOF (WorldWide Opportunities on Organic Farms). The website of WWOOF Japan, the local arm of this global movement, enables a comprehensive search of locations in Japan offering bed and board to volunteer farmhands for anything from a few weeks to several months, including in Kyushu and Chugoku, including Kumamoto Prefecture's Yusaku Farm.
Finding your spiritual home: Why a temple stay might be calling you
If you'd rather work on yourself than work the land, why not embrace the divine with a stay in an historic Buddhist Temple? Offering unusual quarters, far from the crowds yet conveniently situated for access to sacred power spots, temple lodgings  are growing in popularity.
Monjusenji temple lodge in Kitsuki, Oita Prefecture
Photo credit: Monjusenji
According to a spokesperson for shukubo aggregator site Shukubo Kenkyukai, this surge in interest may also be due to a renewed emphasis on spiritual and experiential pursuits over the material, with temples providing a reassuring presence in an uncertain age.
The site lets you search by location from a network of some 300 temples nationwide, drawn from various schools of Buddhism and offering a range of austerities and activities, including zazen meditation, shakyo (tracing the sutras in brush and ink), and in some cases even takigyo waterfall training. One note regarding food: while many locations purport to offer traditional shojin-ryori plant-based Buddhist cuisine, the old rules are sometimes flexibly applied, so it's best to confirm in advance if you do require a fully vegan or vegetarian spread.
Shakyo (tracing the sutras) at Kotakuji temple lodge, Tottori Prefecture.
Photo credit: Kotakuji
One site in Kyushu is Monjusen-ji, reachable by bus from Oita's Kitsuki Station. Travelers can rest in quarters once used by the local feudal lord, immerse themselves in zazen and shakyo sessions and even accompany the abbot on a hike to a nearby sacred mount. Another intriguing shukubo in Chugoku is Tottori's Kotaku-ji. As well as the traditional activities, this temple even has a cafe and bar, while the shojin-ryori here receives a novel Italian spin.
Making travel meaningful again: Other sustainable tourism activities in the region
As depopulation in Japan's provincial areas leaves numerous properties and facilities standing empty, another crucial aspect of sustainability is local revitalization through the sympathetic repurposing of existing buildings and infrastructure.
Onomichi Guest House Miharashi-Tei commands spectacular views of the Seto Inland Sea from a 100-year-old listed hillside villa. 
Photo credit: Onomichi Guest House Miharashi-tei
One city that has truly embraced this concept is the aforementioned port town of Onomichi, Hiroshima Prefecture. The Onomichi Akiya Saisei Project promotes reuse of the area's numerous empty properties in order to both boost tourism and encourage community building and a new influx of young families.
Two of the project's flagship locations are Anago-no-Nedoko, a characterful hostel constructed around the narrow corridors of an old-fashioned elongated townhouse; and Onomichi Guest House Miharashi-tei, a guest house that stands in a 100-year-old listed villa on a hill overlooking the Seto Inland Sea.
ONOMICHI U2 is an independent hotel, retail, and dining complex that occupies a harbor-front warehouse built in 1942.
Photo credit: Tetsuya Ito (Courtesy of ONOMICHI U2)
Another repurposed property is ONOMICHI U2, an independent hotel, retail, and dining complex that occupies a harbor-front warehouse built in 1942. Accommodation comes in the form of Hotel Cycle which plugs into the local cycling culture with bike mechanics on hand to keep guests' sustainable steeds in tip-top condition.
Pitchfork Farms and Tachibana Textile Institute collaborate to create workshops focused on sustainable textiles, creating and maintaining a seed to cloth connection.
Photo Credit: Tachibana Textile Institute
This region also has a rich heritage of sustainable textiles. Hiroshima and Okayama are Japan's leading denim producers, and the Japan Denim brand brings together numerous local workshops who are committed to garment production in line with the UN SDGs, some of which offer tours and activities. Hotel Cycle also acknowledges this industry with denim guest robes, while Pitchfork Farms' sustainable natural felt goods get a showcase at Onomichi's Tachibana Textile Institute. Just another reminder that sustainability is crucial to the fabric of society.
Business hours
Due to measures to prevent the spread of COVID-19, business hours or available services and activities may be subject to change; please check in advance with the venues before visiting.
Information
Farmhouse stays
Hitotoki Café/Tsukihi (Japanese language only)
Temple stays
Shukubo Kenkyukai (Japanese language only)
Monjusen-ji (Japanese language only)
Kotaku-ji (Japanese language only)
Urban regeneration in Onomichi
Onomichi Akiya Saisei Project
Onomichi Guest House Miharashi-tei
Sustainable Textiles
Tachibana Textile Institute (Japanese language only but contactable in English via Pitchfork Farms site)
Related Links
Chugoku Region Tourism Guide
Yoshinogari Historical Yayoi Park