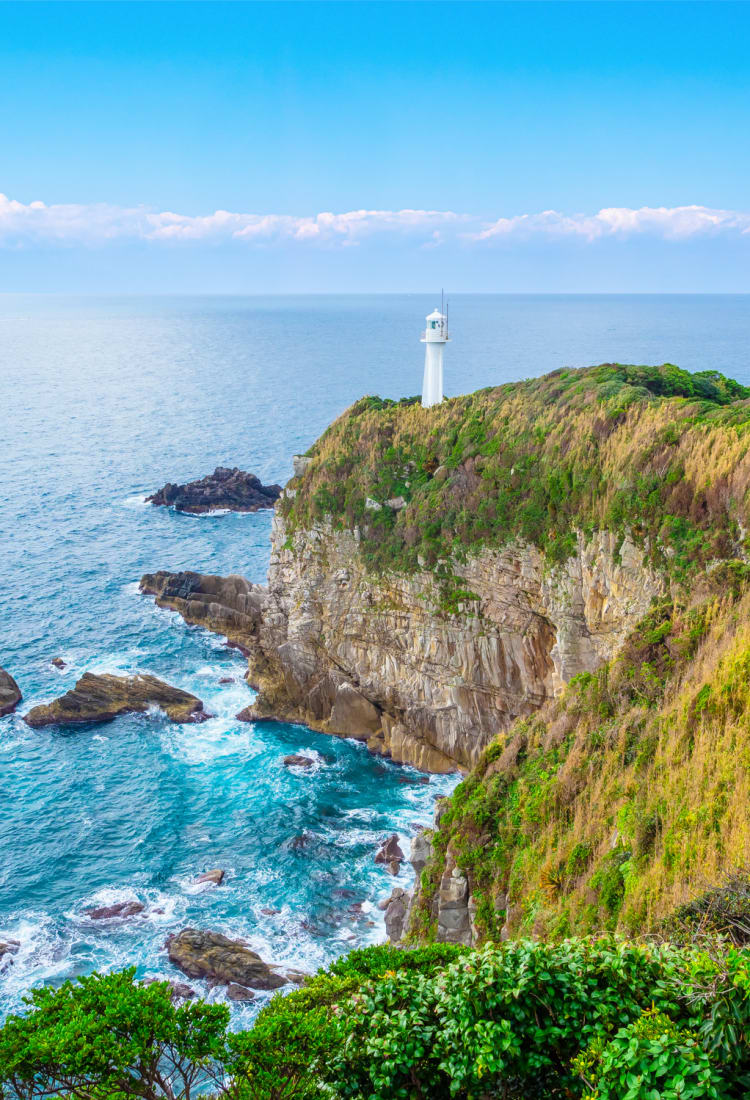 2022.09
Traverse Stunning Landscapes and Explore the Natural History of Ehime and Kochi Prefectures
Ashizuri Uwakai National Park offers adventure and intrigue for active travelers
Shikoku is the smallest of Japan's four main islands, but it makes up for size with larger-than-life sights and experiences. A kaleidoscope of habitats, ecosystems, flora and fauna will highlight your visit here, both above and below the waves. Here, experience rugged coastlines, serene archipelagos, mystical mountains, world-class national parks and diverse ecosystems across Ehime and Kochi Prefectures at Ashizuri Uwakai National Park, one of Japan's hidden gems. 
Welcome to Shikoku, including Ehime and Kochi prefectures
Shikoku offers stunning natural beauty. With a mild climate year-round, adventurous travelers can experience Shikoku's towering mountains, unforgettable beaches, serene lakes and verdant forests at any time.
Perhaps the most memorable prefectures on Shikoku are Ehime and Kochi. Discover sweeping grasslands, deep-blue lagoons and iconic culinary selections—from "taimeshi" (sea bream rice) to fresh sashimi from the Uwakai Sea.
Taimeshi, or sea bream rice, is a hearty and healthy Shikoku dish.
Ashizuri Uwakai National Park: A vast and incredible natural habitat 
Located on the southwestern point of Shikoku Island, straddled by the Kochi and Ehime prefectures, Ashizuri Uwakai National Park provides ecotourists with an incredible range of habitats to explore. At its tip, Cape Ashizuri, the park extends into the vastness of the Pacific Ocean, while further back, the granite cliffs give way to lush, warm temperate forests.  
Photo credit: Otsuki Tourism Association
You'll discover gushing rivers, soaring granite canyons, and serene mountain peaks among the trees. Yet, the Ashizuri Uwakai National Park makes the most impact along the coast and out to sea. Spread over 11,000 hectares, the park encompasses many unique and memorable features.
Explore fascinating rock formations, like natural sculptures in a beachfront gallery. See green cliff-tops above tumultuous seas and jagged rocky reefs. Head out into the Uwakai Sea, and you'll find a string of islands, a mystical archipelago stretching far out towards the horizon.
Below the waves, adventure tourists will find a wealth of sub-aquatic experiences. There's a new world to explore, from vibrant coral reefs to countless fish and other marine species to elegant loggerhead turtles.
Phenomenal flora and fauna: Exploring Japan's natural history
With such diverse habitats, the Ashizuri Uwakai National Park is also home to a diverse range of flora and fauna. In the seas and along the coast, you'll find a rich ecosystem teeming with brightly colored sub-tropical fish and other fascinating creatures that you can explore on a snorkeling or diving excursion. The most significant of these underwater spectacles is the area's coral. 
Photo credit: Tosashimizu Geopark Tatsukushi Visitor Center Uminowa
These beautiful coral colonies are sometimes referred to as underwater flower beds. If you're lucky, you may even spot one of the park's loggerhead turtles, frequent visitors that inspire and delight visitors to the coastal shores.
Photo credit: Tosashimizu Geopark Tatsukushi Visitor Center Uminowa
Away from the sea, Ashizuri Uwakai National Park plays host to mammals, like the shy sika deer and mischievous Japanese macaque. Yet, it's not just animals that add to the abundance of the park's natural diversity. The plants, too, have an essential part to play. You'll find dominant Japanese umbrella pines alongside towering tigertail spruce trees on the many mountain slopes. Colonies of Akebono azaleas are a big draw for visitors who marvel at their bright pink blooms.
Angular, stunning coastlines: Cape Ashizuri and beyond 
While sweeping archipelagos, rugged beaches, and exotic sea life are a significant draw to the Ashizuri Uwakai National Park, the coastline leaves the most memorable impression. When you reach Cape Ashizuri, the most famous of the park's coastal landmarks, you reach the far southern reaches of Shikoku. With the enormity of the Pacific Ocean ahead of you, it's as if you have reached the end of the world. In fact, from this unique vantage point, you can even see the curvature of the Earth itself. 
Yet, you needn't gaze out to sea to feel inspired. Cape Ashizuri is a slim, craggy monument, and its cliffs are adorned with over 100,000 Camelia flower bushes. You'll find over 60,000 of these welcome flora at the tip of the cape alone. 
Beyond this, the rugged theme continues. You'll find secret coves protected by intimidating stone guardians and impenetrable shorelines where wild waves crash against the rocky walls. Yet, when the water is calm, these iconic rocky features take on a new identity, framed by the sunlight that changes the color of the cliffs every second of every day.
Nametoko Gorge: Exhilarating canyon adventures 
One of the best-known sites in the Shikoku region is the Nametoko Gorge. An adventure tourism hotspot, the gorge is characterized by smooth granite boulders and gushing currents and makes the perfect environment for adrenaline sports.
Photo credit: Matsuno Town Hall
On a canyoning adventure, visitors will don a lifejacket and helmet and explore the gorge in and out of the water. Scramble over slippery rock faces, fly down waterfalls, and take shortcuts through water chutes. The highlight for many is a ride down the Yukiwa Falls, voted one of the top 100 waterfalls in Japan. 
You don't have to be an expert to enjoy day canyoning, and this exhilarating experience is suitable for all the family. However, if you prefer a little less adrenaline-fueled outdoor fun, you can always head out on a walking trail. The Nametoko Gorge is home to many miles of beautiful trails that follow the gorge from top to bottom. Surrounded by trees on all sides, walkers are most rewarded during fall as the leaves begin to take on their autumnal hue.
Photo credit: Matsuno Town Hall
Engaging experiences: Tatsukushi glass-bottom boats, dried fish "souda-bushi" shaving and more
A popular ecotourism destination, Shikoku has many unique, traditional experiences on offer above and below the water. One of the most famous enterprises in Kochi Prefecture is the souda-bushi industry. For many generations, locals have been preparing this shaved dried fish at the Fushinaya facility. You can also learn this ancient art and visit the facility yourself. Discover the techniques that make this umami-rich ingredient so popular and take some away to cook with in your kitchen.
Shaved, dried souda-bushi can be used in cooking for a powerful umami punch.
Below the waves, there is much to discover and protect. Head on a glass-bottom boat tour to find the area's unique coral. Soft corals are even more vulnerable to damage than hard corals, so they require the most dedicated protection. Follow a guided tour with a dive or snorkeling instructor to get a closer look.
Business hours
Due to measures to prevent the spread of COVID-19, business hours may be subject to change; please check with the venues before visiting.
Information