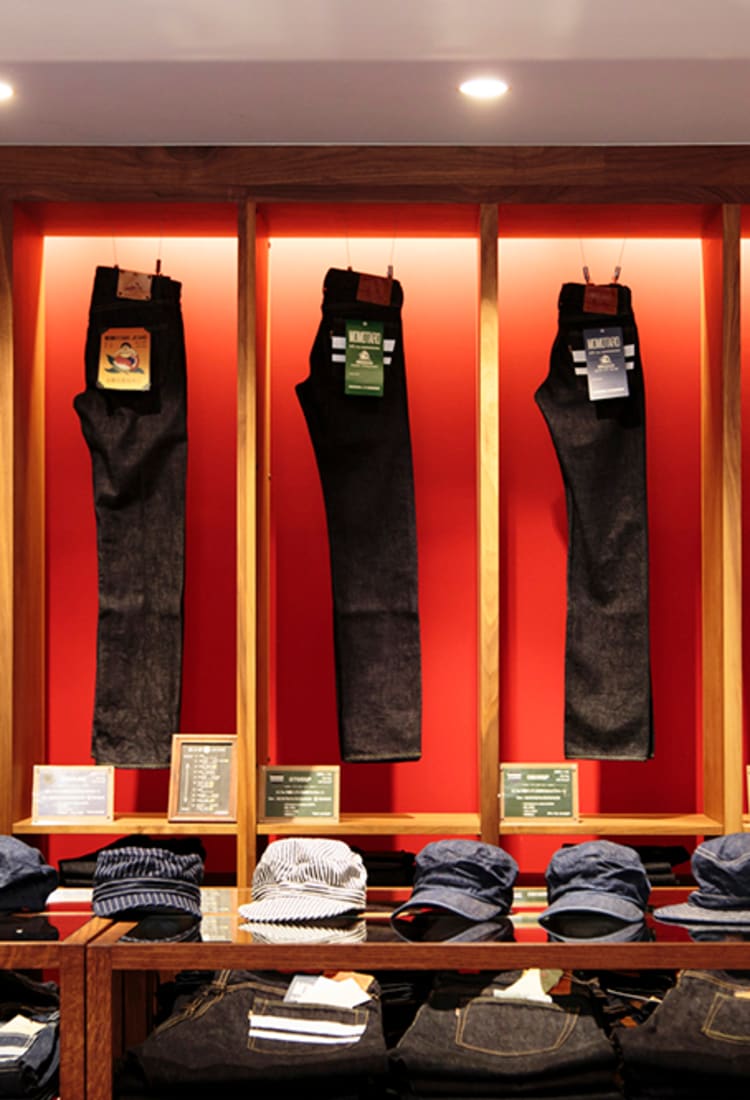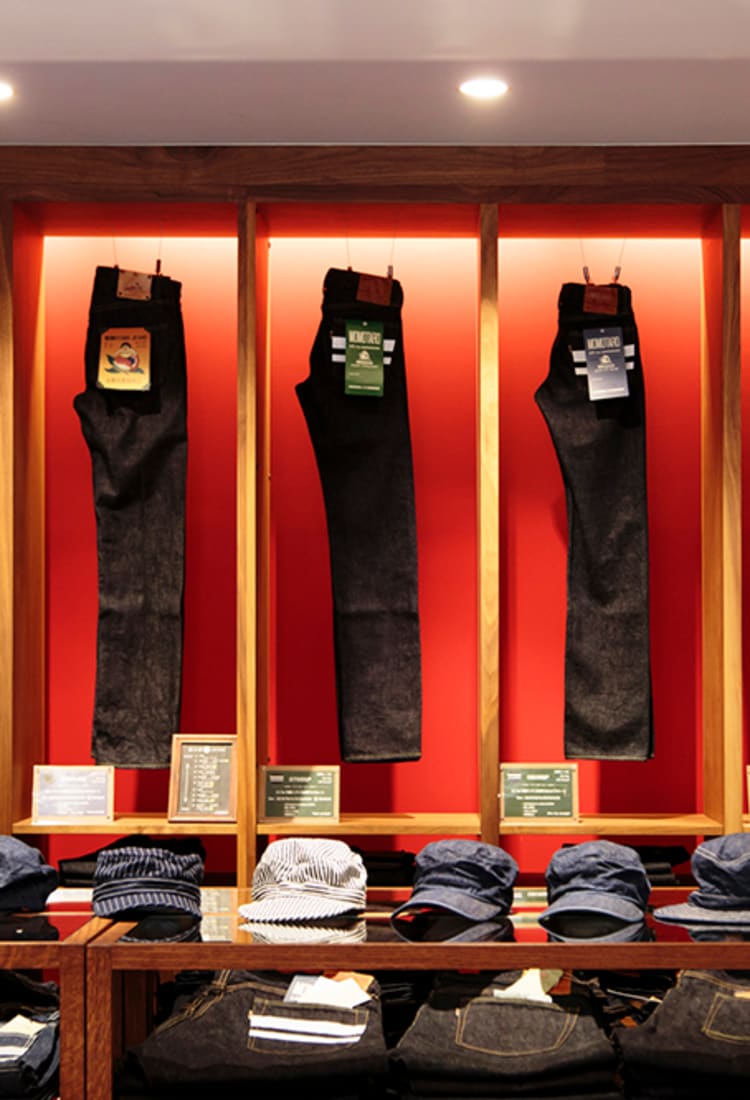 2020.09
Exploring Jeans Street in Kojima, a District Dyed in Indigo
Welcome to the home of premium Japanese denim 
The Kojima district of Kurashiki in Okayama Prefecture may seem like a sleepy coastal area, but it is a heavyweight in Japanese textile production. Kojima is the birthplace of Japanese denim, a fabric dyed a beautiful dark indigo that is so distinctive it was granted its own name—Japan blue. Visitors to Kojima can wander streets inspired by denim, feast on fresh seafood, and get active in the mountains and across the Seto Inland Sea. 
Jeans Street—inspired by indigo 
---
Around 100,000 people visit Jeans Street in the Kojima district every year 
Jeans Street in the Kojima district is a mecca for premium Japanese denim. The street is lined with over 30 shops selling denim products, including flagship stores for some of Japan's leading denim brands. The shopping street attracts around 100,000 people a year. Denim lovers and apparel enthusiasts worldwide flock here to purchase premium Japanese denim. Jeans Street is a 15-minute walk from Kojima Station.
The southern section of Jeans Street is marked by a giant pair of jeans
Jeans Street is more than just a collection of shops. There are homages to Japanese denim at every turn. The road is dyed indigo, the color of Kojima's iconic denim. The red and white lines at the road's edge resemble the denim's selvage— the reinforced end of a bolt of fabric that forms the outside seam of high-end jeans.
The red and white selvage lines along Jeans Street in Kojima
Jeans Street has points of interest not related to denim, too. There is a tea shop serving Japanese sweets and tea, and a bar serving cocktails made with fresh fruits from Okayama. An art gallery selling unusual handicrafts is housed in a stately building that used to be a bank. 
Wandering Jeans Street and browsing the quirky shops are all part of a trip to the area. Begin at the tourist information counter at Kojima Station and pick up a free English tourism pamphlet.
Pairs of jeans hung over Jeans Street 
Distinctive "Japan blue" jeans crafted using a hand loom
One of Japan's most renowned brands of denim is Momotaro Jeans. The company has garnered a global reputation for producing jeans of the highest quality. Momotaro prides itself on its localized production methods and dyeing techniques. Upon receiving high-quality, hand-picked cotton from Zimbabwe, all further production stages, up to the finished pair of jeans, are completed in Kojima. Like other Kojima denim producers, Momotaro's artisans dye their denim an intense shade of indigo. This distinctive color is synonymous with Kojima denim. Momotaro Jeans are sold in 26 countries in Europe, Asia, and the United States. The brand takes its name from the Momotaro fable that originated in Okayama Prefecture. 
Momotaro Jeans artisans craft high-quality jeans by hand in Kojima. Each pair comes with a 10-year guarantee. Photo credit: Japan Blue Co., Ltd.
The Momotaro Jeans Kojima Ajino Main Store carries around 500 pairs of handcrafted jeans. There are several different lines, each with distinctive design elements. Jeans from the "Going To Battle (GTB) label" collection feature two white lines on the back pocket—one thick and one thin. Many items are only available at this store, including jeans with blue leather patches and decorative blue stitching. The store is located in the northern section of Jeans Street.
Other denim-related items available at the Momotaro Jeans Kojima Ajino Main store include jackets, bags and accessories Photo credit: Japan Blue Co., Ltd.
Visitors to the store on weekdays can observe Momotaro artisans at work on Japan's only denim weaving loom. The loom, originally from the famous weaving district of Nishijin in Kyoto, was adapted for denim use. Wandering around Jeans Street and visiting stores such as Momotaro is a fully immersive experience in Japanese denim. 
A Momotaro artisan at work on the customized denim weaving loom Photo credit: Japan Blue Co., Ltd.
Seafood and adventure on the Seto Inland Sea
---
Kojima is located on the Seto Inland Sea, so a wide variety of seafood is available all year round. After exploring Jeans Street, consider heading to a local eatery for some fresh fish. 
Freshly caught seafood and beautiful ocean views
Kibi is a Japanese restaurant inside the Setouchi Kojima Hotel. The restaurant serves seafood caught fresh the same day. Kibi's meals are colorfully presented and consist of various local dishes, including octopus from nearby Shimotsui Port, small mamakari fish (a local Okayama delicacy), tempura and savory steamed egg custard.
 
Lunch at Kibi is a vibrant affair. This seasonal assortment includes butterfish sashimi, a rare delicacy.
Local sake from Okayama Prefecture features on the drink menu. Ask the staff which sake pairs well with the meal you have chosen. Diners in the restaurant can gaze out upon the Great Seto Bridge and the many small islands that dot the Seto Inland Sea.
Restaurants in the Kurashiki Setouchi Kojima Hotel are spacious and offer beautiful views over the Seto Inland Sea. English menus are available.
Port Blanc is a reasonably priced restaurant on the top floor of the same hotel. The restaurant serves what they call "Setouchi cuisine"—French cooking techniques using local ingredients. Diners can enjoy delicately crafted and highly original dishes that showcase the ingredients' flavors.
Grilled Nagi Beef, an Okayama brand of beef from Japanese Black cattle. At lunchtime, diners can choose from one of five main dishes. 
Mt. Ojigatake—unusually shaped rocks and beautiful landscapes
Mt. Ojigatake is a peak in Setonaikai National Park
After dining on Kojima's finest seafood, visitors to the area can get active by climbing Mt. Ojigatake—a 235-meter-high mountain within Setonaikai National Park. The mountain is a roughly 10-minute drive from the Kojima area. From the top of the mountain, you can enjoy panoramic views of the Seto Inland Sea. If the weather is clear, you might be able to see the mountains of Shikoku (Japan's smallest major island) across the water.
Mt. Ojigatake is one of Japan's best known paragliding spots 
Visitors can take a leisurely climb to the summit of Mt. Ojigatake while enjoying expansive ocean views from the clifftops. Oddly shaped rocks, strangely shaped granite rocks and boulders are dotted along the hiking path. There is an observation platform, a parking area (free of charge), and a cafe.
The "smiling rock" at Mt. Ojigatake. Rocks shaped like a sheep and a dog can be found on the mountainside.
Ride the Shimanami Kaido—a paradise for cyclists
While traveling in the area, consider visiting Shikoku, on the other side of the Seto Inland Sea. The Great Seto Bridge, the world's longest two-tiered bridge, connects the Kojima area with Sakaide in Kagawa Prefecture. You can access Sakaide by car or train (around 15 minutes on the JR Seto-Ohashi Line). Alternatively, active travelers can hire a bicycle and cycle across the bridge from Onomichi (a 90-minute drive from Kojima).         
View the Great Seto Bridge from the Mt. Washu observation deck
A 60-kilometer (37.28-mile) long cycling road called Shimanami Kaido connects Onomichi Port to the city of Imabari in Ehime Prefecture. Cyclists can expect spectacular views of the Seto Inland Sea while breathing in the invigorating sea air.
There are multiple cycling courses along the Shimanami Kaido that range from beginner to advanced. Returning by public transportation (ferry or bus) is possible. Photo credit: SHIMANAMI JAPAN
Kaido, consider the one-way, 4-hour course that stretches from Onomichi to Imabari. Cyclists on this course can take breaks on some of the islands along the route. If four hours seems too long, there are shorter courses, too. Shimanami Rental Cycle offers a range of bicycles, including cross bikes, electric bicycles, and tandem bicycles.
Kojima Jeans Street
Many shops are closed on Tuesdays, Wednesdays, or Thursdays. Free parking area for Jeans Street accommodates 10 vehicles.