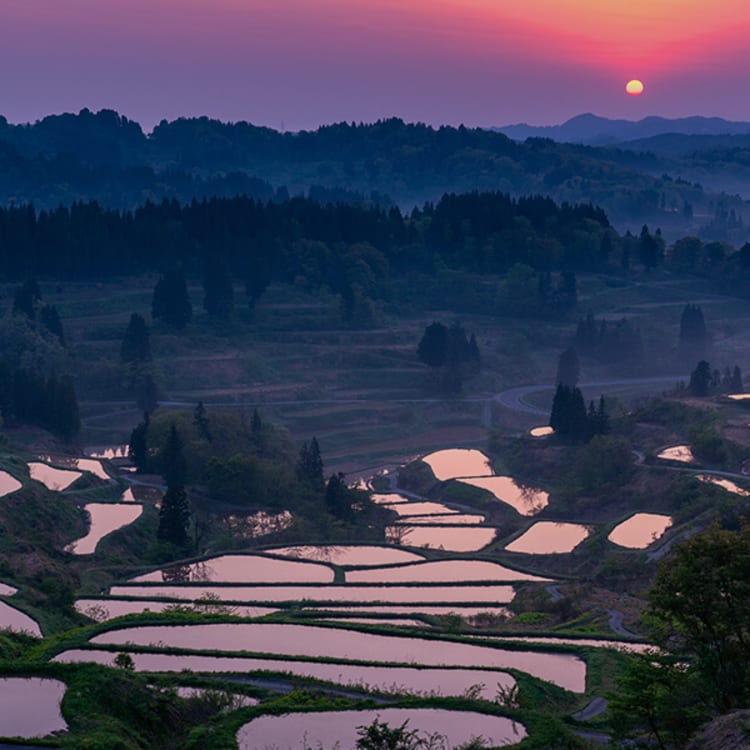 Itineraries
ISHIKAWA, TOYAMA, NIIGATA
A Quick Getaway From Tokyo
Exploring Hokuriku
With the launch of the Hokuriku Shinkansen bullet train line, the Hokuriku/Shinetsu area is now closer than ever as it has become easier to reach from Tokyo.

Be it Ishikawa's historical towns, Toyama's majestic Tateyama mountain range, or Niigata's exquisite dishes and sake, the area is bound to charm you, whether you are first-timer or even frequent traveller alike.

The range of attractions available to travellers is second to none in terms of diversity, from Ishikawa's cultural heritage to Niigata's exquisite gastronomy and sake – the prefecture is blessed with the best rice in Japan.

Our suggested itinerary is a short 3-day, 2-night tour of the area, although it is also possible to make day trips to any of the 3 prefectures from Tokyo.
Recommended itinerary from Tokyo
▸Travel by rental car
Ueno station  
 (150min)  
  Kanzawa  
 (5min)  
  Omicho Market  
 (5min)  
  21st Century Museum of Contemporary Art  
 (5min)  
  Kenrokuen Garden  
 (20min)  
  Higashi Chaya District & Kazuemachi Chaya District  
 (60min)  
  Toyama castle  
 (5min)  
  The suiboku museum, Toyama  
 (150min)  
  Hoshitoge Terraced Rice Fields
▸Travel by public transport
Ueno station  
 (150min)  
  Kanzawa  
 (10min)  
  Omicho Market  
 (10min)  
  21st Century Museum of Contemporary Art  
 (10min)  
  Kenrokuen Garden  
 (20min)  
  Higashi Chaya District & Kazuemachi Chaya District  
 (60min)  
  Toyama castle  
 (15min)  
  The suiboku museum, Toyama  
 (20min)