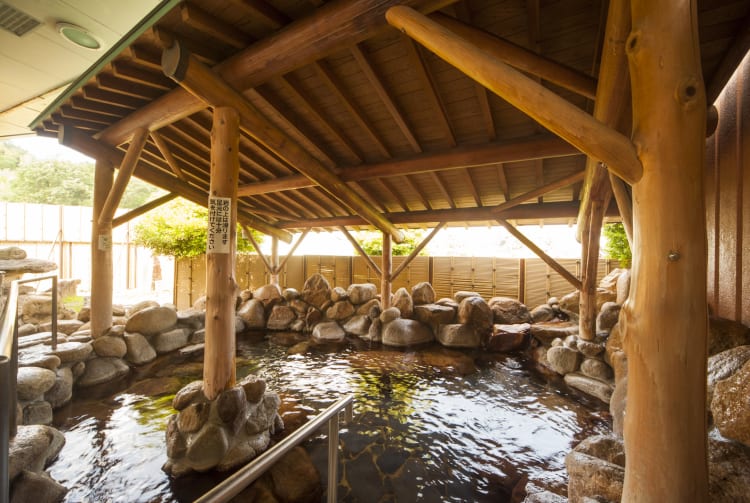 Platinum-quality water in an ancient hot spring resort
The waters of Sekigane Onsen are famously clear and odorless, despite having high levels of minerals and naturally occurring chemicals that are beneficial to health. For this reason, these hot springs are known to have "platinum water."
Sekigane Onsen is included on an official list of the best 100 hot springs in Japan and is also listed as a "National Hot Spring Health Resort."
How to Get There
Take a 35-minute bus ride from JR Kurayoshi Station.
More than 1,200 years of history
Located on the border of the Tottori and Okayama prefectures and at the foot of Mt. Daisen


, the hot springs have soothed the bodies and minds of travelers for centuries. The origins of Sekigane are said to date back more than 1,200 years. Excellent place for a day trip
Sekigane Yurai Ryokan or the town's Yumeikan are excellent places to enjoy a bath for day trippers, while some of the more expensive ryokan also allow for visitors to use the baths for a fee. Note that Yumeikan is mixed gender and requires swimwear.
Stunning views from Kamei Park
Kamei Park offers pleasant views over Sekigane Onsen. Around 60,000 rhododendron flowers bloom in April and turn the park a brilliant pink. Relaxation
Sekigane Onsen
Kurayoshi-shi,
Tottori-ken Nature
Utsubuki Park
Kurayoshi-shi,
Tottori-ken Festivals & Events
Kurayoshi Utsubuki Festival
Kurayoshi-shi,
Tottori-ken Attraction
Tsuda Chaho Teahouse
Kurayoshi-shi,
Tottori-ken History
Kurayoshi
Kurayoshi-shi,
Tottori-ken Attraction
Shirakabe Warehouses
Kurayoshi-shi,
Tottori-ken