Omihachiman Sagicho Fire Festival
左義長まつり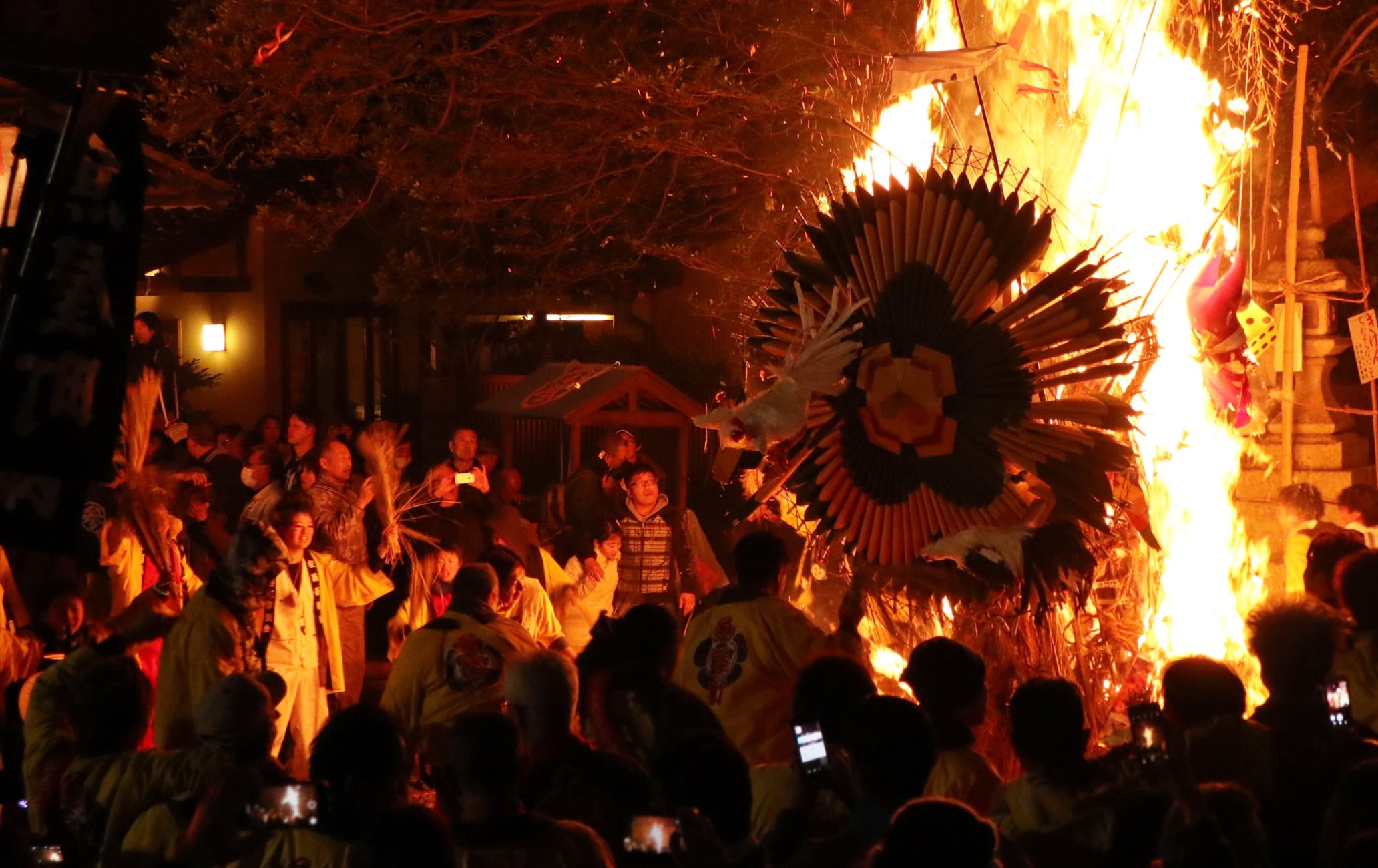 Fire and fighting floats at a warlord's two-day festival near Kyoto
Featuring bright red floats and legendary warlords, the Omihachiman Sagicho Fire Festival is one of Japan's most colorful events in all meanings of the word. The festival usually takes place on the third weekend in March, with the peak of celebrations on Sunday evening.
Don't Miss
Seeing 13 huge floats carried through town
Witnessing a "fight" to determine the winning float
How to Get There
Sagicho Matsuri takes place at Omihachiman


and can be easily accessed by train and then a short bus ride.
Omihachiman Station can be reached from Kyoto Station


via the JR Shin Kaisoku express train. The ride takes 33 minutes. If you're coming from Tokyo


, take the Tokaido Shinkansen to Maibara, and change there for the JR Tokaido Main Line to Omihachiman Station. The journey takes a little under three hours.
Himure Hachimangu Shrine, the starting point for the festival, is a 10-minute bus ride from JR Omihachiman Station. Stories about warlords
The story behind the Omihachiman Sagicho Fire Festival is unclear. Some say it was started by the warlord Oda Nobunaga in the 1500s. Others say it was to celebrate the warlord's death and his castle burning down.
Huge, vibrant floats
The neighborhoods surrounding Oda's old castle each prepare huge, dazzling floats for the festival. The floats, called Sagicho, take months to build and are usually bright red with motifs of the year's lunar calendar's animal. Each floate features a two-meter-tall pine torch, on top of which is a three-meter-long bamboo pole decorated with thousands of strips of red paper.
During the festival, the floats are carried through the town by boisterous men all dressed and made up as women because Oda Nobunaga apparently wore makeup. There's a kenka, or fight, among the floats as well as a contest for best float.
Dancing in the firelight
The floats are all eventually burned to the ground at the end of the festival. The whole point is to dance in the firelight after a long day of parading. Near Omihachiman Sagicho Fire Festival