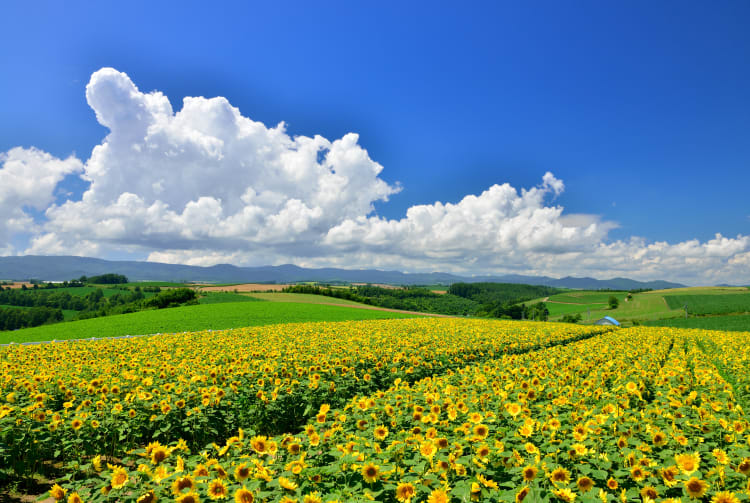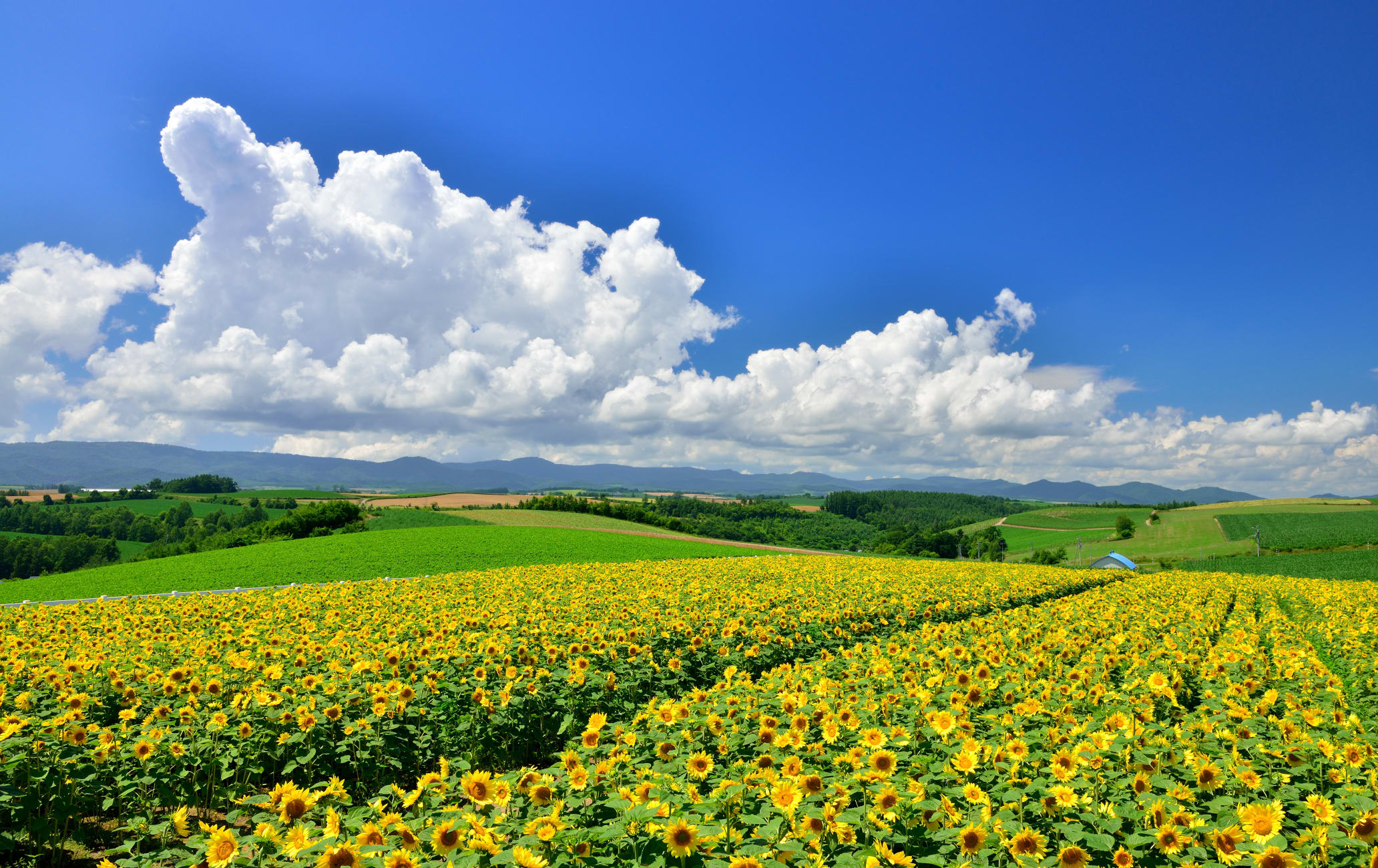 A picturesque patchwork of fields and flowers with a famous lake nearby
Biei lies near the heart of Hokkaido


, at the foot of the Tokachidake Mountain Range in Daisetsuzan National Park


. The area has so much natural appeal that elements of it regularly appear in promotional media for Hokkaido. Chief among the attractions is the Blue Pond, just southeast of the town, a still body of vivid blue that alters its hue in tune with the seasons and weather.
Don't Miss
Seeing the Blue Pond illuminated
Walking through the seven-hectare flower garden at Shikisai Hill
The rare groundwater waterfalls of Shirahige
How to Get There
The Biei area is accessible by train, bus, and car from Asahikawa


and Furano


, and also by plane from Asahikawa.
The closest major train station, Asahikawa Station, is an hour and 20 minutes from Sapporo on the JR Hakodate Line. You can take a JR Furano Line train from Asahikawa to Biei and arrive in around 40 minutes. A train from Furano to Biei takes about the same time. If you're coming from Asahikawa Airport, take a fifteen-minute ride on the Lavender-go bus to Biei. In the summer, sightseeing buses run from both Furano Station and Biei Station.
Quick Facts
You can rent both standard and electrically powered bicycles from shops in Biei
The town hosts an annual race called the Biei Healthy Marathon See the pond and floral patchwork
As many as 1.2 million people visit Biei every year. Many come to see the Blue Pond, while others seek out the spectacular swathes of flowers found in colorfully named places like Patchwork Road, Panorama Road, Shikisai Hill, and Zerubu Hill.
Vast fields of lavender, sunflowers, poppies, cosmos, and purple salvia are arranged in a beautiful patchwork. You can stroll through these flower gardens in some locations with the permission of the farmers. Get some wheels to cover more ground
By taking a sightseeing taxi or renting a bicycle, you can visit many of the area's special spots, such as the flower fields and stands of trees used in promotional media. These trees even have names such as the Ken and Mary Tree, Seven Stars Tree, and Parent and Child Trees, and draw plenty of tourists who want to see them in real life.
For photography fans
Biei surged in popularity as a sightseeing destination thanks primarily to the work of the famous landscape photographer, Shinzo Maeda, who visited Biei and was captivated by its scenery. Maeda's son, Akira, continues to visit Biei to take more pictures. The Takushinkan Photo Gallery exhibits the work of the Maedas. Get active in Biei
In summer, you can stroll through the woods and find quiet restaurants. You can walk along the Biei River, go canoeing and camping, and play golf at the local course. In winter, snow transforms the town into a powdery playground where you can ride snow buggies or snowmobiles through the fields.
* The information on this page may be subject to change due to COVID-19.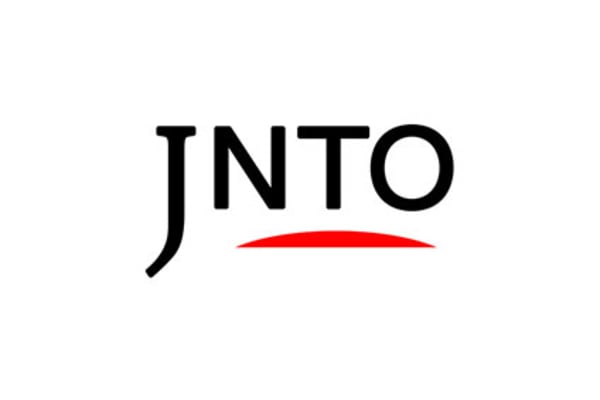 Nature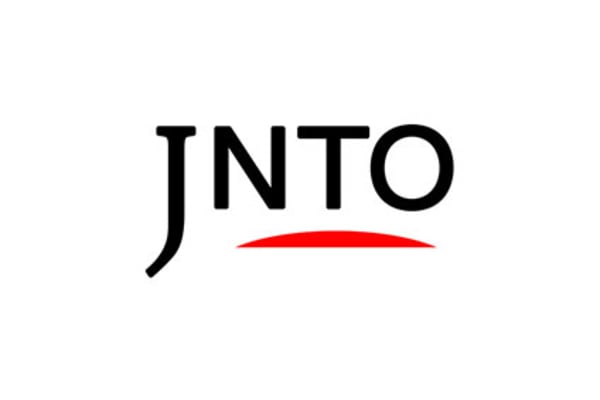 Nature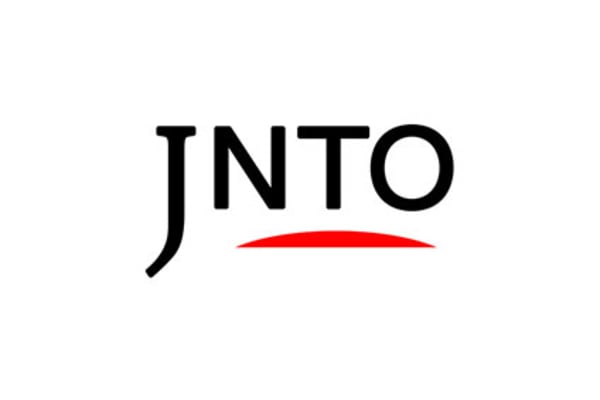 Nature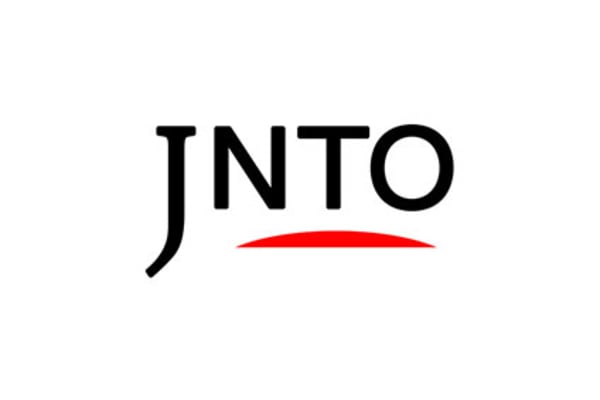 Festivals & Events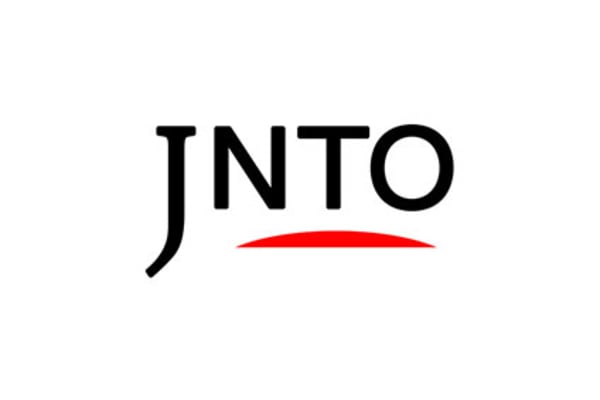 Attraction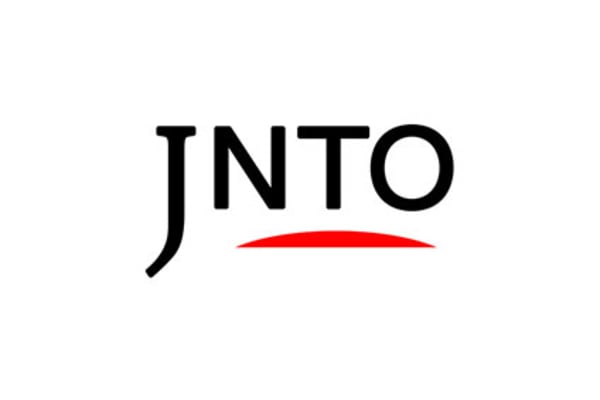 Nature