Misogi-jinja Shrine
身曾岐神社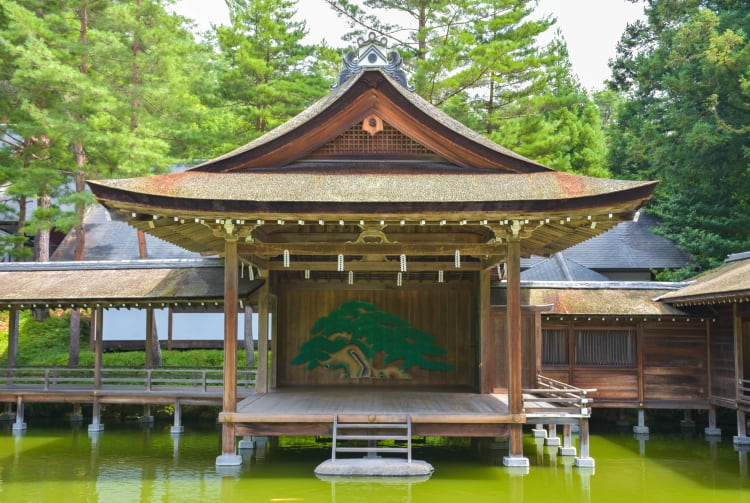 Noh by firelight at a shrine that honors an obscure Buddhist sect's age-old traditions
Although Misogi-jinja Shrine, built in 1985, is relatively new, the sect of Shinto it is dedicated to is old and rather rare in contemporary Japan. Misogikyo is a branch of Shinto that believes there are no "good" or "bad" actions, only pure and impure. A grave mistake can lead to greatness or a perfect success can lead to ultimate failure.
Don't Miss
The shrine was the setting for a commercial by phone carrier au
Many of the charms sold at the shrine are decorated with yuzu, a Japanese citrus fruit
How to Get There
The closest train station is Kobuchisawa Station, which is five minutes away by taxi. If you are coming by car, the Kobuchisawa Interchange is only a five-minute drive.
Inoue Masakane
The founder of the Misogikyo teachings was Inoue Masakane, who was born in 1790. Although he studied medicine and phrenology, in 1834 he experienced vivid dreams and visions, and later obtained a "Ritualist's Certificate" that allowed him to perform Shinto ceremonies.
Inoue's teachings were so radical, however, that he was considered a heretic and banished to a small island called Miyakejima. His followers continued to support him, even in his exile, right up until his death in 1849.
The Noh Theater
Noh theater is a very traditional and precise Japanese art form, and the stage at Misogi-jinja attracts huge crowds whenever a performance is staged.
Perhaps the biggest event of the year happens on August 3, when guests can see a special yatsugatake performance, which means the show is staged at night and lit by bonfires. The flickering light and dancing shadows add to the mysterious air of this uniquely Japanese performance art.
The picturesque grounds
As you might expect from a Japanese shrine, the grounds are pristinely kept, with carefully raked gravel gardens and plants chosen tactically so that there is always something beautiful blooming no matter what time of year you visit.
If you are traveling with children, the emerald-green pond that surrounds the shrine is teeming with colorful koi that will swim to the banks when you approach in the hope of some food.
Chickens are also kept at the shrine, and although they might be prone to peck if you attempt to pet them, they are fun to watch. History
Misogi-Jinja Shrine
Hokuto-shi,
Yamanashi-ken Art & Design
Hirayama Ikuo Silk Road Museum
Hokuto-shi,
Yamanashi-ken Art & Design
Nakamura Keith Haring Collection
Hokuto-shi,
Yamanashi-ken History
Shingen Bomichi Trail
Yamanashi-ken Art & Design
Kiyoharu Art Colony
Hokuto-shi,
Yamanashi-ken Attraction
Suntory Hakushu Distillery
Hokuto-shi,
Yamanashi-ken