Kikuchi & Yamaga
菊池 & 山鹿エリア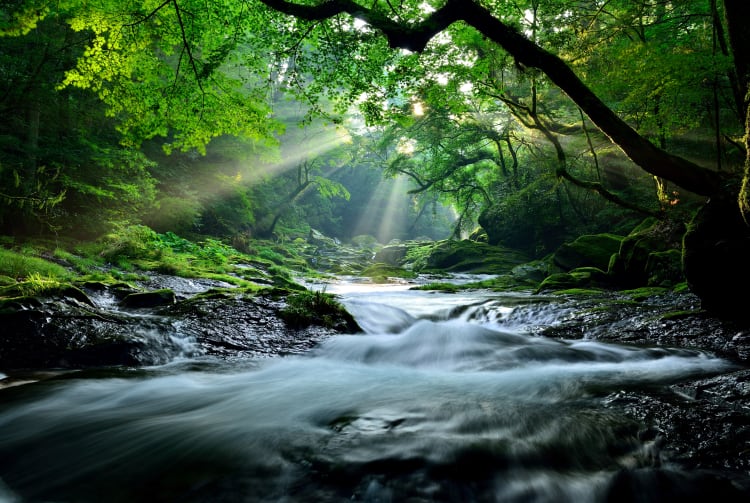 Hot springs and views in Kumamoto
Kikuchi and Yamaga are two cities in Kumamoto Prefecture


which are famous for their natural gifts, onsen and cultural significance. The hot springs of Yamaga are known for their milky, creamy quality, with minerals floating on the surface said to be good for the skin. Kikuchi Onsen


is relatively young, but has already been nicknamed "cosmetic onsen" and "make-up onsen" for its waters' beautifying qualities. These rejuvenating waters neighbor the gorgeous Kikuchi Valley and the charming town of Yamaga.
How to Get There
Train travel is limited in this part of Kyushu. Public buses run to Yamaga and Kikuchi, but for ease of travel it is best to go by car.
Visit Kikuchi Valley
An area of outstanding natural beauty, Kikuchi Valley is popular with hikers and campers, especially during the warm summer months. A great variety of birds can be seen in the area too. With rivers and streams trickling through the forest and dappled light piercing through the trees, this is one of the most picturesque places you could hope to visit. Sometimes seeing snow in the winter, the area is blissfully quiet in the colder months.
Lantern town
In Yamaga, top tourist destinations are chiefly historical and religious. The Yachiyoza theater and museum provide great insight into Japan's theatrical history, and the Lantern Museum will tell you about Yamaga's Toro Masturi, or Lantern Festival


. You could spend a whole day taking in the exhibits and wandering the grounds at the Ancient Burial Mound Museum alone. There are several shrines in the area worth visiting too. Stunning waterfalls
In Kikuchi, the valley, onsen and shrine are top places to visit. There are many dramatic waterfalls in the area, the best of which are Yonjusanman Falls, Tengu Falls and Kakemaku Falls.