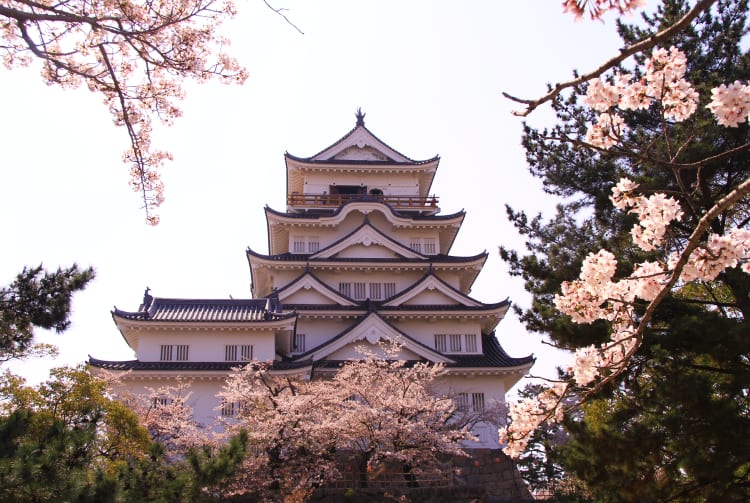 A castle rebuilt from the ashes of war to honor its rich history
Originally built in 1622, Fukuyama Castle was once the capital of the Bingo Fukuyama Han. Its original owners, the Mizuno clan, surrounded the castle with two moats fed by an inlet connected to the Seto Sea. The castle has changed hands many times over the years. Marugame Han took over for two years; then, Matsudaira Tadamasa held dominion for around a decade before the Abe clan ruled the castle between 1710 and 1874. Now, the castle is the property of Japan.
Don't Miss
The Sanzoinari and Bingogokoku shrines, located in the same complex
The nearby Fukuyama Museum
How to Get There
Fukuyama Castle is just a few minutes' walk from Fukuyama Station.
From Osaka


, Fukuyama is about a 90-minute bullet train ride via Shin-Osaka Station. From Hiroshima, it's a 30- to 50-minute bullet train ride or roughly 100 minutes on the Local Sanyo Line.
Rising from the ashes
At the end of World War II, firebombing severely damaged the castle, a fate that befell many castles throughout Japan. The main tower, which was rebuilt in 1966, stands five floors tall. Inside, you'll find a museum that tracks the history of the castle and the surrounding area in glorious detail.
New times, new materials
While the original structure was built with wood, plaster, and stone, the reconstruction is far sturdier, mixing concrete, wood, and steel to make a castle that will stand for many decades to come. With a low entrance fee and location next to the station, visitors can easily enjoy learning about Fukuyama Castle's modern and ancient history. History
Fukuyama Castle
Fukuyama-shi,
Hiroshima-ken History
Myooin Temple
Fukuyama-shi,
Hiroshima-ken Culture
Tomonoura
Fukuyama-shi,
Hiroshima-ken Nature
Senkoji Park
Onomichi-shi,
Hiroshima-ken History
Innoshima Suigun Castle
Onomichi-shi,
Hiroshima-ken Art & Design
Hirayama Ikuo Museum Of Art
Onomichi-shi,
Hiroshima-ken