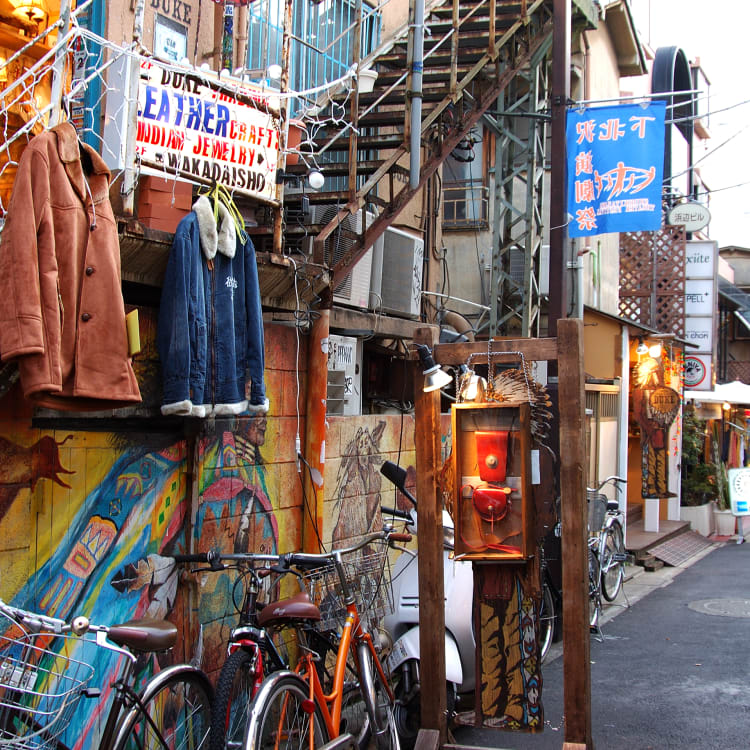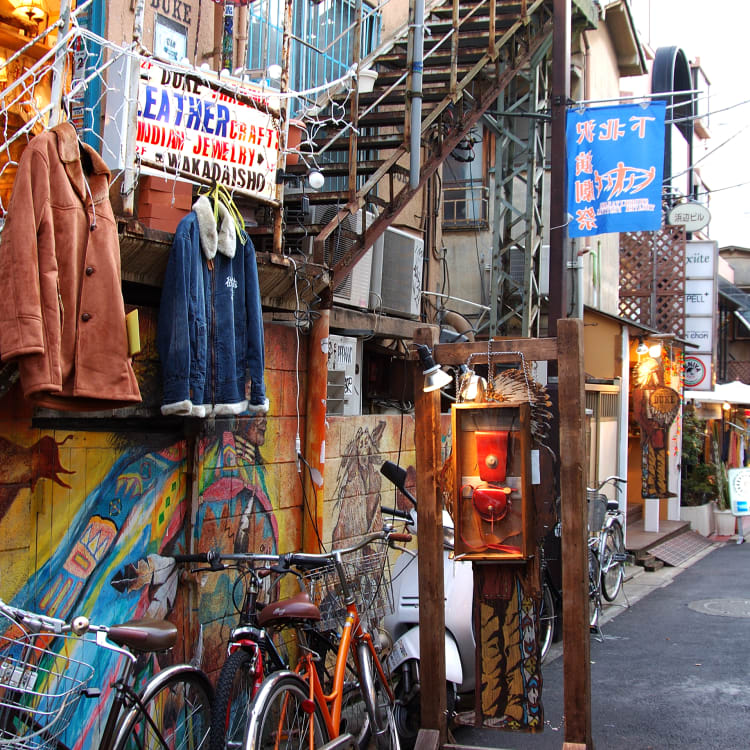 STORY
Shimokitazawa Shopping Guide
Explore alternative fashion and bohemian culture in Shimokitazawa
Just a short train ride from Shibuya, Shimokitazawa's narrow streets are packed with thrift stores, live houses, trendy cafes and fashionable boutiques
Compared to nearby Shibuya


and Harajuku


, Shimokitazawa


is a laid-back sub-culture hub where Japanese youth come to peruse used clothing, record shops and quirky mom-and-pop stores. Bohemian in nature, you'll often find bowl-cut kids packing guitars mingling with fashionistas clad in original attire right outside the station. Ichibangai Dori Street
A couple of minutes walk from the station's north exit, Shimokitazawa's quieter shopping street is lined with small used clothing shops, cute cafes and mom-and-pop stores of all kinds.
New York Joe Exchange
Perhaps the area's most iconic used clothing store, New York Joe Exchange is located on Ichibangai and usually has a throng of fashionistas lined up outside, waiting to sell their unneeded clothing. With all prices under 10,000 yen and a steady influx of sellers, their stock changes constantly, but remains well-curated thanks to the young, fashionable staff. As the name implies, you can even exchange your old clothes for store credit if you have the time and threads.
Bear Pond Espresso
Across the street from New York Joe, Bear Pond Espresso is a small, hip cafe offering delicious single-origin coffee, espresso and lattes. The baristas are passionate about their craft, and it shows in the excellent quality of coffee here.
Jet Set
Based in Shimokitazawa


, this record store stocks a wide variety of genres with leanings towards house, techno and soul. Check out their limited 12 and 7-inch releases for some hidden J-pop goodies.
Shimokita Garage Department
Just a two-minute walk from the station's north exit, this cavernous shopping enclave is packed to the brim with tiny accessory shops and thrift stores. Many of the accessories are hand-made, and the unique vintage clothing can give your wardrobe a bohemian makeover.
Chicago Shimokitazawa
With locations in Harajuku and throughout Japan, the Shimokitazawa branch is spacious, offering a massive amount of vintage clothing for reasonable prices. About a five-minute walk south of the station, get there by walking straight down Shimokitazawa's busiest street.
Used Books Honkichi
If you'd rather spend hours searching for the perfect book than the perfect outfit, visit this bookstore nestled next to the town hall on the east side. Packed wall-to-wall with tomes and texts, the quaint atmosphere of this shop is hard to beat for old book lovers.
Moona Spice Kitchen
Once you've had your fill of shopping, head to Moona Spice Kitchen to fill up in a different way. A two-minute walk from the south exit, owner Suwanai serves up authentic Indian cuisine, and his specialty fish curry is delicious.
The Suzunari
Perched at one end of Ichibangai Chazawa-dori Street, this theater hosts semi-regular stage performances, but the real reason to go is the first floor bars. Home to a slew of small watering holes, the building is perfect for chatting with locals over a drink.
Did this information help you?
out of found this information helpful.