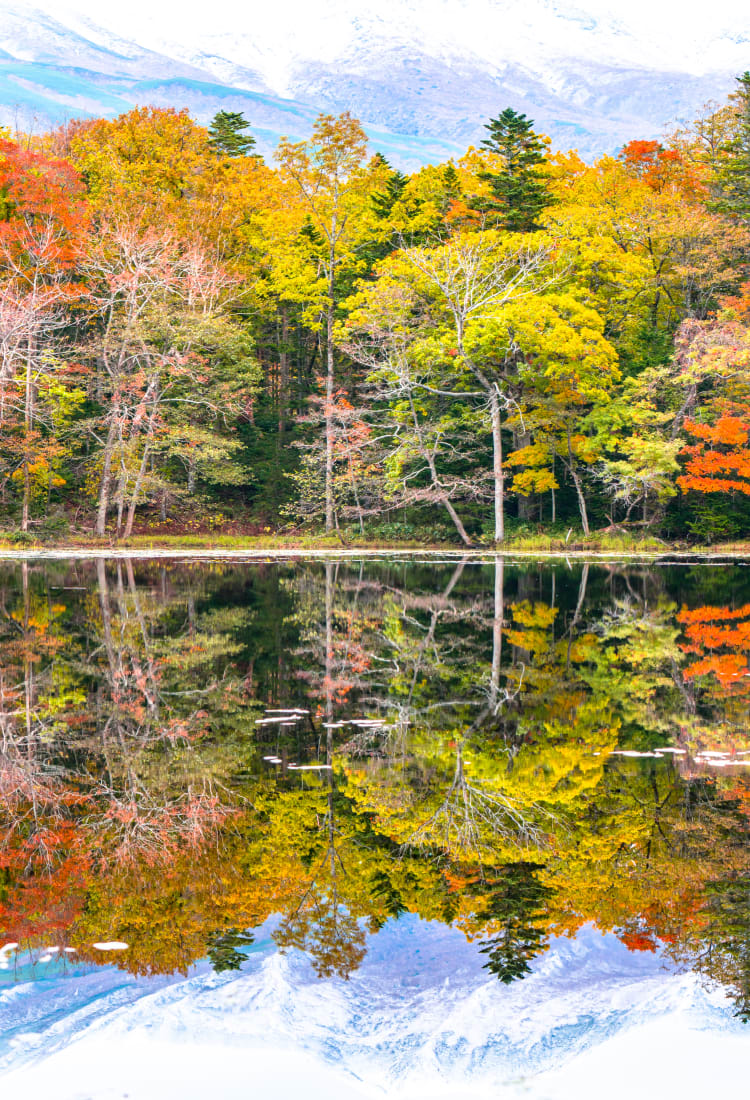 Shiretoko (UNESCO)
Volcanic landscape home to rare wildlife
Journey the narrow peninsula of Shiretoko, and explore rugged mountains, serene lakes, and gorgeous coastline
Located on the northeastern tip of Hokkaido


, the wild nature of Shiretoko


was registered as a Natural Heritage site in July 2005. A volcanic mountain range runs down the center of the peninsula and includes the active volcano Mt. Iozan


and Mt. Rausu, the highest peak of the range standing at 1,661 meters above sea level. This rugged, untamed landscape, with 100-meter tall coastal cliffsides, is occupied by numerous bird species and fish. Further inland you'll find hiking trails leading to lakes and volcanic plateaus home to an abundance of wildlife.
Highlights
Catching a glimpse of rare bird species, which feed off the flourishing marine life
Exploring the numerous lakes that have formed around the lava plateaus typical of the region
Trekking past waterfalls and rugged cliffsides that stretch along the Sea of Okhotsk Mountains, lakes and old-growth forest
Shiretoko


is bordered by the Sea of Okhotsk to the west and the Nemuro Straits to the east. Volcanic activity has created numerous lakes surrounded by old-growth forest. Enjoy a 90-minute hike around the Shiretoko Five Lakes to view the local wildlife, abundant foliage, and pristine mountain terrain. Birdwatchers will find rare avian species such as Blakiston's fish owls, Steller's sea eagles, and white-tailed sea eagles. Marine life also thrives in the area, with the abundant salmon and trout that breed in the sea off Shiretoko acting as an important food resource. Seasonal journeys
Fall sees the foliage turn crimson red and vivid yellow, and during this period you'll encounter schools of salmon and trout swimming upriver to spawn. As fall turns to winter, drifting ice from further north transforms the Sea of Okhotsk into a white snowfield. Hikers are encouraged to contact the Shiretoko Nature Center to take advantage of treks tailored to bird watching, wild animal tracking, and alpine plant studies.
How to Get There
Access the Shiretoko Nature Center by car or bus from Memanbetsu Airport. From Memanbetsu Airport it takes about 2 hours by car to Utoro. From the town center, the Shiretoko Nature Centre is about 10 minutes away.
The nearest JR station is Shiretoko Shari Station in downtown Shari. From the Shari Bus Terminal in front of Shiretoko-Shari Station, take the Shari Bus Shiretoko Line (about 1 hour and 10 minutes).
* The information on this page may be subject to change due to COVID-19.