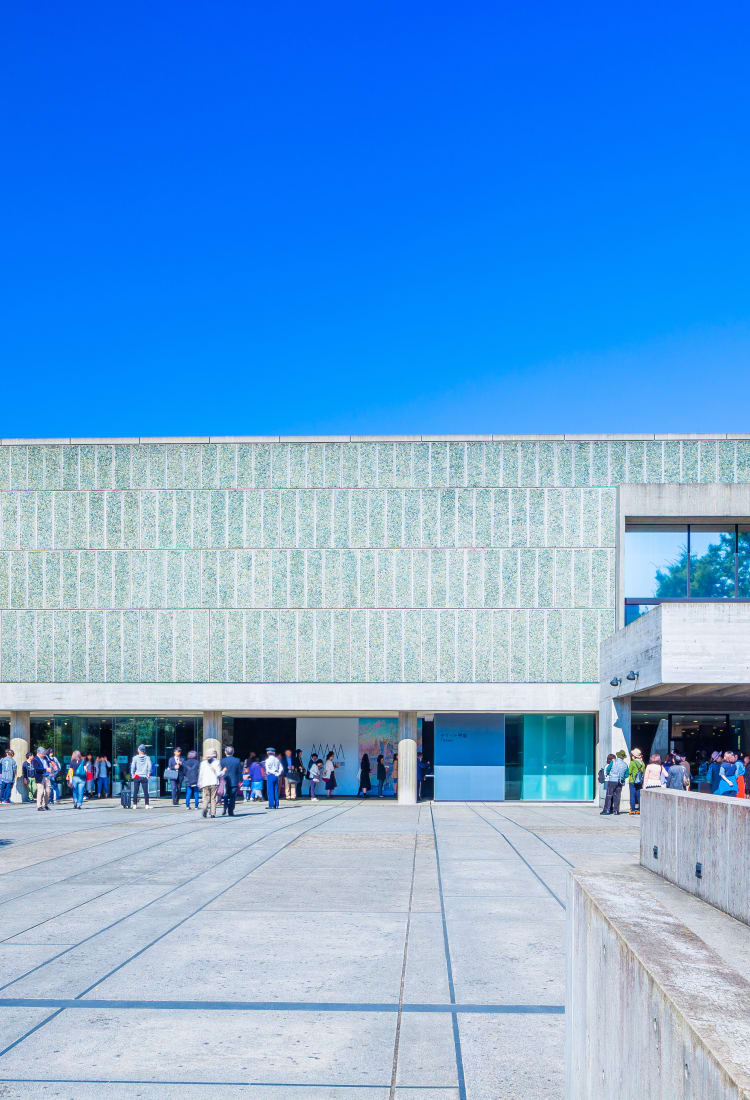 The Architectural Work of Le Corbusier (UNESCO)
World-renowned modernist architecture in Japan
See one of Le Corbusier's renowned buildings right in the heart of Tokyo
The industrial revolution of the 19th century opened up a whole new world of heavy-duty materials that could be utilized to construct buildings. With new materials such as concrete and reinforced steel readily available, architects had an entirely new canvas to experiment with. What resulted was the modernist architectural movement, characterized by bold, symmetrical forms, a focus on functionality, and a minimalist sensibility that has influenced the realms of painting, sculpture, music, and more.
Renowned Swiss-French artist Le Corbusier (Charles-Edouard Jeanneret, 1887-1965) pioneered this modern architectural movement, designing buildings across Europe, the Americas, and in Japan and India. His massive, smooth, symmetrical concrete buildings laid the groundwork for a generation of "brutalist" modern architects and posited a new vision for functionality in building and city planning.
Selected from among Le Corbusier's numerous works is a group of 17 buildings spread across seven countries that are part of the UNESCO World Heritage list. His single building in Japan, the National Museum of Western Art


in Tokyo is included in this list. Highlights
Strolling the outside grounds of the museum, which are home to numerous statues by Rodin
Exploring more contemporary works including those of Tadao Ando and Junzo Sakakura
An architectural masterpiece in the center of Ueno Park
Located in the Ueno district of Tokyo, the National Museum of Western Art


, houses 4,500 sculptures and paintings from the last five centuries, all from western artists. Inside you'll find works by Van Gogh, Cezanne, and Monet, among others. But it's Le Corbusier's impressive interior and exterior designs that continue to impress visitors. Built in 1959, the structure has a rectangular concrete exterior, with skylights, beams, and ramps serving as functional decorative interior elements.
As the pieces within began to grow, Le Corbusier employed Japanese apprentices Kunio Maekawa, Junzo Sakakura, and Takamasa Yoshizaka to work on expanding the facility, resulting in the addition of a lecture hall (completed in 1964), an annex (1979), and a ticket office (1984). Outside you'll find a sculpture garden featuring replications of the works of Rodin, including "The Thinker" and "Gates of Hell."
See the works of Le Corbusier's local apprentice
Though not part of the designated World Heritage site, the Museum of Modern Art in the nearby beach town of Kamakura was designed by Le Corbusier disciple Junzo Sakakura. The structure and surrounding grounds present a synthesis between the elder's modern form and his student's Japanese roots and aesthetic sensibilities. Mixing the modern with the traditional, the museum is cleverly located a short distance from Kamakura's most prestigious shrine Tsurugaoka Hachimangu


. Interestingly, this structure was built before the National Museum of Western Art


, though it shares many of the same design elements. While the museum is presently closed to the public, the structure itself remains a notable piece of Japanese modern architecture.
Sakakura spent seven years working under Le Corbusier as his studio chief, later returning to Japan to work on such notable buildings as the International House of Japan, and the Institute of France-Japan. With buildings spread throughout the country, architectural fans will enjoy making the journey to view his works, which borrow liberally from the approach of his teacher.
Le Corbusier's influence can be seen in the works of Japan's own star architect
Held in the same regard as architects like Frank Lloyd Wright and Ludwig Mies van der Rohe, Le Corbusier's influence resonates around the world. Such is the case with contemporary Japanese architect Tadao Ando. Known for structures such as Benesse House on Naoshima and the Church of Light in Osaka, Ando received no formal architectural training, but learned from practical application and study, and is known to have traced from design books featuring Le Corbusier's architectural drawings.
How to Get There
From Tokyo Station, take the Yamanote Line to Ueno Station. From there, Ueno Park


is a short walk away.
* The information on this page may be subject to change due to COVID-19.