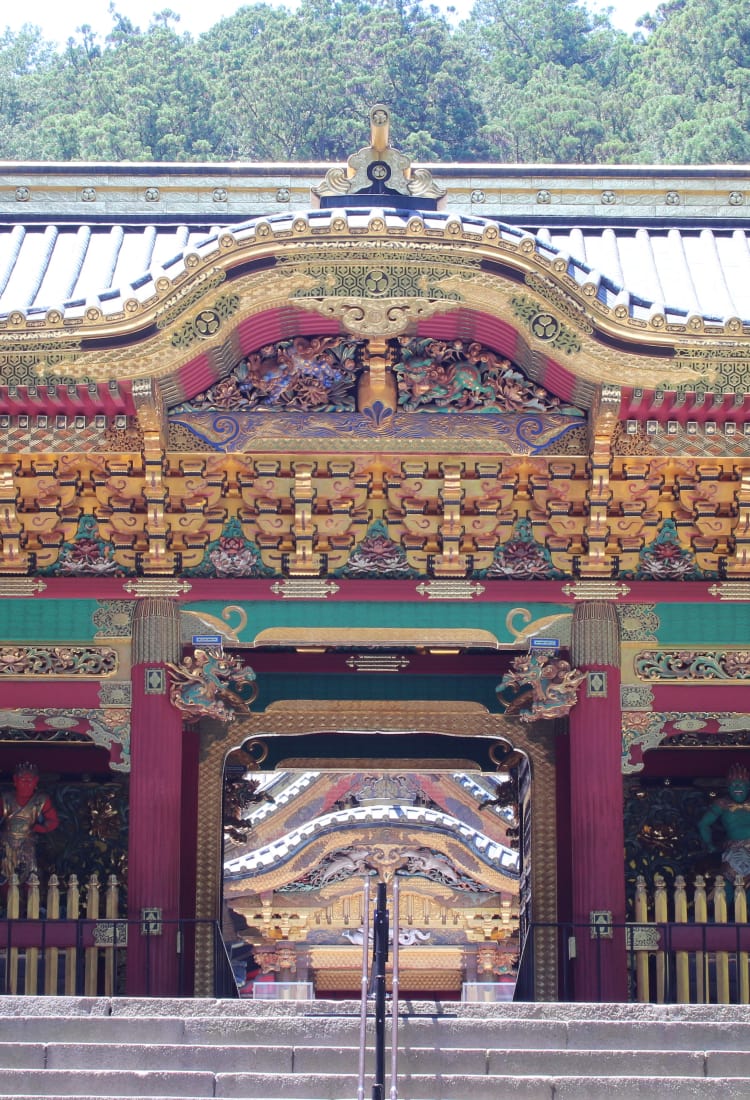 The Shrines & Temples of Nikko (UNESCO)
Explore sacred sites and their distinctive carvings
Spread across an expansive natural landscape in Tochigi Prefecture, Nikko is a testament to one of the most important figures in Japan's history
Tokugawa Ieyasu (ruling from 1603 to 1605) was the first shogun of the Tokugawa Shogunate and is credited with bringing 300 years of peace and stability to the country after a long period of regional conflict. The famed shogun's remains are entombed at Nikko Toshogu Shrine


, while nearby Futarasan-jinja Shrine


and Rinnoji Temple


offer similarly spectacular sights.
Highlights
Viewing intricate carvings displayed on the grounds of Nikko Toshogu Shrine
Walking across the ancient Shinkyo Bridge, one of the most distinct in Japan
Marveling at the haunted lantern of Futarasan-jinja Shrine Take in the splendor of Nikko Toshogu Shrine
In a true display of Tokugawa Ieyasu's importance, as many as 127,000 craftsmen were involved in constructing the shrine memorializing him using the highest level of technology available at the time. The complex is made up of over a dozen structures, including a five-story pagoda, Honjido Hall, and the brilliantly colored Yomeimon Gate. Of particular note are the numerous carvings found throughout the complex. Look for a sleeping cat, three monkeys striking "see no evil, hear no evil, and speak no evil" poses, and a strangely shaped elephant—carved purely from imagination. These are Kunozan Toshogu Shrine's


most famous carvings. Explore a network of temple buildings nestled in the mountains
Established in 782 by the monk Shodo Shonin, Futarasan-jinja Shrine


is several centuries older than Nikko Toshogu Shrine


and is dedicated to the three deities of the surrounding mountains. The temple complex has numerous structures linked together by serene mountain paths. Spend an afternoon hiking through the forests and visiting each facility. Step into the light of a haunted green lantern
Some must-see sights in Futarasan-jinja Shrine


include the vermillion lacquered shrine pavilion and the "Bakedoro (haunted garden lantern)" next to it. The lantern is rumored to change into a spooky shape when lit at night, and it still bears the scars from numerous sword strikes made by startled samurai warriors. View priceless artifacts from old Japan
Like Futarasasn-jinja Shrine


, Rinnoji Temple


was also founded by Buddhist monk Shodo Shonin in the 8th century. The temple complex showcases numerous artifacts and monuments, a Japanese style garden, and gold lacquered statues of three Kannon deities. Walk across one of the most notable bridges in Japan
The 28-meter-long Shinkyo Bridge serves as the sacred entrance to Nikko


. The structure is known as one of the top three bridges in the country, and the vermilion-lacquered arch surrounded by lush foliage and a serene river makes for a particularly beautiful photo.
How to Get There
Nikko


is located in Tochigi Prefecture


, north of Tokyo. From Tokyo take the Tohoku shinkansen three stops to Utsunomiya Station. Then transfer to the JR Nikko Line and ride to Nikko Station. From there, the surrounding sights are a short bus ride away.
* The information on this page may be subject to change due to COVID-19.