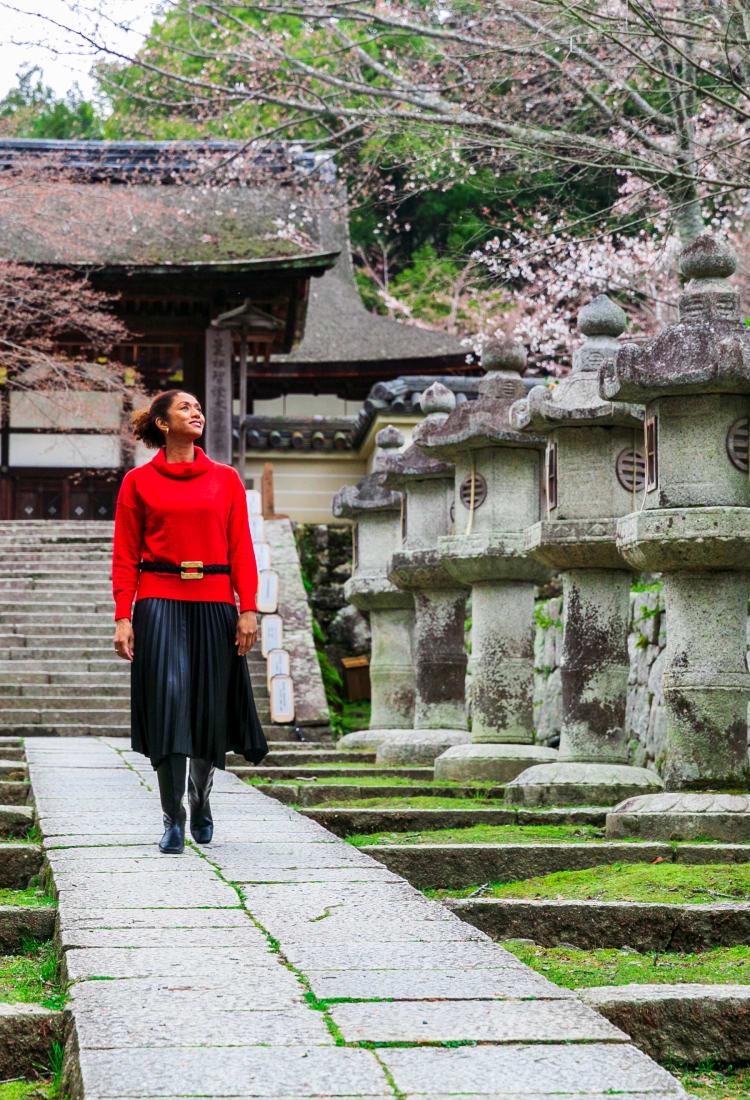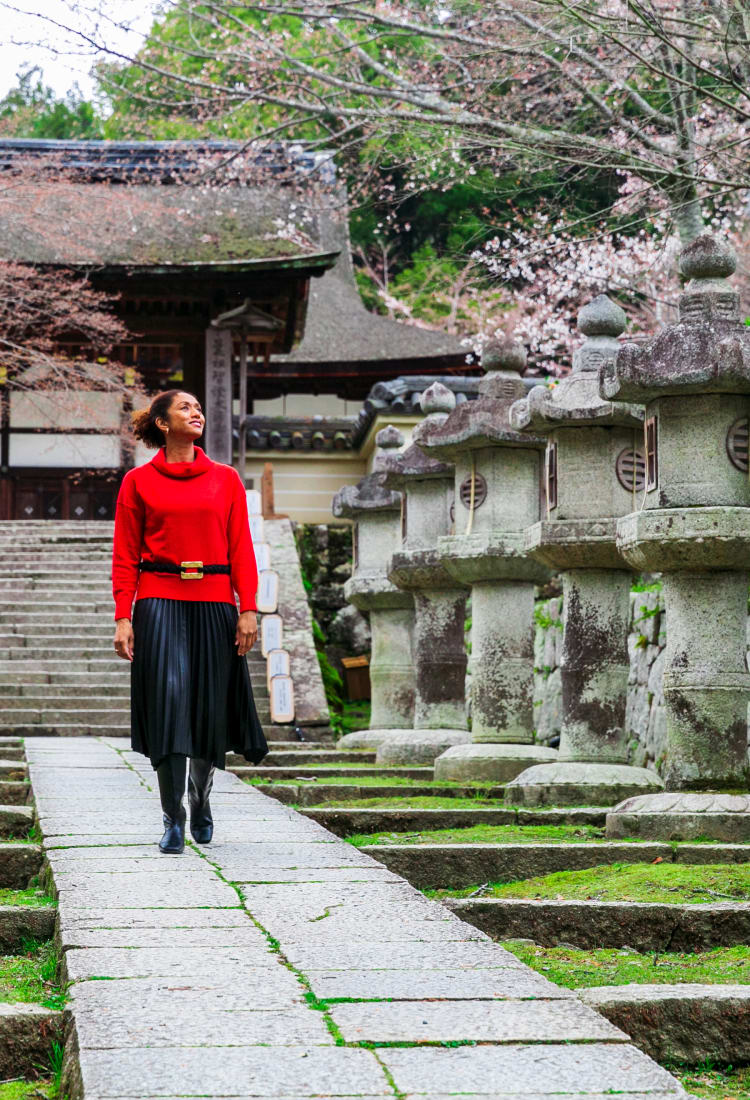 Temple Stays
Waqoo Miidera
A Private Retreat on Ancient Temple Grounds
Refresh mind and spirit, exploring Buddhist practices in luxurious temple lodgings
Miidera is a grand temple complex at the foot of Mt. Hiei near the shores of Lake Biwa in Shiga Prefecture. It has welcomed emperors and worshippers for thousands of years, and now, visitors can enjoy a private temple stay in the beautiful grounds. Myogonin Temple is a 400-year-old monks' quarters surrounded by private gardens on Miidera's grounds, which is available for exclusive stays. The property was renovated in 2018 into a stylish, private shukubo or temple lodging, by Japanese architect Tei Shuwa. The temple stay program operates as Waqoo Miidera,  offering an immersive experience to connect visitors with Miidera and the local area and culture.
Miidera is an ideal escape from city life, near Japan's largest freshwater lake and just thirty minutes from Kyoto, with natural beauty and cultural attractions close at hand.
Guests enter the temple grounds through the grand Niomon gate.
The Phoenix Temple: A symbol of renewal
Miidera Temple (also known as Onjo-ji) is one of Japan's largest Buddhist temples, comprising around 40 buildings. The temple is an ideal place to relax and refresh the mind, body, and soul. Having been burned down, rebuilt and reborn several times in its long history, it has earned the nickname "Phoenix Temple." The name Miidera comes from the spring water source within the grounds, which is said to have been used in the ceremonial bathing of three newborn Emperors-to-be in the seventh century, and later to perform Buddhist rituals. Miidera was commissioned in 672 in memory of Emperor Kobun (formerly Prince Otomo, 648–672) who served as emperor for just a few months. He was challenged by his uncle and defeated in a battle for the throne, after which he took his own life. The temple is the head of the Tendaijimon sect of Buddhism and has a history of over 1,000 years.
Miidera has a history of over 1,000 years.
Guests have a private garden for meditating and relaxing.
Forging a meaningful connection to Buddhist practices
Waqoo Miidera offers behind-the-scenes access to the temple and invites its guests to experience Buddhist practices in a comfortable and relaxed setting. The facility offers ultimate privacy and tranquility, accepting only one booking of up to four people at a time.
The spacious master bedroom opens onto the private garden.
The accommodation includes an altar room with a statue of Fudo Myo-o.
The accommodation is an elegant take on traditional Japanese style, with shoji screens which filter the light and slide open to reveal perfectly framed garden views. Take your shoes off at the entrance and enjoy the sensation of padding across the soft tatami flooring. The furnishings combine simple design with comfort, using traditional materials. The master bedroom opens onto a private, perfectly manicured garden, which is gently illuminated at night. There is one further bedroom, a dining room, living area, simple kitchen and a bathroom with a large cypress soaking tub. The property also features an altar room with a 400-year-old statue of Fudo Myo-o, one of the Five Wisdom Kings—guardians of Buddhism. Guests can use this space to meditate or pray, surrounded by 1,300 years of Buddhist history.
Experience a guided zazen meditation.
A private tour of the grounds affords access to the temple's historical treasures.
Guests at Waqoo Miidera can tailor their stay with a choice of experiences. Enjoy the serenity of life within the temple grounds with accommodation and breakfast only, opt for a stay with breakfast and dinner and a guided tour in English of the temple grounds, or select the most comprehensive plan which includes breakfast and dinner, a tour of the grounds, and a choice of immersive Buddhist experiences.
Some of the experiences the temple offers include a guided zazen meditation in either the Kojo-in reception hall or the Kangaku-in Kyakuden study room, both designated National Treasures. You can also take part in the temple's regular prayer sessions and experience a guided pilgrimage hike in the mountains.
Guests of Waqoo Miidera who opt for the comprehensive plan have exclusive access to restricted temple areas including a three-storied pagoda and a moon-viewing stage. There is also the opportunity to have dinner prepared by a chef trained in shiki-bocho, a ceremonial food preparation method.
Exploring the ancient temple grounds
Staying at Waqoo Miidera affords exclusive access to some of the temple's most sacred and historical features. Miidera has a collection of 64 National Treasures and 720 Important Cultural Properties, comprising structures and artworks. Guests enter the temple grounds through the imposing Niomon, an intricately carved wooden gate that dates from 1452. As you explore the grounds, you can hear the "voice of Miidera," the haunting echo of the temple bell, Mii no Bansho, which you can strike for a small donation. Mii no Bansho is famously depicted in a series of woodblock prints by Utagawa Hiroshige (1797–1858).
Ring the temple bell, known as the "voice of Miidera."

The grounds of Miidera offer views over Lake Biwa.
Ceremonial cuisine and secret temple recipes
Guests at Waqoo Miidera can enjoy a range of dishes, tailored to their needs. Before arriving, the staff will confirm food preferences, to cater to any dietary preferences or requirements. Vegetarian, vegan, and halal dishes can all be provided.
Waqoo Miidera is known for its shojin ryori, plant-based Buddhist temple cuisine that is often served in shukubo. The main ingredients are local wild plants and vegetables, including nuts, mushrooms, roots, bamboo shoots, flowers, rice, tofu, and miso, prepared with care to enhance the simple flavors. Guests can sample Miidera Temple's ancient shojin-ryori recipes that have been passed down between priests at the temple for generations.
Enjoy dishes carefully prepared with local ingredients.
The art of shiki-bocho food preparation dates back 1,200 years.
Guests who choose the comprehensive plan can have their dinner prepared by Kiyomoto Kenji, one of only ten living experts in the art of shiki-bocho, a ceremonial knife technique that dates back 1,200 years. It was believed that an emperor was akin to a god, so touching their food was prohibited. Shiki-bocho was developed as a way to prepare food without touching it.
Kiyomoto prepares fish and meat with intricate knife skills before serving it in an auspicious—and aesthetically-pleasing—arrangement. This feast features local, seasonal ingredients, including Omi beef and eel from Lake Biwa.
Lakeside Zen architecture and Japanese art
Sagawa Art Museum is close to Lake Biwa in the town of Moriyama. It is known as "the floating museum" for its location, surrounded by pools of water. The sleek, modern architecture references the simplicity of Zen Buddhism, and is an artwork in itself. The three wings of the museum blend seamlessly with the landscape beyond.
The striking modern structure of Sagawa Art Museum appears to float.
The museum collection of Raku ware includes a teahouse, built over water.
The diverse permanent collection features ceramic and bronze sculptures by some of Japan's best artists, including Hirayama Ikuo (1930–2009), known for paintings of his journeys through the desert landscapes of Iran, Iraq, and China as he followed the Silk Road. There is an exhibit dedicated to and designed by ceramics artist Raku Kichizaemon, from nearby Kyoto. He is the 15th generation of a 450-year dynasty of potters known for Raku ware, hand-shaped pieces traditionally used for tea ceremonies. Other special exhibitions include Western paintings, contemporary art, and ukiyo-e, woodblock prints that became popular during the Edo period (1603–1867).
Exploring Lake Biwa
In the summer months, visit Shirahige-hama lakeside beach, a 40-minute drive from Miidera Temple. Its water park provides opportunities for kayaking, stand-up paddleboarding and flyboarding, as well as barbecue facilities.
An early morning stand-up paddleboarding (SUP) lesson on Lake Biwa.
Enjoy Lake Biwa's beaches and an array of water sports.
BIWAKO TAKASHIMA TOURISM ASSOCIATION
If you prefer the mountainside, take a five-minute ropeway ride from the base of Mt. Uchimi to the summit station, 1,108 meters above sea level. Biwako Terrace is a stylish resort for refreshments and seasonal cuisine at the summit, with sweeping views over Lake Biwa.
Biwako Terrace has sweeping views over the lake.
© Alpina BI Co., Ltd. All Rights Reserved.
The resort's two beautiful terraces, the Grand Terrace and the North Terrace, overlook Lake Biwa and the surrounding mountains. Infinity water features blend seamlessly with the lake scenery beyond. Enjoy the views from one of the terrace's comfortable sofas.
In winter, the ropeway serves skiers and snowboarders who visit Biwako Valley Ski Resort to enjoy lake-view winter sports. In the green season, the resort offers ziplining and "sky-walking."
Stroll the meandering garden paths at Chikurin-in.
The mirror-like surface of a polished wood table reflects the gardens at Chikurin-in.
The Former Chikurin-in Temple, a 30-minute drive from Miidera Temple, is a peaceful Japanese garden by the Omiya River. It was once the site of a retirement villa for priests from nearby Enryakuji Temple. Walk along meandering paths past traditional teahouses, and enjoy the seasonal colors of red pines, Japanese maple trees, cherry trees, and moss flourishing in the garden. The garden's pavilion draws photographers with its table, polished to a mirror-like shine, which reflects a view of the surrounding scenery, like a natural painting.
Ogoto Onsen has a selection of indoor and outdoor baths.
© BIWAKO GRAND HOTEL
Miidera Temple's springs, which once bathed emperors, are considered sacred and not available for bathing these days, but Ogoto Onsen, a 30-minute drive away, offers a luxurious soaking experience. Slip into the warm, alkaline waters of Ogoto Onsen's outdoor bath and enjoy a soak with views of Lake Biwa. The spring was first discovered bubbling to the earth's surface 1,200 years ago and its therapeutic waters are purported to soothe the skin. A morning bath, watching the sun rise over Mt. Mikami is a beautiful way to start the day, or relax with an evening bath, gazing at the lights across Lake Biwa. If the conditions are right, you may even see the moon reflected in the lake.
Measures against the spread of COVID-19
Waqoo Miidera is taking measures to prevent the spread of COVID-19, including regularly disinfecting and ventilating rooms and shared spaces, and making alcohol hand sanitizers available.
Please note that certain programs and events may have been canceled or temporarily suspended due to COVID-19. Please check the temple website or inquire in advance.