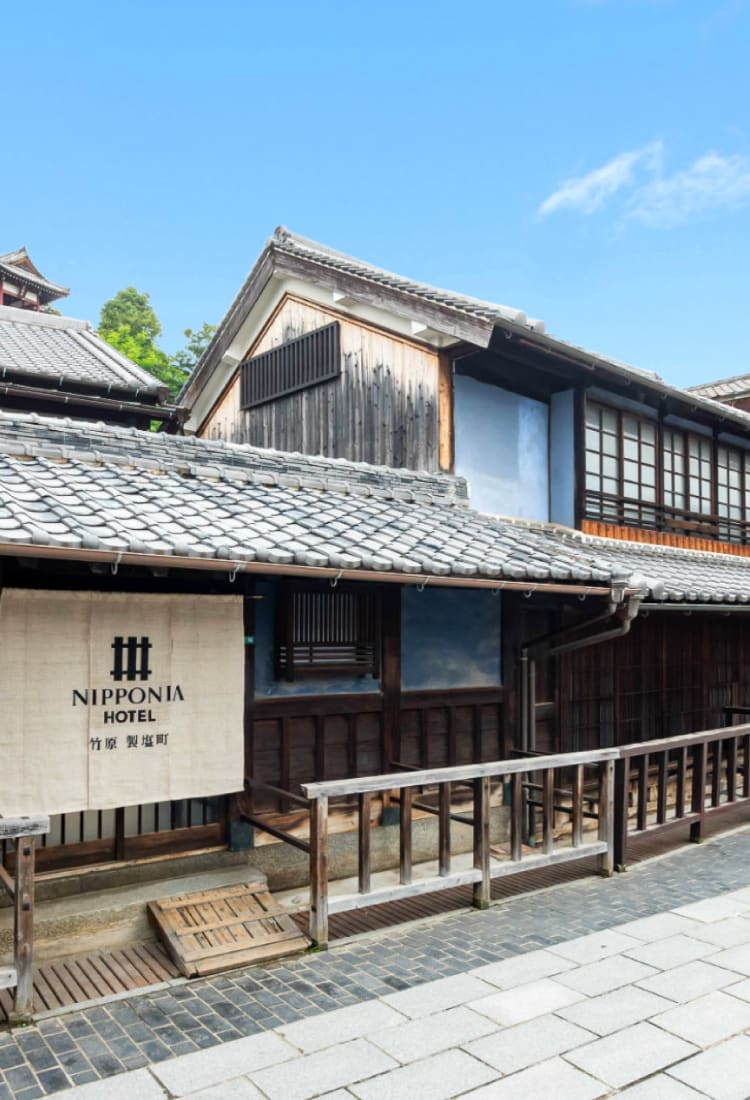 Traditional Town Stays
Nipponia Takehara Saltworks Town
Uncover the Rich History of an Illustrious Town
Immerse yourself in Japanese history, culture, cuisine and architectural heritage at Nipponia Takehara Saltworks Town
Takehara is one of Hiroshima Prefecture's most captivating cultural hubs. The town was a major center of the highly profitable Japanese salt-making industry for over three centuries, built with the prosperity of the salt merchants who lived here. Takehara is located on a wide, shallow bay on the beautiful, island-dotted Seto Inland Sea, and flanked by lush bamboo fields. The area is renowned for its cuisine, with fresh seafood and citrus fruits, sake and of course, the town's signature salt.
The picturesque townscape of Takehara
A stay at Nipponia Takehara Saltworks Town is like stepping into a bygone era. The hotel is spread across several carefully restored former residences and stores, conveniently located in the center of Takehara's charming historical district. The well-preserved residences and buildings in the area feature a mixture of architectural styles that span the Edo period (1603–1867) to the Showa era (1926–1989). The delicate wooden latticework on building facades, decorative eaves of the gabled roofs, and bamboo takeyarai palisades that skirt the exteriors of buildings, are just some of the delightful architectural features to discover.
Nipponia Takehara Saltworks Town's meticulously renovated buildings and accommodations embody the architectural heritage of Takehara and provide guests with the opportunity to fully immerse themselves in the town. With the hotel as your base, you will have Takehara's singular experiences at your fingertips.
A town built on a flourishing salt industry
Much of Takehara's picturesque townscape developed during the prosperous salt-producing period, which began in the Edo period (1603–1867) and lasted nearly 310 years. During this period of economic growth and relative political stability, the demand for salt seasonings increased.
Merchants who owned and operated the salt flats on Takehara's shores made fortunes as the demand for salt rose, constructing grand mansions with large courtyard gardens in the town. Some salt merchants became sake brewers or went into the shipping industry, further contributing to the town's prosperity. By the middle of the Showa era (1926–1989), however, competition and overproduction had driven salt prices down. The government took control of the salt industry, and salt production became a state monopoly. The salt fields in Takehara and across the country were completely shut down around 1960.
The legacy of the salt merchants' luxurious lifestyles can be seen in the stately former residences and businesses in the historical district of Takehara. Exploring this legacy is one of the highlights of a stay at Nipponia Takehara Saltworks Town.
Stay in a lovingly refurbished historical property
The hotel comprises three separate buildings in the heart of the Takehara Townscape Conservation Area. Guests check in at the Hotei building, which was constructed in the Taisho period (1912–26) and operated as a ryotei (traditional Japanese restaurant) until around 1975. It now serves as the hotel's reception and restaurant, retaining its former structure with modern flourishes.
Grand room for two people
The hotel's ten guest rooms within the beautifully preserved Moso and Kikko buildings have an intimate and charming ambiance. Moso was built in the Meiji era (1868–1912), first opening as a bank that was then turned into a ryokan (Japanese inn). Inside, you will find remnants of the bank and ryokan, including a bank safe and vintage telephone stands. Kikko is the restored former Mizude Residence, which operated as a sake brewery during the Meiji era (1868–1912) and subsequently became a banquet hall and entertainment center during the Taisho (1912–26) and Showa (1926–89) eras. Visitors staying at Kikko have views of the Matsusaka Residence opposite; a beautifully preserved example of a nineteenth-century merchant house, and one of Takehara's most famous Important Cultural Assets.
Premium room with garden views
Guests can select from two different room categories, premium and grand. Both types of room feature traditional wooden beams and flooring, and touches of the intricate latticework that Takehara is known for. There is one premium suite room, which can sleep up to four people and has an attached Japanese-style courtyard garden. Grand rooms vary in size and can accommodate two to four people. All rooms have modern furnishings and bathrooms fitted with handcrafted Japanese cypress baths.
Kaiseki cuisine featuring local delicacies
The full-course dinners at the hotel feature local delicacies from the Seto Inland Sea, regional beef, and seasonal vegetables. The menu changes to take advantage of the best seasonal produce.
Discover the roots of Takehara's salt manufacturing
Salt production began in Takehara in the Edo period (1603–1867), around 1650, and continued until 1960. Initially, daimyo (feudal lords) of the Hiroshima Domain (present-day Hiroshima) had attempted to grow rice on reclaimed land on Takehara's shores, but soon found this impossible due to the area's extreme tidal fluctuations. Instead, they discovered that the land was better suited to making salt.
Local salt makers developed a method of mass-producing salt through a system of terraced salt flats, channels, and iron heating pans, turning the waters of the Seto Inland Sea into millions of tons of salt per year. The salt trade would make fortunes for the owners of Takehara's salt fields, who were known as hamadanna. With this wealth, the hamadanna constructed their exquisite homes and were the esteemed patrons of the town's sake breweries and thriving local businesses. On the heels of Takehara's salt manufacturing prosperity, the sake industry rose to prominence during the Meiji (1868–1912) and Taisho (1912–26) eras. In its prime, the town had 26 sake breweries.
Salt-making using traditional methods
Guests of Nipponia Takehara Saltworks Town can experience the art of making salt on a nearby salt flat, using the traditional techniques developed in Takehara centuries ago. Join this special tour to learn about Takehara's unique salt-making methods and participate in the later stages of the process.
After seawater has been turned into a brine through evaporation, you will be able to stir the liquid as it is boiled over a flame. During this stage of the salt-making process, particles from the ocean and lye rise to the surface and are skimmed from the top. As the brine continues to be boiled, it becomes a bubbling, brownish paste. This salt paste is then spun in a centrifuge to separate out certain minerals and the last remnants of moisture.
Fine-grained Takehara salt has a distinctive taste
The result is fine-grained, pure white sea salt with a slightly sweet taste: a one-of-a-kind batch from the Seto Inland Sea. The composition of the ocean changes with the seasons, so every batch of salt has a subtly different taste.
Although salt is no longer produced on a large scale in Takehara, visitors can find salt for sale in the area, made by local artisanal salt makers who are carrying on traditional salt-making methods.
Hands-on bamboo crafts
Takehara derives its name from the surrounding bamboo fields, take meaning "bamboo" and hara meaning "field." In recent years, bamboo crafts have become increasingly popular in Takehara, with local artisans creating baskets, chopsticks, handicrafts, bags, and other accessories.
Bamboo basket weaving
At a studio located in a renovated storehouse near Nipponia Takehara Saltworks Town, guests can try their hand at weaving their own bamboo basket under the instruction of a local craftsperson.
A tea ceremony at a storied teahouse
Japanese tea ceremony in a relaxing setting
Experience a Japanese tea ceremony, the embodiment of Japanese culture, at a 100-year-old former ryokan once frequented by yokozuna (sumo grand champions) and politicians. The teahouse is located one minute on foot from the hotel. The tea ceremony experience includes the opportunity to be dressed in kimono. Guests can continue wearing the kimono throughout the day to stroll the town.
Luxurious local cuisine with a dash of Takehara salt
Gyohan was once the typical meal served to honored guests at salt merchants' homes. The colorful dish is made with cooked white fish (usually red snapper or flounder), carefully deboned and served with rice and local seasonal ingredients such as shiitake mushrooms, bamboo shoots, shrimp, and nori.
Gyohan, a Takehara specialty
Each ingredient is cooked separately, preserving its distinct flavor, and the meal is served on locally made bamboo tableware. Diners arrange the ingredients on a bed of rice and pour over dashi soup stock, full of umami, made with the bones of the fish, soy sauce, sake, and salt.
The meal is served at the atmospheric Saryo Ichie, a cafe in a renovated former ryokan just steps away from Nipponia Takehara Saltworks Town. Bookings can be made in advance through the hotel concierge.
Explore the Seto Inland Sea
During your stay in Takehara, there are a variety of half-day or full-day excursions and experiences around the beautiful Seto Inland Sea to choose from, including oyster harvesting and sea kayaking.
Delicious oysters harvested from the Seto Inland Sea
Farm Suzuki, an oyster farm on Osakamishima Island, offers visitors the chance to sample the bounty of the Seto Inland Sea. Oysters are cultivated in salt pans formerly used in Takehara's salt-making industry. Seasonal experiences include harvesting oysters, learning about aquaculture, and oyster and lobster seeding observation. Oyster and shrimp tastings are part of the experiences.
Sea kayaking experience with stunning ocean views
Osakikamijima Seakayak&Sup
Sea kayaking is an exciting way to explore the breathtaking scenery of the Seto Inland Sea, which is dotted with small, beautiful islands. With Osakamishima Island as a jumping-off point, follow an experienced guide out to sea, stopping by secluded beaches, rocky coves, and islands while taking in stunning ocean views. Opt to include a hearty barbecue on an uninhabited island.
Measures against the spread of COVID-19
As a boutique hotel, Nipponia Takehara Saltworks Town provides a private atmosphere. It is possible to complete the check-in process in your room if other guests arrive at the same time.
All areas of the hotel are regularly disinfected and ventilated, alcohol disinfectants are placed in common areas, tables in the dining area are spaced apart, and breakfast can be served in your room.
Please note that certain programs and events may have been canceled or temporarily suspended due to COVID-19. Please check the hotel's website or inquire in advance.