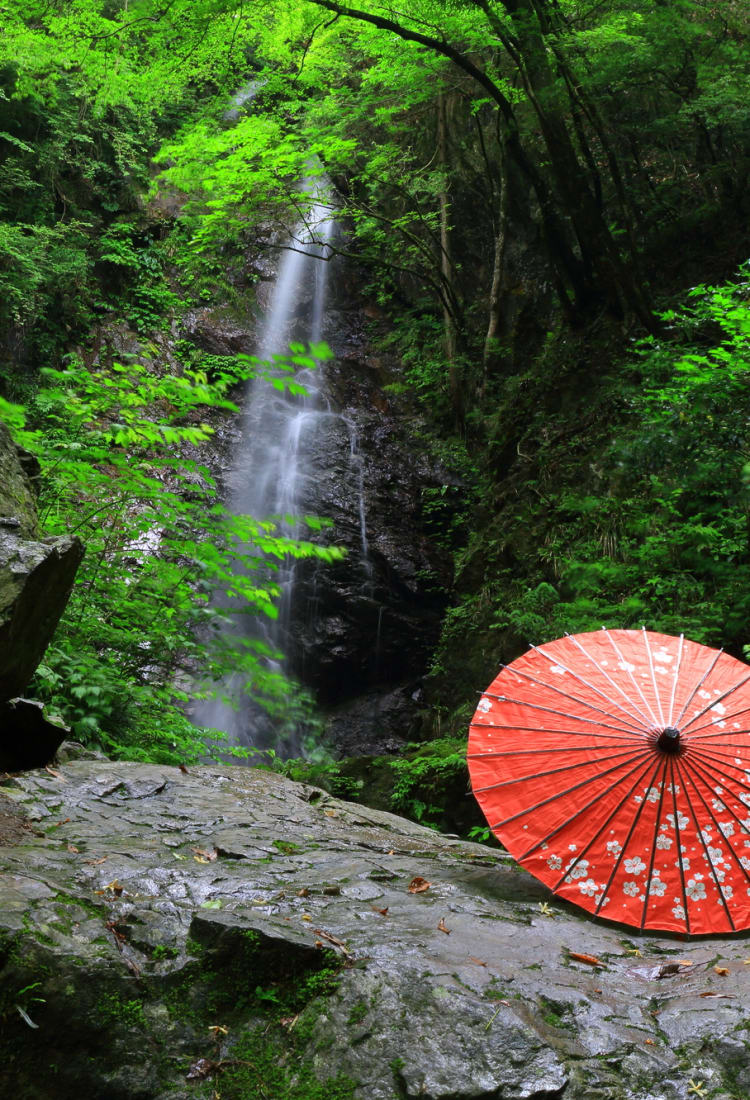 2021.07
Hinohara-Mura: Mountains, Natural Beauty and Deep Tradition in and around Tokyo's Only Village
Across Japan, for both Japanese nationals and international residents, the global pandemic has brought an increased appetite for outdoor pursuits that enable loners, couples, families, and groups of friends alike to enjoy leisure while observing social distancing protocols. But in Tokyo, internationally famous as a vast megalopolis, how simple is it to get away from the concrete jungle for a taste of the great outdoors?
A village on the outskirts of the world's largest city 
The short answer: very simple. Not only is Tokyo surrounded by prefectures that boast some of Japan's most iconic natural beauty—including Gunma, Tochigi, Yamanashi, and Shizuoka—the Tokyo Metropolitan Area itself also boasts numerous unexpected, wonderful destinations. These include Kozushima and the Tokyo Islands to the south, and the stunning wooded mountains clustered around the upper course of the mighty Tama River to the west.  
Bordered against the natural splendor of the Chichibu-Tama-Kai National Park lie the town of Okutama, the city of Akiruno and mainland Tokyo's only officially designated village, Hinohara. The area is less than 2 hours from central Tokyo, opening up the possibility of both hiking day trips and overnight stays for those eager to explore more deeply.
Mt. Mitake's cable car service offers breathtaking views of the surrounding landscape. 
Hinohara's Akigawa valley in autumn. 
Legends of the falls 
One obvious way to enjoy your trip is with a spot of hiking. According to your own degree of experience and enthusiasm, this can range from the sedate, soul-soothing Japanese practice of shinrinyoku, or "forest bathing," to more challenging treks traversing multiple mountain peaks and ridges. 
For many centuries, this region has been a center of ascetic mountain worship, focused notably on Mt. Mitake (929 meters to summit) and the three sacred peaks of Mt. Mito (1,531 meters), Mt. Otake (1,267 meters) and Mt. Gozenyama (1,405 meters), collectively known as the Okutama Sanzan ("three mountains of Okutama").  
For those seeking maximum views with minimal effort, a great place to start is Mt. Mitake, where the Mitake Tozan Railway cable car offers a smooth ascent with all the nostalgic vibes you would expect of a route that commenced operations in 1927. Of course, visitors who prefer to punish their boot soles can tackle this peak the old-fashioned way, while those with a head for heights can enjoy the magnificent vistas offered en route both up and down the mountain by a chairlift service (also operated by Mitake Tozan Railway). 
Once at the top of Mt. Mitake, visitors can enjoy the striking Musashi-Mitake Shrine. Founded more than 2000 years ago and dedicated to a wolf deity, this holy site of mountain worship is now a magnet for dogs and dog lovers—so much so that the cable car even operates under a pet-friendly policy!
From here, serious ramblers may choose to tackle the direct hiking route that leads to the summit of Mt. Otake (roughly a 1-hour trek). But for those who choose to linger among Mitake's wooded slopes there are gems like the imposing, moss-covered boulders of the mountain's Rock Garden, and, in the center of another serene glade, the gorgeous Ayahiro Falls.
In fact, this region is famed for waterfalls. Along with Mt. Mito's Mito Otaki Falls, and Hinohara's Kuzuryu Falls (with the nearby Kuzuryu Shrine, which, on the second Sunday of each September hosts a characterful autumn festival replete with costumed folk performances and shishi lion dances set to traditional musical accompaniment), perhaps the jewel in the crown is the spectacular Hossawa Falls. Located near the headwaters of the Akigawa River, this towering, 63-meter water feature is even known to freeze solid in winter, and in 1990 was recognized by the Ministry of the Environment among Japan's 100 finest waterfalls. 
Other unmissable spots include Kanoto-Iwa, a narrow but dramatic gorge situated along Hinohara's Kanoto River, flanked by precipitous 100-meter rock faces dotted with cascading waterfalls; and Akigawa Valley, whose leafy slopes guarantee breathtaking views year-round, but are especially popular for their blazing autumn foliage. 
Takigyo (waterfall training) is a purification ritual performed in these mountains since ancient times. 
Glamping is the perfect way to experience the great outdoors without sacrificing any luxury. 
Photo credit: Keikoku Glamping Tent
From religious austerities to luxurious glamping
As inviting as Okutama, Hinohara, and Akiruno are for a day trip with a packed itinerary, the best way to properly explore and fully de-stress from life in the city is to set aside a night or two for a more extended sojourn in the mountains. 
Adventurous travelers eager to find themselves anew may choose to embrace the region's long tradition of religious austerity. Continuing a practice observed since at least the Nara period (710–794) by mountain ascetics known as yamabushi, in the months of June, July and September, Musashi-Mitake Shrine offers the opportunity to experience takigyo (waterfall training), a bracing, loincloth-clad dip beneath the tumbling waters of Ayahiro Falls. 
Accommodation for such pilgrims is provided by shukubo (mountain lodges) situated in the village below the shrine. With advance notice, some of these hostels can even provide boarders with the traditional monastic detox of shojin ryori, Buddhist vegan cuisine prepared with locally sourced ingredients. 
If all that sounds a little too intense, recently the spotlight has fallen on another way to commune with nature and enjoy some blissful, socially distanced peace and quiet in somewhat less austere surroundings: glamping. 
Akiruno's Keikoku Glamping Tent puts a Japanese spin on this burgeoning global trend, with lavishly furnished tents complete with all the modern accoutrements you could possibly need, including air conditioning, Wi-Fi and even en-suite jacuzzies. It's a hassle-free, luxury upgrade on conventional camping, with everything provided on site, including a sumptuous BBQ menu for guests to cook themselves beneath the stars. 
Another unique choice for a mountain retreat or workation is the Kabuto-ya Ryokan in Hinohara. Taking its name from the helmet- (kabuto) like appearance of the 400-year-old thatched roofed cabin at its center, this atmospheric inn complex offers hot springs and spa baths, alongside classic tatami-matted rooms, some of which even offer the unparalleled winter comfort of a traditional irori hearth sunken into the floor. Here too, the meals use quality, locally sourced produce, with halal- and vegetarian-friendly options available with advance notice. 
Forestry initiative Tokyo Chainsaws provides one workshop that lets kids experience tree felling before building their own desk with wood provided on site.
Photo credit: Tokyo Chainsaws
Joining a mossarium workshop is the perfect way to step back and get some perspective on the world.  
Photo credit: Coquea
The mountain roots of Japanese craft 
Another aspect of Japanese culture with deep historical ties to forests and mountains is the nation's rich tradition of craftsmanship. Okutama, Akiruno and Hinohara uphold this heritage with a range of programs and facilities focused on leveraging the area's natural resources to the fullest, ensuring that mountain and craft lore are passed on to a new generation. 
Hinohara's Tokyo Chainsaws is a forestry initiative dedicated to preserving the health of local woodland and making sure that every part of each tree felled is put to good use. While the trunks of sugi cedar and hinoki cypress are ideal for construction timber, here even the roots and branches are transformed into a range of toys and decorative items. The organization also offers hands-on forestry and craft workshops in conjunction with various local businesses.
The Hinohara Forest of Tokyo Citizens & Woodcraft Center provides another opportunity to explore woodwork firsthand, with a range of workshops for participants of all ages. As of November 2021, Hinohara is set to further honor the local woodcraft legacy with the opening of the new Hinohara Toy Museum in a specially designed, all-wooden structure. 
Neighboring Akiruno offers further opportunities to experience nature-inspired crafts, through classes at Tominaga Pottery Workshop and, at Coquea café and gallery, the chance to create a miniature "mossarium" diorama using genuine moss and pebbles. 
Hinohara-mura is a fantastic escape from the hustle and bustle of Tokyo, conveniently located not too far from the city center. Whether you're an avid explorer and hiker, fascinated by natural beauty and hands-on workshops, determined to find yourself through ascetic practice, or interested in relaxing luxuriously through a glamping experience—Hinohara-mura has something for every visitor to Japan.
Business hours
Due to measures to prevent the spread of COVID-19, business hours may be subject to change; please check with the venues before visiting.
Information
Hinohara Mura Tourism Association
Kuzuryu Shrine (Japanese only)
Musashi-Mitake Shrine (Japanese only; waterfall training schedule liable to disruption due to COVID-19) 
Keikoku Glamping Tent (Japanese only) 
Hinohara Forest of Tokyo Citizens & Woodcraft Center 
Hinohara Toy Museum (Opens Nov. 3, 2021)  
Tominaga Pottery Workshop (Japanese only) 
Related Links