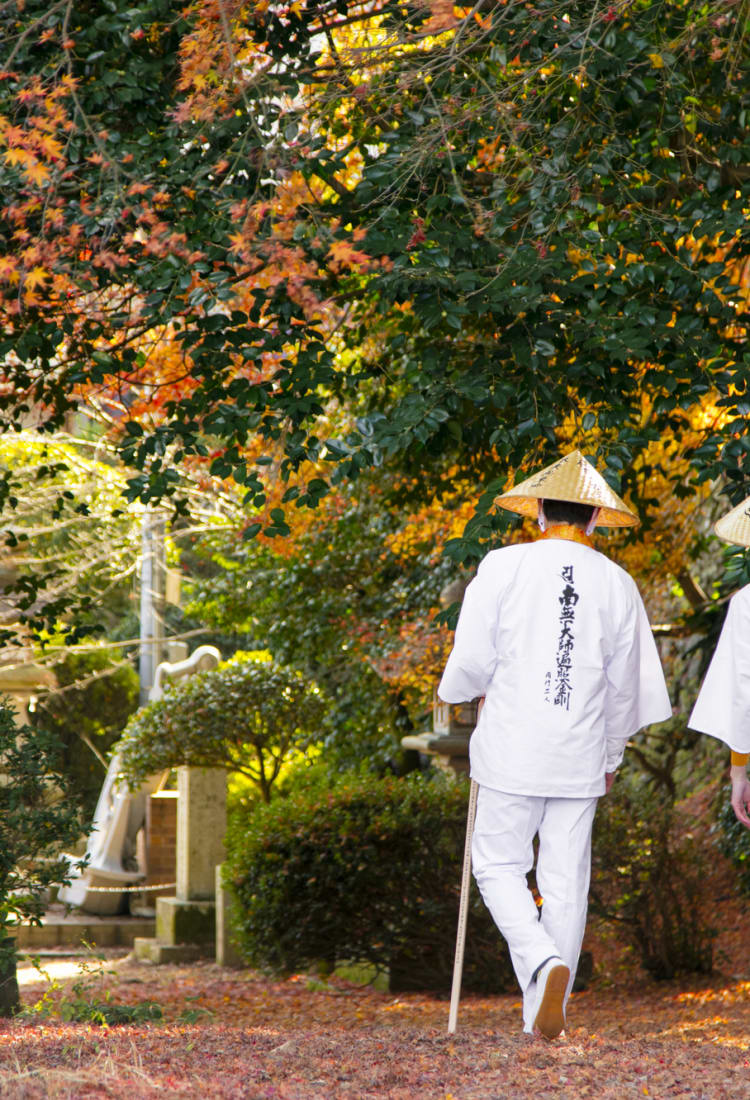 2021.09
Exploring Syncretism and Shugendo in the Tohoku Yamabushi and Shikoku Pilgrimage
What is Shugendo? 
A typical conversation about religion in Japan will focus on two major creeds: Shinto and Buddhism. Shinto, practiced at shrines, is seen as Japan's ancient indigenous religion, evolved from even older forms of animist nature worship with roots as far back as the prehistoric Jomon period (14,000–300 BCE). Buddhism, practiced at temples, is considered an imported faith that arrived from China via Korea in the sixth century. 
But the reality is more complex. When Buddhism reached Japan's shores, Shinto was still far from fully formed, and for centuries the two faiths intertwined and grew in tandem. This symbiosis continued until an 1868 edict stipulating the separation of Shinto and Buddhism and installing the former as Japan's official religion. 
Another, less well known, offshoot of this shared history is a third faith: Shugendo, a syncretic religion combining elements of Shinto and Buddhism with Taoism, primitive animist beliefs, and shamanistic practices played out on some of Japan's most sacred mountains. Its adherents, known as Shugenja or Yamabushi (literally "those who lay in the mountains") embark on ascetic alpine sojourns, wearing white and saffron robes as they send the plaintive call of conch shell bugles echoing among the forests.
Origins and development of Shugendo 
The origins of Shugendo are traditionally traced to an ancient royal, Prince Hachiko (542–641 CE), who fled to the mountains of Dewa Province (modern-day Yamagata Prefecture) following the assassination of his father, Emperor Sushun (d. 592). For bringing with him the gift of grains that laid the foundations for a local cereal and rice farming heritage that continues to the present day, he was welcomed by the community of Tsuruoka. 
When the village was struck by a mysterious illness, Prince Hachiko retreated to the slopes of nearby Mt. Haguro, where he spent 100 days in solitary communion with nature, praying for a solution. He is said to have received a revelation from the mountain deity Haguro Gongen (a Japanese manifestation of the Vairocana Buddha), and he returned to Tsuruoka with a purifying flame that ended the plague, earning him the honorary title Nojosen. 
Having experienced the mystical power of the mountains, Nojosen went on to devote himself to worship among the Dewa Sanzan (literally: "three mountains of Dewa"): Mt. Haguro, Mt. Yudono, and Mt. Gassan, establishing shrines on all three peaks. His disciples included another legendary figure, En no Gyoja (654–c.700), who went on to further codify Nojosen's teachings as Shugendo, later introducing these practices and a syncretic pantheon of deities to Nara and Wakayama Prefectures and the island of Shikoku. 
From there, Shugendo spread further still, to mountains across Japan, and from the 13th century onwards it coalesced into a more organized system of ascetic training, with a nationwide network of fudasho ("sacred sites") and lodges to accommodate pilgrims. This growth in turn attracted followers from various backgrounds, uniting criminals and outcasts in search of penance, and those simply seeking a spiritual rebirth through life at one with nature. 
Tengu statue on Mt. Takao, Tokyo. 
Shugenjas' relations with local communities were mixed. In some areas, they were valued for their knowledge of mountain lore and healing herbs, and called upon for both spiritual and medical assistance. Elsewhere, they were viewed with suspicion, particularly by conservative Buddhists. The nimbleness with which they were able to navigate impassable crags and cliffs saw them branded as tengu—dangerous mountain spirits who are often depicted in Yamabushi robes and skullcaps. 
While full-time Yamabushi still exist today in a priestly or instructional capacity, practitioners these days come from all walks of society, hoping to leave behind their earthly worries and discover themselves anew through seasonal retreats and pilgrimages. 
Mt. Haguro, Yamagata Prefecture, is the site of old growth forests and myriad ancient monuments.
The Dewa Sanzan pilgrimage
One of the most popular destinations is right at the very source: Yamagata Prefecture and the Dewa Sanzan. The village at the base of Mt. Haguro is home to numerous traditional shukubo lodges, where pilgrims and tourists alike can stay between hikes among the mountain's old-growth forests and ancient monuments, retracing the journeys of historical figures including the 17th century haiku master Matsuo Basho and the 12th century warrior monk Benkei.   
One traditional lodge is Daishobo, run by 75-year-old Yamabushi Master Hoshino Fumihiro (commonly known by his Yamabushi name Shobun). 
The typical entry point for Shugendo novices is a three-day summer retreat in which Hoshino guides participants through a shugyo circuit representing death and rebirth, encompassing Mt. Haguro, Mt. Gassan and Mt. Yudono. In a typical year, each retreat would welcome around 30 would-be Yamabushi, but due to the pandemic group sizes have been reduced to around six. 
Be warned though: despite the introductory framing, these journeys are no cakewalk. Participants must submit themselves to a vow of near silence, uttering only the phrase uketamo ("I accept") in response to guidance from their teacher. 
Armed with a long staff and clad in white robes known as shiroshozoku (symbolizing the death of the self), a white headdress known as a hokan (representing rebirth and the placenta against which an unborn child rests its head within the womb), shime prayer beads and (typically) two-toed tabi boots, novices must face everything the mountains have to throw at them, from Mt. Haguro's 2,446 stone steps to the summit, to Mt. Yudono's sacred boulders and narrow, rocky paths that literally force you to follow in your predecessors' footsteps. 
Yamabushi wearing traditional attire, including the white shiroshozoku.
Other challenges on the journey—in which Mt. Haguro represents the earthly plane; Mt. Gassan, where dead souls from across Japan are said to congregate until returning to their families for the summer Obon festivities, represents the spirit realm; and Mt. Yudono embodies one's post-death emergence into the next world—include nighttime treks, leaping over fires, fundoshi loincloth-clad takigyo waterfall training, and the mysterious smoky ritual of nanban-ibushi. 
Takigyo waterfall training is a key ritual for any aspiring Yamabushi.
After these trials, the typical mood of successful inductees is not crippling exhaustion, but a childlike euphoria in keeping with their supposed spiritual rebirth. Nonetheless, this rite of passage is still not enough to be officially recognized as a Yamabushi. To earn that accolade, which includes the bestowal of an official Yamabushi name and the rank of hafuri ("priest"), you must negotiate a week-long series of grueling autumn austerities known as Aki-no-mine. 
Beyond that, the final stage pays tribute to Nojosen himself with a 100-day winter prayer ritual known as Fuyu-no-mine, which earns the ultimate title of matsu-no-hijiri ("master of the pines"). In Master Hoshino's case, this final passage took until the age of 60.  
The Shikoku Henro is one of Buddhism's best-known pilgrimage routes.
The true start of the Shikoku pilgrimage
Shikoku, the smallest of Japan's main islands, is perhaps best known for the world-famous Shikoku Henro Buddhist pilgrimage route. This 1,200-kilometer course visits 88 temples associated with the monk Kukai (774–835), founder of the Shingon school of Buddhism, and a key figure in the propagation of Buddhist teachings across Japan. 
But despite this widely accepted provenance, and the undoubted historicity of Kukai's presence in Shikoku before going on to establish sites of worship on Mt. Koya (Wakayama Prefecture), and even as far north as Yamagata, the Henro Pilgrimage would not be what it is today without the historical influence of Shugendo. Mt. Ishizuchi (representing site 64 of the modern Henro route) was established in 685 as a sacred site for Shugenja by En no Gyoja himself. 
Later, attracted by Kukai's legacy, medieval hijiri pilgrims would travel from Mt. Koya to engage in austerities along the coastline of Shikoku. And as Shugendo became more widespread in the 13th and 14th centuries, Yamabushi also flocked to the island for their training. This in turn prompted the development of a sophisticated infrastructure of sacred sites and shukubo lodges that gradually paved the way for interaction and cross-denominational unity among the numerous sites that would become the Shikoku Henro. 
With the 88 sites firmly established, this infrastructure also supported the development of a nascent, pilgrimage-based tourism industry. Communities nationwide would pool their resources and choose one representative to take part in the Henro. And by way of a souvenir, these participants would bring back samples of earth from each of the 88 temples, rewarding the generosity of their fellows by enabling a "virtual" tour of those hallowed grounds. 
Mt. Ishizuchi has been revered by Shugenja since the seventh century CE.
While present-day Henro pilgrims might find the influence of Shugendo less immediately obvious, Mt. Ishizuchi retains its strong heritage, and each July Yamabushi descend upon the island in droves. From May to October, even tourists and pilgrims who are not yet committed to the teachings of Nojosen can sign up for a "Yamabushi experience." Be careful though – if you get the bug, you might just end up joining Yamagata's Master Hoshino in a lifelong calling that takes you up to the age of 60, and beyond!
Okubo-ji is the 88th and last temple of the Henro pilgrimage.
Business hours
Due to measures to prevent the spread of COVID-19, business hours may be subject to change; please check with the venues before visiting.
About Tohoku Tourism
Located in the north of Japan and just 2-4 hours by Shinkansen from the Tokyo metropolitan area, Tohoku is a fascinating tourist region full of nature, history and culture. In the spring, cherry blossoms are in full bloom for an entire month, and a range of festivals brighten up the summer. In the fall, the city and mountains turn the red hues of autumn, and in the winter, "snow monsters" and deep powder snow await you. We'll be waiting for you here in Tohoku when travel to Japan is possible for everyone again.
For more information, please visit:
Tohoku Tourism Promotion Organization
https://www.tohokukanko.jp/en/index.html
Facebook: https://www.facebook.com/TohokuTourism/
Instagram: https://www.instagram.com/tohokutourism/
About Shikoku Tourism
Shikoku is home to the pilgrimage culture of Kobo-Daishi, who walked the 88 temples on his ascetic path. The journey itself is close to 1,400 kilometers in its entirety. Shikoku also offers a range of activities such island hopping, e-bike adventures against the backdrop of Mt. Ishizuchi, and rafting on the Yoshino River, one of Japan's top three spots for serious whitewater rafting. This spectacular region is also host to the world renowned Setouchi International Art Festival.
For more information, please visit:
Organization for Promotion of Tourism in Shikoku (Tourism Shikoku)
https://shikoku-tourism.com/en/
Information
Shonai Visitors' Association (tourist information for Dewa Sanzan)
Peaks of Wisdom (exploring the mountains of Yamagata through Shugendo)
Mt. Ishizuchi Shugendo Experience (Japanese only) 
Shikoku 88 Temple Pilgrimage Association