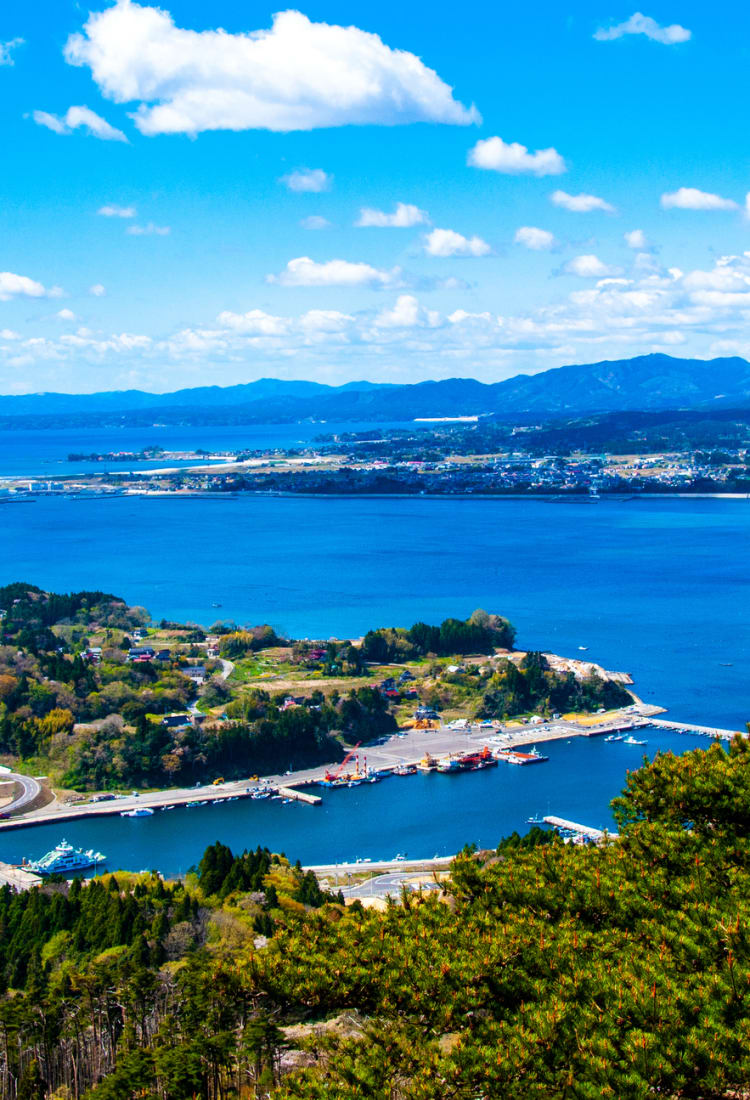 2022.02
The Road to Recovery: Reconstruction Tourism in Tohoku
Rebuilding for the future through local resilience and natural beauty
Opportunities abound for those interested in either sustainable tourism, medical tourism or industrial tourism, but Japan is quietly leading best practices in another field – reconstruction tourism. Reconstruction tourism is synonymous with the revitalization of Fukushima, Miyagi and Iwate prefectures in the Tohoku  region, which were devastated by the Great East Japan Earthquake on March 11, 2011. A visit to Tohoku allows you to not only learn about the impact of the disaster but also about resilience, local passion and pride, as well as seeing community regeneration in action. Tohoku is easily accessible via Shinkansen from Tokyo and definitely worthy of consideration when planning your next holiday in Japan.
The Sanriku inlet coastline is renowned for its untamed, haunting beauty.
Photo credit: Inoutbound Sendai Matsushima
Support through reconstruction tourism and foreign visitors
How to best foster and facilitate post-disaster reconstruction of local cities is key to the missions of organizations such as the Sendai 3.11 Memorial Community Center in Miyagi Prefecture and the Iwate Tsunami Memorial Museum.
The Sendai 3/11 Memorial Community Center is a base for passing on the lessons learned from the experience of the Great East Japan Earthquake.
Photo credit: Sendai 3/11 Memorial Community Center
Passing on the lessons learned from the March 11 tsunami is a core aim of these facilities, both of which not only honor the lives lost in the tragedy but also serve to equip visitors with the knowledge necessary to deal with future disasters.
Displays at the Great East Japan Earthquake Tsunami Museum in Rikuzentakata City, Iwate, convey the havoc wreaked by the disaster. 
Photo credit: Iwate Tsunami Memorial Museum
The Iwate Tsunami Memorial Museum does this under the auspices of an overarching theme of "protecting lives and living with the ocean and the land." While the information and materials on display can be confronting, the curation is handled with care.
Why not combine a visit to one of these centers with a local walking tour to further support local businesses that are now also dealing with a loss of business in the wake of COVID-19?
Reconstruction tourism is now part of Tohoku's local fabric.
Photo credit: Inoutbound Sendai Matsushima
Other organizations specializing in bespoke tours and inbound tourism are also driving interest and business in the area. One of these is Inoutbound Sendai Matsushima, which operates hyperlocal "secret" tours of Tohoku. Some of these tours focus on education and recovery efforts, while other areas of the business address more traditional drivers of tourism such as culture or food and drink.
Take a walk through Tohoku's natural beauty
Unsure about embarking on a group tour? Why not consider exploring tsunami-affected areas  along the newly opened Michinoku Coastal Trail, a spectacular and approximately 1,000-kilometer coastal hike running from Aomori to Fukushima on the Tohoku coast?

The rugged beauty of Tohoku's 1,000-kilometer Michinoku Coastal Trail. 
Photo credit: Inoutbound Sendai Matsushima
Completely opened in 2019, the trail has been designated as a symbol of recovery and is destined to become popular with hikers. Some trail areas were relatively unaffected by the earthquake and tsunami, but others bore the full brunt of Mother Nature. Remote beaches, soaring clifftops, fishing villages and bucolic islands populated by deer all form part of the trail's backdrop as you pass through the earthquake and tsunami-affected areas and the Sanriku Fukko (reconstruction) National Park.
Visit Kinkasan Island to see Koganeyama Shrine and the island's many protected deer.
Photo credit: Inoutbound Sendai Matsushima
The beauty of the trail is the ease with which you can customize your itinerary to your preferred timeframe and budget.
The Michinoku Coastal Trail encompasses Kinkasan and other adjoining islands in the Sanriku inlet. 
Photo credit: Inoutbound Sendai Matsushima
By hiking the trail it is envisaged that participants will not only learn about natural threats such as tsunami but also experience the generous hospitality of local residents and familiarize themselves with Tohoku's distinct culture.
Towards a better future: Festivals and community initiatives
Art has long played a significant role in community healing in the wake of traumatic events, and local responses to the Great East Japan Earthquake are no exception.
The Project Fukushima! initiative was formed in 2011 by musicians Otomo Yoshihide, Michiro Endo and poet Ryoichi Wago – all either born or residing in Fukushima – with mainstay activities including a community orchestra and group creation of a large-scale furoshiki, a traditional cloth used to wrap and carry goods.
A newly arranged taiko ensemble performing at the 50th anniversary of the Fukushima Waraji festival (produced by Otomo Yoshihide and Project Fukushima! in 2019).
Photo credit: Project Fukushima!
In recent years, Project Fukushima! has assisted with coordinating summer festivals  such as the Fukushima Waraji Festival, which links back to history over 400 years ago.
A woven straw sandal paraded around town during the 50th anniversary of the Fukushima Waraji festival (produced by Otomo Yoshihide and Project Fukushima! in 2019).
Photo credit: Project Fukushima!
The Sanriku region's Reborn-Art Festival takes a similar approach to support recovery in the wake of March 11. Established in 2017 and held every two years, the event features not only art and music, but also celebrates the rich local food culture. The festival's overriding atmosphere and approach are both reverent and playful, and central to the festival is a series of site-specific artworks throughout Ishinomaki and the Oshika Peninsula area. You'll find much to do and see at the festival, which in 2021–2022 embraces themes of altruism and fluidity. Big-name visual artists associated with the festival last year included Yoko Ono and Makoto Aida.
White Deer (Oshika) by Kohei Nawa, Oginohama, Miyagi Prefecture.
Photo credit: Takehiro Goto (Courtesy of Reborn-Art Festival)
Diners share in a seasonal feast highlighting the diversity and abundance of Ishinomaki produce at Reborn-Art Festival.
Photo credit: Takehiro Goto (Courtesy of Reborn-Art Festival)
While both of the above initiatives are ongoing testimonies of the revitalization of the Tohoku region and the resilience of its communities, online efforts impart similar sentiments. In 2021, the Tohoku House project was launched both online and in select Tokyo locations. A collaborative effort between local governments and the business community, it commemorates the memory of the Great East Japan Earthquake on its 10th anniversary. It aims to express gratitude to those who assisted with reconstruction while conveying the appeal of Tohoku and Niigata under the concepts of "gratitude," "exchange" and "towards tomorrow."
Still online is a video produced by WOW, a collective of creators living worldwide. "The View from Tohoku & Niigata" showcases the beauty of the area. The footage is a welcome reminder of why Tohoku is a worthy destination during your next Japan visit.
Drone footage and imagery embellished via CG technology combine to illustrate Tohoku's beauty and unique festivals.
Video credit: Tohoku House/WOW
Business hours
Due to measures to prevent the spread of COVID-19, business hours may be subject to change; please check with the venues before visiting.
Information
Sendai 3.11 Memorial Community Center
Inoutbound Sendai Matsushima