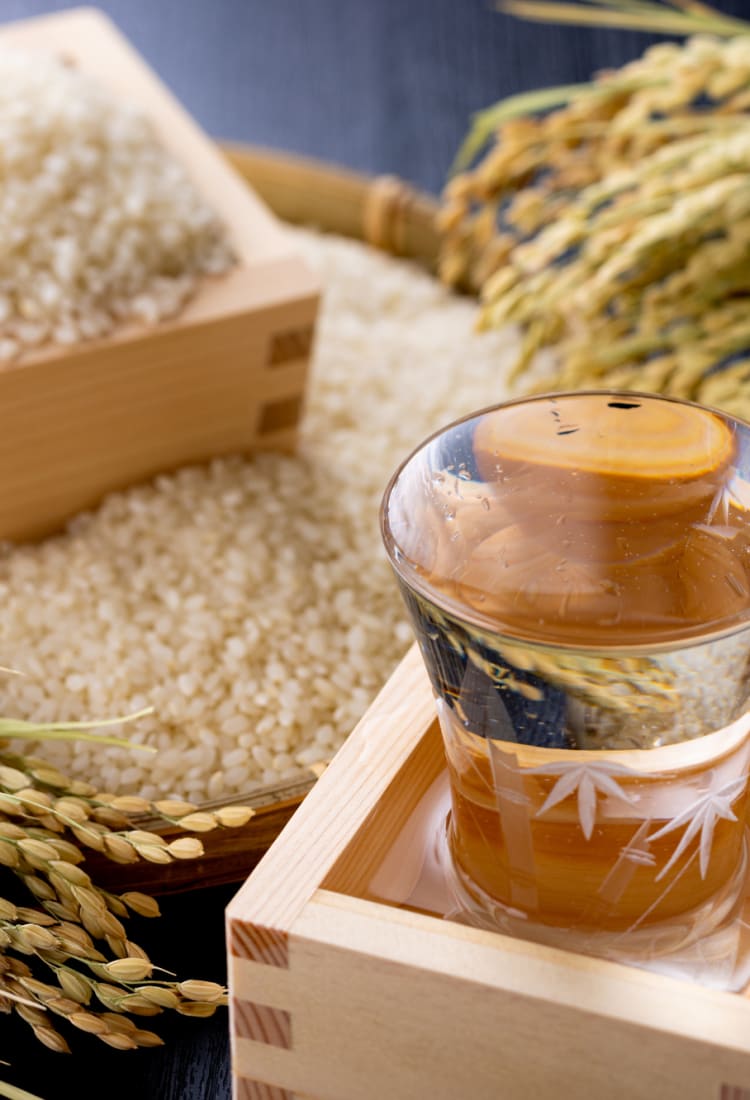 2022.11
Exploring a Unique Culture and History of Brewing: Sake and Shochu in Japan
Sake and shochu: Japan's traditional alcoholic beverages
Sake and shochu are two traditional alcoholic beverages that play a vital role in Japanese life and culture. Both are traditionally used in sacred rituals, and as a drink they mark seasonal festivities, group celebrations and cementing of new business relationships. 

While sake is brewed throughout Japan, it's well-known for being traditionally produced in Japan's cooler regions. On the other hand, shochu, a distilled drink, is mainly produced on the warmer southern island of Kyushu. Also, Japan's southern island of Okinawa specializes in a type of distilled rice spirit called awamori, a robust spirit that has been inherited through generations from the time Okinawa was prosperous as the Ryukyu dynasty. 

What these drinks have in common are their essential ingredients: rice, water, yeast and a very special fungus called koji mold. In recognition of the important role that these national beverages play in Japanese culture, Japan has proposed traditional Japanese sake brewing techniques using koji mold for UNESCO's Intangible Cultural Heritage listing. 

 Preparing the essential ingredients for sake.

The importance of tradition: Japan's unique brewing and distilling methods

Sake brewing methods using koji mold are known to date back at least 1,300 years. Koji is used in other East Asian countries to make alcoholic beverages, but bara-koji, the type of koji used for sake, is unique to Japan. Koji mold is used not only in traditional brewing, but also in many different forms of Japanese cuisine, and has been recognized as "kokkin" or "national fungus" due to these important contributions.
 

Photo credit: Sake Voyage
 
Sake is sometimes called "rice wine," but is actually produced by a brewing process closer to that of beer. While wine contains sugar which can be directly fermented, rice doesn't contain sugar, but rather, starch. For this reason, to make fermentation possible koji mold is added to steamed rice. The koji releases enzymes that break the starch down into sugar so that yeast can convert the sugar into alcohol. 
When beer is brewed, the two processes of converting starch to sugar and sugar to alcohol are done separately. However, with sake, koji mold, rice and yeast are all mixed in the same mash, called moromi. Because the yeast is available as soon as the sugar is produced, the conversion to alcohol is very efficient, giving sake a naturally high alcohol content of around 15%. 

Steaming the rice…
 
Like sake, shochu is made with a moromi mash of steamed rice, koji mold, water and yeast, but after a first fermentation, another ingredient is added, like sweet potatoes, barley, buckwheat or brown sugar. The addition of a secondary ingredient for fermentation creates a diverse range of flavors, and as a distilled liquor, its alcohol content is usually around 25%. For this reason, shochu is often mixed with water, juice or tea, and makes a great base for cocktails.
 
Sake brewing methods have been handed down by generations of brewers.
Photo credit: Sake Voyage

Authentic craft sake tours in Tochigi Prefecture, north of Tokyo

A short rail trip north of Tokyo, Tochigi Prefecture has a rich heritage of sake production due to its cool climate, abundant rice fields and fresh spring water. Recently, Sake Voyage (Yottemikke Sake Tourism Association) is promoting four historic Tochigi breweries where visitors can enjoy guided tours and sake tastings. 
A museum tour at Tonoike Sake Brewery.
Photo credit: Sake Voyage
 
Founded in Mashiko in 1937, Tonoike Sake Brewery has a museum showcasing sake brewing tools, a tasting room and a café where visitors can enjoy ice cream made with sake lees (a by-product of sake brewing). 
 

Tasting sake at Shimazaki Sake Brewery
Photo credit: Sake Voyage

Shimazaki Sake Brewery, established in Nasukarasuyama in 1849, offers a tour of the 600-meter-long cave where 100,000 bottles of its award-winning aged sake are stored for aging. After visiting the cave visitors can sample different kinds of aged sake. 

Upholding tradition: Watanabesahei Sake Brewery dates from 1842.
Photo credit: Sake Voyage

Watanabesahei Sake Brewery in Nikko was founded in 1842. This Brewery mainly makes "junmai" (pure rice) sake, alongside other products including sake lees shochu. During the brewery tour (available in English) visitors can see inside the brewery and taste the sake afterward.
Exploring the Katayama Sake Brewery.
Photo credit: Sake Voyage

Katayama Sake Brewery was founded in Nikko in 1880. Here visitors can view the traditional methods used to produce small-batch genshu, or undiluted sake. Freshly brewed genshu can be enjoyed after the tour.

"Meat Tourism" in Miyazaki Prefecture: Premium beef and shochu spirits 

The southern Japanese island of Kyushu is famous for shochu, which has been produced here since the 16th century.  In Miyazaki Prefecture, the "Meat Tourism" promotion invites visitors to visit the city of Miyakonojo, where they can enjoy shochu paired with the finest local meat products. 
Miyakonojo is home to four shochu distilleries and has many bars and restaurants where visitors can enjoy shochu together with sukiyaki, yakitori chicken or world-renowned Wagyu beef. French, Italian and Chinese restaurants here also have extensive shochu menus.
Miyazaki is famous for its Wagyu beef and shochu.
Photo credit: Meat Tourism Promotion Board

Visitors can also take tours of three local shochu distilleries. At the Kirishima Walk Factory, visitors can tour the distillery, view the shochu brewing process and finish with a shochu tasting. There is also a restaurant serving Japanese and Western style dishes, some of which employ shochu or koji as ingredients.
Photo credit: Kirishima Shuzo

Oura Shuzo is a long-established shochu distillery founded in 1909 that specializes in sweet potato and brown rice shochu created through traditional manual production methods. Here visitors can meet the shochu makers and take part in the shochu making process using handmade koji mold.

Other cultural and nature experiences in Miyazaki Prefecture 

Miyakonojo in Miyazaki is surrounded by natural beauty that visitors can enjoy in many ways. Kirishima Geopark comprises lush green forests, lakes, hot springs, and waterfalls centered on the volcanic Kirishima Mountain range. South Hill Stable offers visitors the opportunity to enjoy this natural scenery on horseback through the mountains or along the seaside. Local guides also offer geopark hiking tours including sights like the dramatic Sekino-o Falls and Mizonokuchi Cave. 
South Hill Stable offers horse riding for all levels in the Kirishima mountains.
Photo credit: South Hill Stable
 
In addition to the Meat Tourism promotion initiative, Miyazaki also offers a number of programs in addition to geopark tours. Takachiho Farm has family-friendly activities including farm tours, cow milking experiences, and the opportunity to make your own sausages, butter, or ice cream by hand. Tachibana Observatory offers astronomy classes, planetarium shows and stargazing sessions through their powerful telescopes.
Photo credit: Tachibana Observatory / Meat Tourism Promotion Board

The growing popularity of sake and shochu

Sake with its mellow, fruity flavor and shochu with its stronger, drier taste occupy a strong place in Japanese society. However, in recent years new sake breweries are popping up worldwide, particularly in North America, and cocktail bars across the US are beginning to appreciate shochu's versatility as a cocktail base. On your next trip to Japan, we hope you gain a new understanding of Japanese brewing and distillation, allowing you to enjoy and appreciate this unique aspect of Japanese culture.

Photo credit: Cindy Bissig

Business hours

Due to measures to prevent the spread of COVID-19, business hours may be subject to change; please check with the venues before visiting.
Information
 
Yottemikke Sake Tourism Association
Meat Tourism Promotion Committee