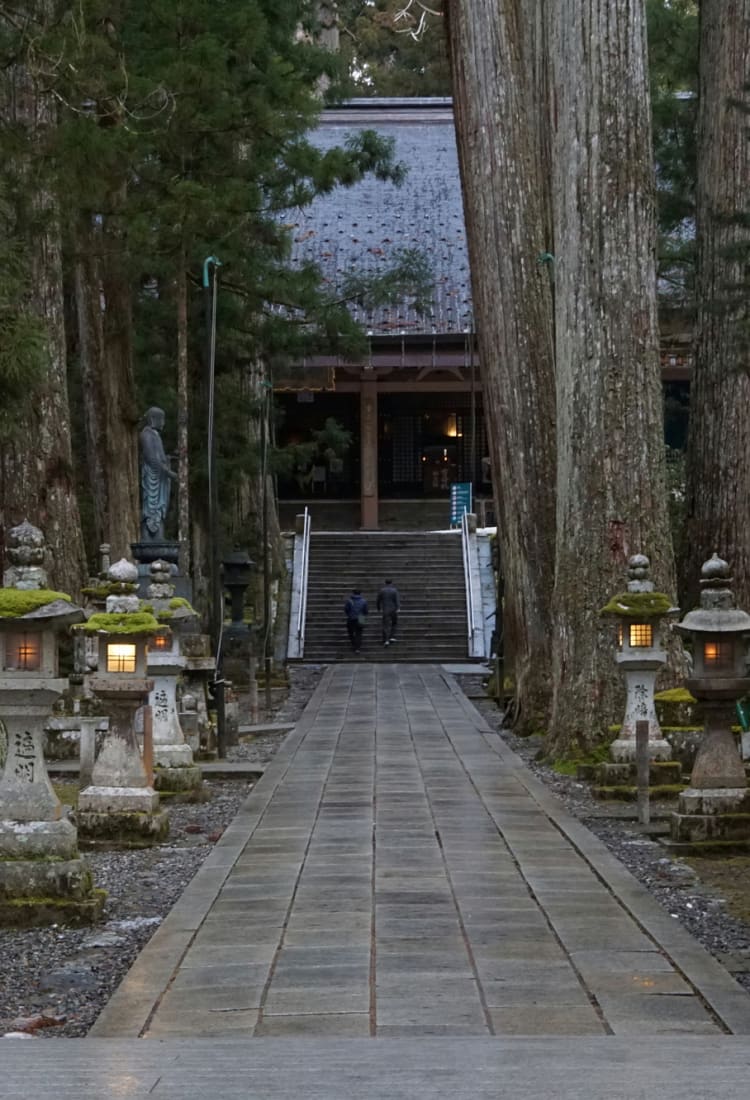 2023.06
Uncovering Kukai's Influence Across Japan
Celebrating His 1250th Birthday with Special Exhibitions and Activities in Koyasan
Koyasan is an enchanting place. Surrounded by woodland at the pinnacle of a verdant mountain, it's not surprising that Kukai, one of Japan's most revered spiritual figures, chose to headquarter his Buddhist sect here. This year will be Kukai's 1250th birthday; consequently, a series of events and celebrations are planned to mark this important milestone.

While your visit to Koyasan will allow you to discover more about this ancient spiritual figure, you can also get a firsthand taste of contemporary Buddhism. Koyasan is one of the best places in Japan to experience a shukubo, or temple stay.

Learn about Kukai, the founder of Shingon Buddhism

Born in 774, Kukai, also known as Kobo Daishi, holds an important place in Japan's spiritual history. A highly respected and influential Buddhist monk in Japan's Heian era (8th century to the end of the 12th century), Kukai is revered as the founder of the Shingon school of Japanese Buddhism. 
 
A celebrated polymath, Kukai's talents were far reaching. Yet, over 1,000 years since his death, it is his spiritual legacy that endures. During his lifetime, Kukai founded hundreds of temples across Japan and traveled far and wide. 
 
It was on his return from one particular voyage, a government-sponsored religious fact-finding trip to China, that Kukai, enlightened by his experience overseas, founded a mountain retreat at Koyasan. That retreat has grown over the centuries into a sprawling religious site, pilgrimage destination and center of Shingon Buddhism. 

Visit Koyasan and experience ancient traditions

A visit to Koyasan in Wakayama Prefecture is a profound spiritual experience. The original temple complex, founded by Kukai, has grown over the years to incorporate a hidden community, where life revolves around the ancient practice of Shingon Buddhism. 
 
Wander the tranquil streets of Koyasan, surrounded by woodland and the natural features of this secluded mountain top and you'll encounter over 100 temples. Each is distinct and magnificent in its own right. 
 

Nature, spirituality and heritage collide at Koyasan.
 
Some of the best include Okunoin Temple, the site of Kukai's mausoleum caked in vivid green moss and flanked by towering trees. Kongobuji Temple is the impressive head monastery of the Shingon sect and is defined by its striking murals and tranquil rock garden. While Garan, Koyasan's central temple complex, boasts numerous noteworthy structures, including the striking Konpon Daito Pagoda. 
Away from the temples themselves, many visitors and pilgrims to Koyasan are drawn by the spectacular hiking trails that crisscross this mysterious mountain retreat. Mingle with monks as you explore the mesmerizing forest trails that wind their way past some of the most important religious sites at Koyasan. 

Discover the beauty of Kongobuji Temple, a designated National Treasure built in the Edo era.
 
For those a little less adventurous, yet keen to see the site from above, there is the option to enter the mountaintop town by cable car. However you arrive, you will surely leave with a profound inner peace after immersing yourself in one of Japan's most spiritual communities. 

Experience shukubo, a temple stay, on the holy mountain site

One of the best ways to experience the true magic of Koyasan is to stay overnight at a temple. Known as a shukubo, a temple stay at Koyasan gives visitors the opportunity to relax, reflect and immerse themselves in the traditional practices of Shingon Buddhism.

Immerse yourself in the ancient practice of Shingon Buddhism on a temple stay.
Photo credit: Fukuchiin Temple
Discover the day-to-day lives of Koyasan's monks in one of 50 temples that offer the shukubo experience. With breakfast, dinner and comfortable overnight lodgings available, you can truly immerse yourself in this enriching cultural experience. Taste the traditional vegetarian dishes prepared by the monks and join them for morning prayers and meditation.

Find inner peace in a traditional Japanese Zen garden.
Photo credit: Fukuchiin Temple
Clean and simple furnishings, including traditional tatami floors and sliding doors (fusuma) typify the temple lodgings at Koyasan and reflect the abundant peace and tranquility that define these sacred spaces.  It's important to remember, though, that rooms and meals vary depending on the temple. For further information, you can refer to our guide on temple stays. 

The 1250th anniversary of Kukai's birth: Celebrating his legacy

The 1250th anniversary of the birth of Kukai is an important cultural and spiritual milestone. Come to Koyosan and celebrate his enduring legacy with a series of special activities and events. 

Celebrate the 1250th anniversary of Kukai's birth in the magical mountain retreat he founded.
 
Officially known as the 1250th Anniversary Commemorative Grand Ceremony of the Founder Kobo Daishi's Birth, celebrations begin on May 14 and run until July 9 with the main events taking place on June 15, Kukai's birthday. 
 
The highlight of the festivities will be a fascinating exhibition of the main statue in the Jibutsuma (altar room) of Kongobuji Temple. Created in 1681, the statue of Kukai is usually closed to the public so this is a rare opportunity to see it up close. 

Statue of Kobo Daishi unveiled at Koyasan's Kongobuji Temple.
Photo credit: Kongobuji Temple

Follow the trail of Kukai's influence across Japan

Although Koyasan is the center of Kukai's influence, the famous monk made a mark across Japan. Perhaps the best-known example of Kukai's enduring legacy is the Shikoku pilgrimage. 
 
Along this ancient pilgrimage route, you'll find 88 spiritual sites. It's a memorable 1,200-kilometer-long pilgrimage trail that takes a circular route around Shikoku. Clad in white, pilgrims traverse the stunning trails around Japan's smallest main island, passing through mountains, forest and along coastal paths. One of the most revered stops is Zentsuji Temple, the birthplace of Kukai. 

Discover more spiritual sites on the Shikoku pilgrimage route.
 
Outside of Shikoku, visitors to Kyoto should aim to visit Toji Temple , a UNESCO World Heritage Site, that Kukai was put in charge of in 823. Amongst the spectacular building to explore is Goju-no-to, a five-story pagoda that was the tallest building in Kyoto for centuries. On the 21st day of each month, visitors to Toji Temple are rewarded with the bustling scenes of Kobo Market, a uniquely Japanese shopping experience complete with antique stalls and medicine men. 
 
On the Izu Peninsula you'll find the Zen Buddhist temple of Shuzenji, founded by Kukai in 807. This striking temple is a melting pot of history and famous for the bloody power struggles brought about by Yoritomo Minamoto in the 12th century.
 
As visitors uncover the trail of Kukai's profound spiritual influence across Japan, they will be left with lasting memories and a deeper appreciation for Japan's rich spiritual heritage.
 
Information
1250th Anniversary of Kukai's Birth: Special Anniversary Site
Shikoku 88 Temple Pilgrimage Assocxiation