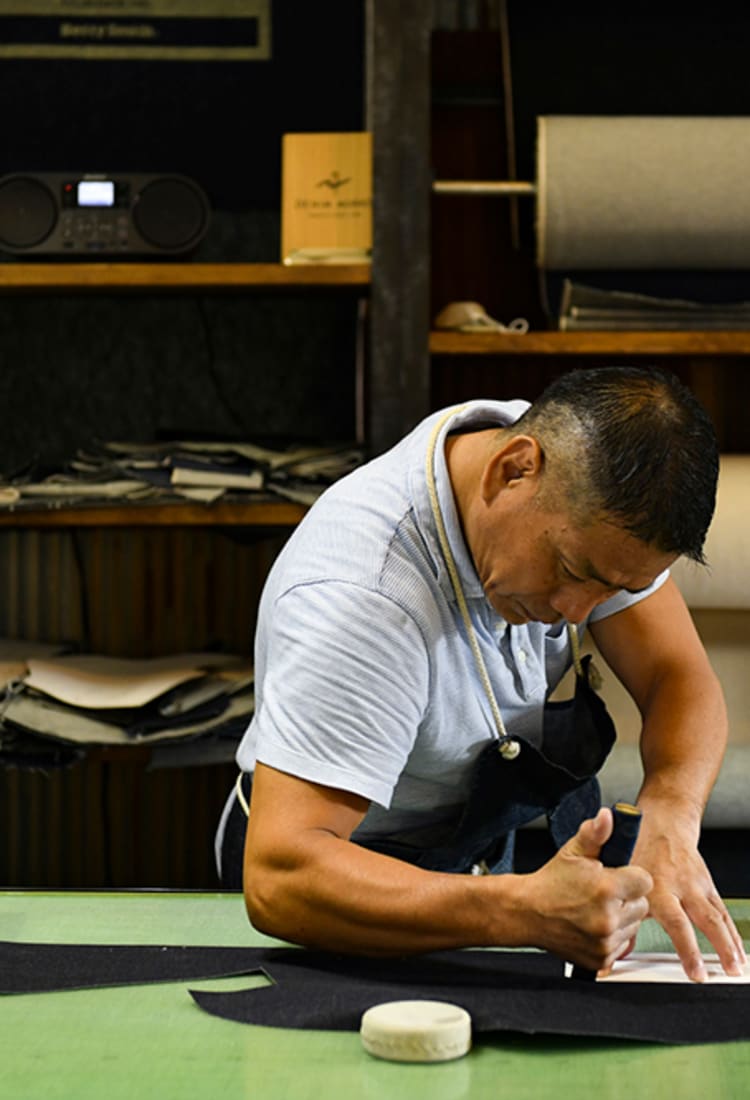 2020.09
Create Your Own Indigo Denim in Kojima, Okayama Prefecture—The Home of Japanese Denim
"Made in Kojima," from a textile industry to a global brand 
Japanese people have long cherished aiiro, a deep blue color derived from the indigo plant. Throughout history, nobles and samurai treasured the color for its distinguished hue. The color lives on today, in Japanese denim. 
Japanese denim originated 50 years ago in the district of Kojima in southern Kurashiki, Okayama Prefecture. Today, visitors to Kojima can delve deeper into Japanese denim history by taking a stroll through the district's indigo-dyed streets and by creating an original denim garment. 
A giant pair of jeans in Kojima—the home of Japanese denim
---
A large jeans design on stairs in Kojima Station
Kojima attracts jeans enthusiasts and fashion industry insiders from around the world.
Visitor's first notice the denim theme at Kojima Station. A large signboard declares that visitors have arrived at "Jeans Station Kojima," and there is a giant pair of jeans painted on the stairs. Coin-operated lockers and station windows also carry a denim theme. 
(left)Station staff wear denim by popular brand, Japan Blue Jeans. (right)Coin-operated lockers outside the ticket gate have a denim theme.
Sophisticated Japanese dyeing and sewing techniques gave birth to denim with global appeal
The history of manufacturing in Kojima dates back to the Edo period (1603–1867) when cotton cultivation boomed in the district.
Used jeans on display outside Kojima Station.
The Kojima district grew in importance during the subsequent Meiji period (1868–1912.) Japan underwent an era of significant modernization and westernization during this time, and the textile industry was vital in powering this change. 
(left)Shimomura Spinning Mill was the first privately owned spinning mill in Japan. It was launched in 1881 in Kojima. Photo credit : Kurashiki City Board of Education (right)A Kojima factory producing school uniforms in the 1930s. Photo credit : Kanji Mori
Textile manufacturing developed in the area, and Kojima became a center for school uniform manufacturing. However, in the latter half of the twentieth century, a different type of garment emerged—denim jeans. 
In 1965, materials imported from the U.S. were used to create Japan's first denim jeans. However, seven years later, manufacturers developed original indigo-dyed denim, and a purely domestic Japanese product was born. 
(left)M1002 by Big John: The company's first domestically-produced jeans Photo credit : BIG JOHN Co., Ltd. (right)A Big John jeans manufacturing plant in 1969 Photo credit : BIG JOHN Co., Ltd.
Brands such as Big John, Betty Smith, and Bobson emerged in Kojima in the 1960s and 1970s, and many denim industry-related companies opened to support these brands. Kojima became the center for Japanese denim.
Kojima was one of the leading denim production sites in Japan. Manufacturers here developed unique processing techniques that gave birth to new trends. Some of the methods involved pre-washing the denim to produce varied textures and shaving the fabric to breathe new life into patches of denim that had faded from wear.
The industry also developed distinctive dyeing techniques that would become the hallmark for Japanese denim. Wool was dyed indigo, a process thought to be impossible. Further technological development enabled manufacturers to dye only the yarn's surface and create faded denim.
From the dyeing techniques to the quality and precision of the stitching, the "Made in Kojima" brand of denim became a world-class standard of quality.  
 
Betty Smith is the oldest jeans factory in Japan. It is still in operation today.
Hands-on denim experience at a long-established domestic denim company
---
Making original denim using the same tools used by Japan's denim artisans.
Delve deeper into the world of Japanese denim
Denim production is integral to Kojima. Manufacturers in fabric production, dyeing, weaving, sewing, and washing are all based in the area and work together to produce Kojima denim. There are around 40 old and new denim brands in Kojima, and some of these companies offer visitors hands-on experiences in making denim.
Hands-on jeans making at Betty Smith
Betty Smith is one company that offers denim-making experiences in English. The company dates back to the early years of domestic denim production and was the first company in Japan to produce jeans for women. Betty Smith's hands-on experiences allow visitors to create a custom pair of jeans in about an hour.
1. Choosing a type of denim
The first stage of the process is to choose a type of denim to form the base of your custom pair of jeans. There are reasonably priced designs and classic vintage types for both men and women. The wide array of jeans designs includes regular straight, slim straight, stretch, and washed denim. Visitors can also choose wide pants, a long skirt, or a trucker jacket. 
There is a wide range of sizes, from 26–50 inches, as well as children's sizes.
Staff mark the hem for each custom pair of jeans.
2. Choosing buttons and rivets
After choosing the type of denim, visitors need to select the rivets, pocket reinforcements and the top button. There are 24 colors and styles of each, including Japanese-style patterns, images of Mt. Fuji, stars, hearts, and skull motifs. 
Combine shapes, patterns, and colors of buttons and rivets to create a unique pair of jeans.
3. Attaching buttons/rivets
Visitors then sit down at an pedal-driven machine from the 1970s to attach the buttons and rivets. Securing the rivets in place with a slow pressing motion and a final punch of the pedal is a satisfying and enjoyable feeling. 
Some denim artisans still use pedal-driven machines. Children can operate one, too, if supervised by an adult.
4. Choosing a leather patch
There are 20 types of leather patches to choose from. Pick a brand logo or a plain patch to attach to the back of the jeans. Alternatively, select a patch with brushed cowhide for a more luxurious look. Woven labels can be stitched inside the jeans, and there are over 30 different types of vintage labels to choose from. 
Woven labels with retro designs
5. Finishing touches
Pass your custom pair of jeans to staff who will sew on the leather patch and hem the denim. This takes around 30 minutes, after which, your pair of denim will be presented to you in a branded tote bag.        
Due to the current Covid-19 outbreak, the maximum number of participants is limited to six per hourly slot between 10:00–17:00.
There are two museums dedicated to jeans on-site at Betty Smith. Head to them either before or after the experience to discover more about Japanese denim history.
The first is Japan's first denim museum. On the first floor, visitors can browse displays of denim throughout history and learn about how denim developed in the United States. Other displays tell the story of Kojima—the birthplace of Japanese denim.
 
Approximately 50,000 people visit the Jeans Museum annually. On the first floor, machines used in the early years of domestic denim production are displayed.
The second floor of the museum is a workshop for made-to-order jeans. Here, visitors can get a close-up look at artisans at work. See how a single artisan crafts a pair of made-to-order denim jeans from start to finish. They start by creating an individual design pattern and then cut out the jeans to measure. Note that viewings are only possible when there are no customers placing orders for jeans. A sign at the museum entrance tells when an artisan is at work.
Visitors can observe artisans at work 
The second museum explains the history of domestically produced denim and Japanese techniques. The museum exhibits machinery used in each stage of the manufacturing process, such as sewing machines and a large washing machine for washing denim. Panel displays in English explain the trends and changes in domestically produced denim from the 1960s to the present day. Denim from each era is exhibited alongside the displays. 
Panel displays include explanations in English.
At the entrance of the second museum, you can experience making a faded crease effect in some denim. The experience is free of charge.
The Betty Smith Jeans Museum & Village is a chance to explore Japan's oldest jeans manufacturing factory and do some shopping. Combine your visit with the custom denim-making experience and you can enjoy the better part of a day exploring the facilities and learning about Kojima denim. 
The technique for creating a faded crease effect in denim started in Japan, ahead of the rest of the world. Entrance to both museums is free. 
Betty Smith Jeans Museum & Village
Reserve an hands-on denim making experience in English through the official website. There is an outlet shop next door.