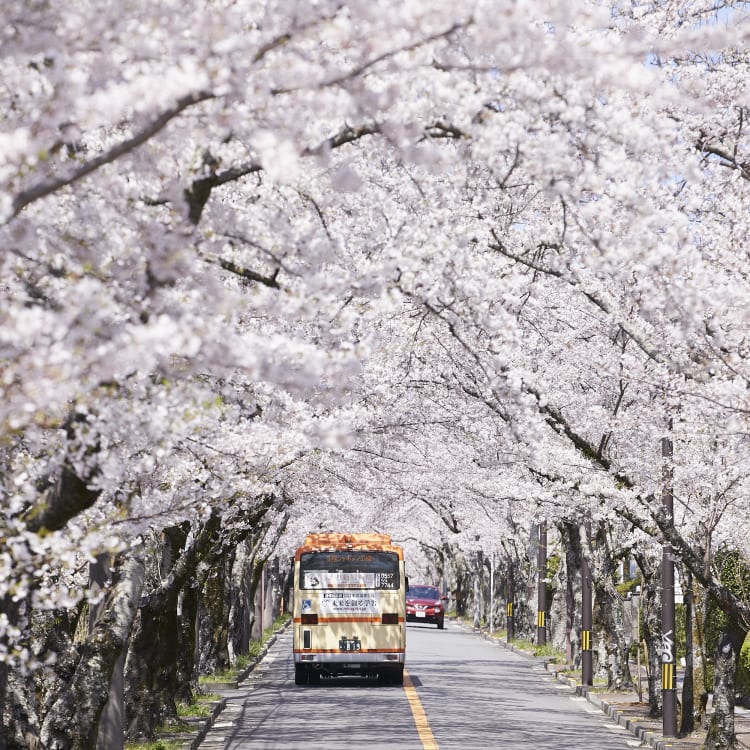 Buses in Japan
Buses
Bus services are available throughout Japan, and can often be a very convenient alternative to trains—especially when traveling in more local areas.
While journeys generally take longer, and weather and traffic can cause significant delays, fares tend to be cheaper and offer more options to travel overnight, saving the cost of a night's accommodation. If you are traveling locally or from city-to-city, make sure to consider the bus options when planning your Japan itinerary.
Local bus
When planning a trip to Japan, why be limited by where the trains and planes go? Local bus routes crisscross the whole country and offer you convenient access to some of the more out-of-the-way locations. Traveling in the city is very easy, as usually a flat-fare is charged. You can use your IC cards—such as the Suica card—on many buses, and most of the time you board at the front. The stop names generally flash up in English.
Outside of the main cities, some buses calculate their fares by journey traveled. In this case, you will board in the center door. Take a ticket and when you get off, match your ticket number with the fare highlighted on the screen at the front of the bus. Put the exact fare into the box next to the driver and exit from the front door. Be aware that it might not be possible to use IC cards on these services.
Highway bus
Japan's highway buses link cities to cities, or cities to tourist spots. They are generally less expensive than traveling by airplane or railway and run both day and night. If you are flexible with your time, these bus trips are a great option. Prices vary, based on distance and comfort. If you are traveling to and from Tokyo, the Shinjuku Expressway Bus Terminal


is a hub for country-wide travel.
Highway bus information websites
Many bus companies have English sites where you can find all the relevant information and also make reservations. Research to find the most suitable routes for you.
| Website | Introduction |
| --- | --- |
| Japan bus WEB | Find out all the information you need regarding nationwide express bus services. |
| Japan Bus Lines | An excellent team with bus companies from every region in the country, and a leading highway bus network covering many cities. The website is in English, Korean, and traditional Chinese. |
| JR Bus Kanto | Site for highway buses with departure or arrival from Tokyo. Find out the timetable and information on the different types of vehicles. |
| Highway bus.com | Search for nationwide highway bus information, check seat availability, and book seats without registering a membership. |
| VIP Liner | Specializes in comfortable sleeper buses that connect major cities like Tokyo , Nagoya and Osaka . Specialized buses include female-only buses, buses with business-class seats, buses with toilets, phone chargers, and onboard Wi-Fi. Credit card payment, e-ticket, and ticket printout are available without registering. |
| Japan Bus Online | Find out about sightseeing and highway bus services and routes and make an online reservation. Check the bus amenities, interior and exterior photos, schedules, fares, seat availability, and pick up and drop off locations. You can immediately purchase a ticket online via credit card without the need to register or login to the website. The Japan Bus Online customer Support accepts inquiries related to website operations in English via e-mail. |
Regional bus passes
Bus passes offering unlimited travel around certain regions for a certain period of time are quite common in Japan. If you are planning to do a lot of traveling in a particular area, these passes are an economical option.
The Inter City Bus Pass


is your cheapest way to travel around Hokkaido, with routes stretching to all the major cities in Eastern Hokkaido.
The Sendai City Bus Ticket


allows you to travel all over the city for a day.
The Tohoku Highway Bus Ticket


gives you unlimited travel on bus services across Tohoku's six prefectures.
The SunQ Pass


is your pass for all seven prefectures that make up the island of Kyushu.
Local buses FAQ
Q: Where can I find a timetable?
A: Timetables and bus routes are usually displayed at the bus stops. Buses generally run on time, but can be delayed during times of heavy traffic. Check with individual bus companies regarding arrival times to destinations.
Q: How do I tell the driver to stop at my destination?
A: Press one of the stop buttons on the inside wall of the bus when you are approaching your destination. The display or announcement will often tell you the next stop. If you have difficulty understanding the display or the announcement, it might be better to ask a driver or passengers around you to find out where to get off the bus.
Q: Can I use my JR Pass on buses?
A: Your Japan Rail Pass


can be used on JR local bus lines, including JR Hokkaido Bus, JR Bus Tohoku, JR Bus Kanto, JR Tokai Bus, JR Shikoku, West Japan JR Bus, Chugoku JR Bus and JR Kyushu Bus, but not on express bus routes.
Highway buses FAQ
Q: Do I have to make an advanced reservation for riding a bus? Where can I pay the fare?
A: For long distance buses, you need to purchase a ticket before boarding. Regarding reservations and purchasing, please contact the ticket offices of JR stations (for the routes run by JR affiliated bus companies), travel agencies, bus terminals, or multimedia terminals of some convenience stores (depending on bus companies and routes). You may also make a reservation by calling the reservation center for an individual bus company and purchase your ticket at the bus terminal. When you make your reservation, please reconfirm the ticket purchase deadline (for instance, 30 minutes before boarding, etc), and information about any changes or cancellation rules.
Q: Where can I get on and off the bus?
A: In most cities, accessing bus terminals is usually easy because they are located next to railway stations. However, be aware that each bus company has its own terminal, so please make sure which bus you are taking. Be aware of the departure time and arrive early to avoid a last-minute rush. You can find the location of bus terminals and stops on the highway bus reservation websites.
Q: How early should I be at the terminal before the bus leaves?
A: Boarding generally starts about 10 minutes before the bus leaves. Get to the bus terminal at least 30 minutes before the bus leaves.
Q: Does the vehicle have a bathroom? How about food?
A: Long distance buses are sometimes equipped with their own bathrooms, but we recommend that you ask the information counter to confirm beforehand. (You can also check on highway bus reservation websites.) The bus usually makes brief stops of about 15 minutes several times at "service areas" where you can find bathrooms, and places to buy food and drink. Make a note of the bus parking location. The parking lots are very large and many buses look the same.
Q: Is there anything else I should be aware of?
A: Smoking is not allowed on buses, but there are designated smoking spaces at the service areas. Fastening your seatbelt is obligatory while the bus is running.
Did this information help you?
out of found this information helpful.