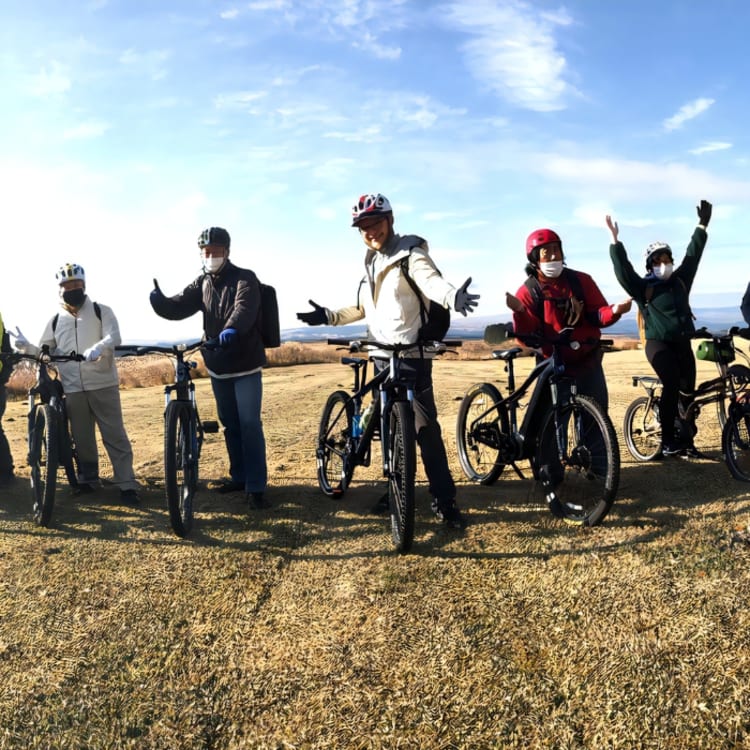 Recommended Route
Kyushu (Aso & Takachiho)
Explore the life in mythical volcanic mountain and cycling in KYUSHU
On this tour, you'll actively enjoy the wonderful natural scenery of Kyushu through hiking and cycling. Local people take advantage of nature's blessings, and you'll experience their lives by cooking a local dish and touring a site where mushrooms are grown. The setting for your trip is Mount Aso, which is one of the world's largest volcanoes and a dominating peak in central Kyushu. A large eruption in ancient times created a caldera 18 kilometer east to west and 25 kilometer north to south, and its lava reached Takachiho Gorge at the foot of the central Kyushu mountain range. Remaining active even today, the volcano makes us keenly aware of the earth's power and presence. You can compare the lives of the people of Aso, who make use of grasslands and Satoyama, and the lives of people in Takachiho, who live in harmony with deep mountains and valleys.


Day 1
Group meets in Kumamoto and transfer to Takachiho
We will meet at Kumamoto Airport and drive 63 kilometers (39 miles) to Takachiho by minibus. The drive takes about an hour and a half. During the drive, we will stop at a spot overlooking Mount Aso so you can see the majestic natural scenery. If you need outdoor gear, you can buy or rent it at specialty stores. In addition to the beauty of the deep gorge created by lava from Mount Aso, Takachiho is also famous as a mythological place. It is where the ancestors of the Japanese emperor supposedly descended from heaven, and Takachiho is often mentioned in many surviving Japanese myths.
You'll check in to the hotel early in the evening, so you're free to visit the mythological sites if you wish. Dinner will be served in the hotel restaurant. There will be an early dismissal for everyone to prepare for the next day's activities.
Day 2
Guided walking and outdoor cooking at Takachiho
On this day, you'll see the deep Takachiho Gorge and how people live there. You'll walk about 8 kilometers (4.9 miles) with a local guide.
Your trip will start with a view of the beautiful columnar jointing throughout Takachiho Gorge. Have a light breakfast here as you observe the majestic scenery. Afterwards, you'll walk along a nature trail in the deep valley and then enjoy outdoor cooking.
You'll be making " chicken cooked in green bamboo, " a Takachiho specialty. This wonderful meal is made by filling bamboo with chicken and vegetables and then placing it over a fire. Bamboo's flavor enhances the taste of the ingredients. Let's put those ingredients and sake in the bamboo and place it over the fire.
After lunch, head for the goal while looking at the terraced rice paddies and tea fields that efficiently use the land of shrines and narrow valleys, which are the heart and soul of local residents.
Once the tour ends, it's a 35-kilometer (21.7 miles) drive, which takes about 45 minutes, to the hotel where you will set off for tomorrow's hike. Dinner is Japanese-style country cuisine around an open hearth. You'll see the Yokagura, a song and dance passed down from antiquity.
Day 3
Guided hiking along the Kiritachigoe long trail
For your third day, you'll walk an ancient path that kept people living deep in the mountains alive and ponder their lives. With a legendary local guide, you'll walk about 16 kilometers (9.9 miles) on the mountain path for 8 hours.
You'll leave the hotel before dawn and see the headwaters of the river that carved the Takachiho Gorge, which you saw yesterday, and head to the starting point.
On a sunny day, you can see many high peaks in Kyushu in the distance from the starting point. Kiritachigoe is an ancient path that follows the ridges of four mountains in the central Kyushu mountains that stretch from north to south. As you see a natural forest thick with massive beech trees and rare plants particular to this limestone area, you'll hear anecdotes regarding this "packhorse" path on which goods were transported on horseback long ago. A highlight is Mount Ogi at a height of 1,661 meters (5,450 feet) above sea level, which you'll see near the end of the hike. Looking back, you can see where you've walked before. After descending the mountain and leaving Takachiho, you'll finally enter the caldera. It is a 3-hour drive of 97 kilometers (60 miles) to Mount Aso. Relieve your fatigue in the hot springs and rest. You will be staying for three nights, starting today.
Day 4
Journey through Minamioguni Satoyama
On this day, you will experience how people live in the exceptional back hills created by Mount Aso's caldera.
Our starting point is a high plateau at a height of 900 meters (2,952 feet) above sea level atop the outer rim of Mount Aso overlooking the mountain. From here, Mount Aso looks like the sleeping Buddha, which is why it is known as "Sleeping Buddha."
Enjoy today's cycling since it is downhill. Watch the cows graze as you enjoy traveling through the grasslands and back hills. It will take about an hour to reach our first activity site. In a place the owner carved out from the back hills himself, you'll enjoy the blessings of nature by  harvesting fresh vegetables with locals and cooking on a kitchen furnace.
Afterwards, we'll cycle through the quiet town, leave our bicycles, and visit a shiitake farmer who uses nature's bounty to cultivate shiitake mushrooms on logs. After you hear about unique, traditional methods of production from an enthusiastic young business owner, you'll harvest and sample flavorful shiitake mushrooms.
For dinner after the tour, head out to a Japanese pub in town and enjoy the local cuisine.
Day 5
A cycling adventure in Aso
This day will be an important day to experience the power of Mount Aso, which continues to spew smoke. Before the tour begins, we will enjoy a special breakfast at the summit of a small mountain near the hotel. From there, we'll look over the route for today's adventure.
We will start at Aso Station, which is at a height of 523 meters (1,715 feet) above sea level and which is the gateway to Mount Aso. We will take e-bikes all the way up to Nakadake Crater at a height of 1,258 meters (4,127 feet) above sea level. Cycling the grassland trail is a special cycling experience since it is normally closed. Still spewing smoke, Nakadake Crater is a sight to behold. Cycling will continue after lunch. Near Komekura, a small volcanic cone, we will explore the lava tunnels that were naturally formed when lava flowed long ago while looking out over verdant grasslands.
We will conclude our tour with an adventure cycle of 32 kilometers (19.9 miles) in 7 hours, reaching a height of 780 meters (2,559 feet), before returning to our goal at the hotel. The final dinner will be a barbecue in the hotel garden, which is a famed site of spiritual energy. Please reflect back on the adventures you've had so far as you talk with your newfound friends.
The contents of this page are meant as an example to use in creating your travel plans and do not represent a package tour. Lodgings, travel, guides, and all other accommodations must be arranged for by the traveler.